Vandal Science News - March 2020
Dear Friends of the College of Science,
I am proud of the impact that work by College of Science faculty, students and alumni has on our state, nation and world. One newsworthy example is alumnus Ensheng Dong (M.S. Geography 2015, M.S. Statistics 2016), who is part of a team at Johns Hopkins University that developed an interactive map being used by researchers and interested citizens across the globe to track world-wide spread of COVID-19. This map has been cited by BBC News and other news agencies and is the topic of an upcoming research article in top biomedical journal The Lancet; Ensheng is the lead author on this work. Talk about real world impact!
This week there has been a parade of students in the dean's office snacking on chocolates, although that isn't their primary task. They are writing letters as part of the university's annual "Thank-A-Thon" event in which scholarship recipients are invited to stop by the dean's office, grab a note card and pen, and write a brief note to thank the generous donors who have provided them an opportunity for an education at the University of Idaho. In talking with several of these students this week, I have found them to be excited and eager to be given this opportunity to thank the people who are supporting them along their educational journey.
I, too, want to thank our donors. There are many people integral to the success of our students, and we cannot forget how important financial support is in helping students complete their education. As a direct result of the generous support our loyal donors and alumni provide for faculty and students, the students complete their degrees while having opportunities to perform groundbreaking research with our faculty. Because of the great training the College of Science provides, the college has a high job placement rate, and many of our students continue their education in prestigious graduate or medical training programs. Thank you for your support.
On April 7-8, the university will host its annual Vandal Giving Day. Please consider making a donation that will allow us to continue the great work in the College of Science.
Finally, I am pleased to announce the launch of a new College of Science podcast series, "The Vandal Science Experience", which will be hosted by Barrie Robison, Professor of Biological Sciences. I hope you enjoy listening and learning about our students' research projects.
Go Vandals!
Ginger E. Carney
Dean, College of Science
The Vandal Science Experience Podcast
This podcast features interviews with University of Idaho student researchers.
Grad Student Feature: Kenetta Nunn
The Lab Report Jacob Kennedy
Majoring in microbiology with a passion for organic chemistry.
College of Science Staff Appreciation
Name: Renee Jensen-Hasfurther
Position at U of I: Financial Admin. Specialist for the Geography Department
How did you find the U of I?
The University of Idaho has always been a staple in my life, especially the College of Science, as my mom (Debbie Jensen) worked in the office of the Geology Department for over 28 years. When a job opportunity became available within the College of Science, I decided to switch professions and join the Vandal family.
How long have you been with the U of I?
I have been with the Geography Department for a little over three years now.
Why choose to work here?
I love being able to do the work, do a job well, and deliver exceptional results. I also love being able to find inventive or creative ways to meet current challenges at hand. What is always exciting to see is when my own ideas are taken under consideration for implementation across campus.
What is your favorite part about working here?
I would have to say my favorite part of working here is the people I get to work with on a daily basis. When I first started and was learning the processes and procedures, I was amazed at how others were willing to come alongside me with support. I am now able to give back to those who call me seeking guidance. I believe in building others up and I now know what it means to be a part of the Vandal family!
Tell us a little about yourself.
I was born in Moscow and was raised for a short time in Alaska, but eventually moved back to the Moscow area. I graduated from Troy High School, then moved to the Portland area to pursue a degree in Airline and Travel Technology. I then moved back to Moscow to work at Neely's Travel and eventually became the manager, with 20 years of service. I also met my husband during that time, who had been a high school friend. We currently reside in Genesee with two beautiful children. Our daughter Kelsey (19) is passionate about both basketball and math, and is currently seeking a degree in math education with an emphasis on athletic training. My son Andrew (7) is always on the move. He loves being outdoors, fishing, and helping on his grandparents' farm.

With travel in my blood I have had lots of unique opportunities to see the world, dive into the culture, and eat some fantastic cuisine! I enjoy cooking, the outdoors, and hosting gatherings. When I do get to travel it's usually a new adventure to historical sites, centered around food. The Geography Department really is a perfect fit for me.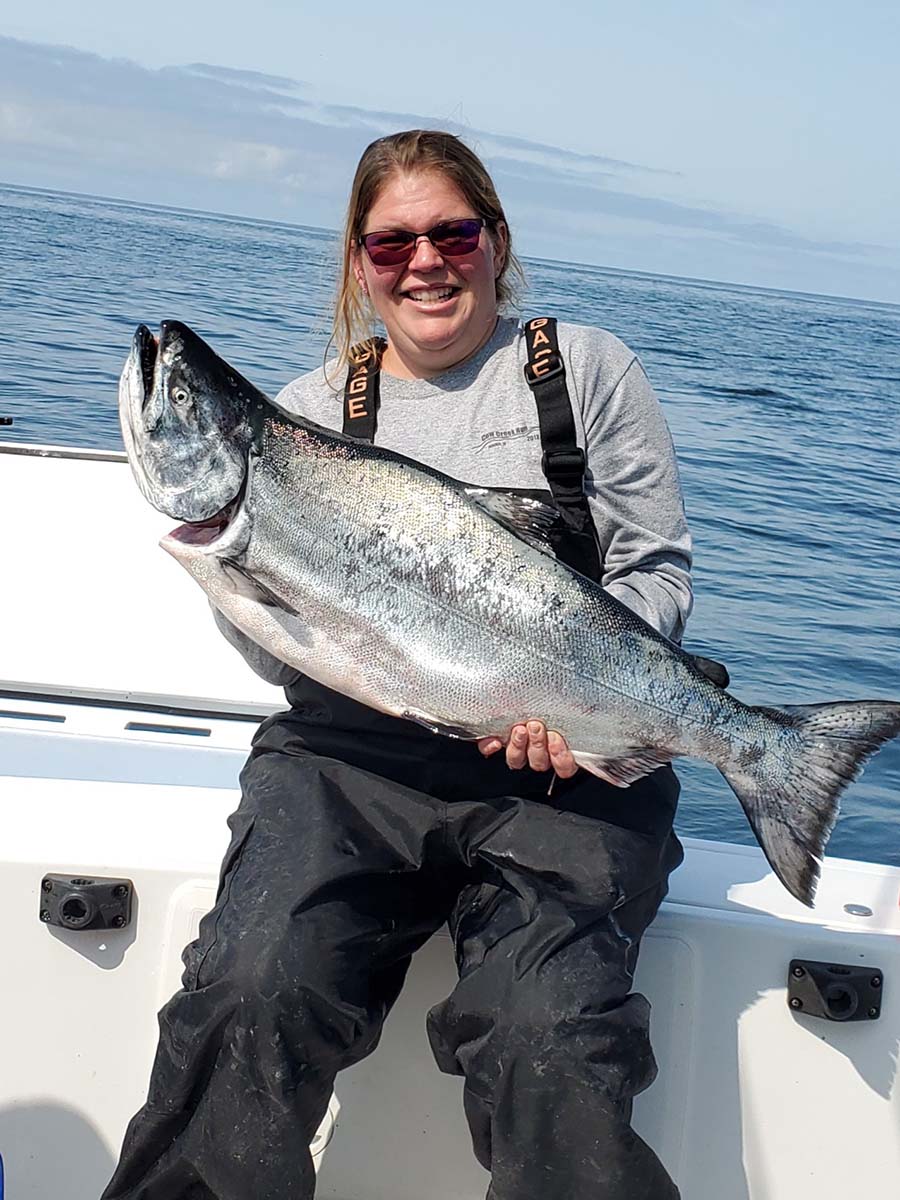 Here's a Puzzler with a "March Madness" theme. Two basketball teams play a closely matched game, with team A defeating team B by only three points. During the game, the teams made a total of 45 two-point baskets. They tried a total of 20 three-point shots, with team A making 50% of theirs and team B making 41.666% of theirs. The number of one-point free throws made by team A was exactly equal to the number of two-point baskets they made, and the number of free-throws made by team B is a prime number that is less than the number of two-point baskets they made.
What was the game's final score?
Solution to Febuary puzzler:
There are 11 students who solve both problems A and B. The logic to get to that answer is short but slippery!

Following the hint, let's let x be the number of students who solve exactly one of the three problems, and let y be the number of students who solve exactly two. (We're told that zero students solved all three.) Now the teacher received a total of 17+13+8 = 38 solutions, so x + 2y = 38. But x + y is no more than 19 since we know at least 6 students didn't solve any problem. It's not too hard to see that those two facts force x = 0 and y = 19. That is, 19 students solved exactly two problems and nobody else solved anything. So, since we know that 8 students solved problem C, the number of students who solved A and B must be 19 – 8 = 11.
Correct Solvers
Alex Blumenfeld, NMR Lab Manager, U of I Chemistry
Michelle Boese-Empey, Web Coordinator, U of I Extension
Kelli Fenelon, Ph.D. candidate in Developmental and Stem Cell Biology, The Hospital for Sick Children, Toronto; B.S. Biochemistry and Mathematics, 2011
Jay Hunter, B.S. Chemistry 1973, WWAMI 1977
Marianne Milander, Student, Animal and Veterinary Science
Greg Stenback, B.S. Geological Engineering 1985, M.S. Statistics 1987
Keith Stutler, B.S. Mathematics 1987
Nancy Stutler, B.S. Mathematics 1987