Vandal Science News - February 2020
Dear Friends of the College of Science,
We are in the throes of spring semester and campus is bustling with student activity. At the end of January, the campus rededicated the Idaho Commons as the Idaho Student Union Building (ISUB). President Green and ASUI students shared in the ribbon cutting and everyone enjoyed "I" cookies and Sub sandwiches as part of the celebration. (ISUBs- get it?!?) Our students deserve a place to call their own on campus, so it was great to participate in this event.
Student activity is also buzzing at the College of Science. Supporting student success, particularly undergraduate research activities, is at the heart of our mission in the College of Science. This month's feature stories highlight current and former students and their research projects with College of Science faculty. The work of these students is positively impacting not only Idaho, but also the world.
Speaking of undergraduate research… One of our favorite spring activities is awarding our next crop of Hill Undergraduate Research Fellowships. Through the generosity of Dr. Brian and Gayle Hill, the College of Science awarded Hill Undergraduate Research Fellowships to eight students this year.
Kate Brooks, Geology, for the project "Determining probable cause of death and chance of bone disease in a Jeffersonian Mammoth specimen from southeast Idaho" (Dr. Renee Love, mentor)
Abigail Childress, Biochemistry and Microbiology, for the project "Functional testing of Stat3 role in neural development and plasticity" (Dr. Peter Fuerst, mentor)
Jeremy Ellis, Microbiology, for the project "The development of protocols for the injection of yeasts into Galleria mellonella to study fungal virulence and animal immunity" (Dr. Paul Rowley, mentor)
Tanner Hahn, Biochemistry, for the project "Synthesis of carbon-linked glycopeptides and incorporation into a salivary protein (Mucin 7) polypeptide subunit as glycosylation-based antigens" (Dr. Kris Waynant, mentor)
McKenna Hull, Microbiology, for the project "To fuse or not to fuse: how mutations in the F protein affect fusion phenotype of respiratory syncytial virus" (Dr. Tanya Miura, mentor)
Jordan Pentzer, Geology, for the project "Using scaled laboratory experiments to quantify dynamics of the Earth's deep mantle" (Dr. Eric Mittelstaedt, mentor)
Nicole Recla, Biology, for the project "Investigating natural selection from visual predators on Galápagos endemic land snails" (Dr. Christine Parent, mentor)
Zoe Wilson, Microbiology, for the project "Phage engineering to understand virus host range" (Dr. JT Van Leuven, Dr. Holly Wichman, and Dr. Craig Miller, mentors)
Several College of Science students and faculty were honored recently with Alumni Awards for Excellence. These awards are presented annually to outstanding graduating seniors and graduate students. Student honorees select a faculty member who has been most inspirational during their time at the university.
Samuel Myers, Physics and Mathematics (Dr. Jason Barnes, mentor)
Lucas Tesnohlidek, Microbiology (Dr. Onesmo Balemba, mentor)
Kathryn Tiger, Microbiology and Medical Science (Dr. Onesmo Balemba, mentor)
Congratulations to our talented students and thank you to the mentors who support them in their research projects and in the classroom. We also appreciate the continuing generosity of the Hills in supporting undergraduate research activities in the College of Science.
Go Vandals!
Exploring the Algorithms of Life
Medical student Tawny Gonzalez discovers math and genetics go hand-in-hand
College of Science Staff Appreciation
Name: Terry Evans
Position at U of I: Administrative Financial Specialist for Geological Sciences
How did you find the U of I?
I am a third generation Vandal. My dad, my uncle and my grandfather graduated from Idaho, so it has always been in my DNA. Also I lived in Moscow for a few summers in the 70s while my dad was earning his Master's, and I have attended the Lionel Hampton Jazz Festival since I was 14. By the time I graduated from high school there really wasn't anywhere else I would rather attend than the University of Idaho.
How long have you been with the U of I?
Including temp help during my college years, I have worked at U of I for over 28 years.
Why choose to work here?
The biggest reason I chose to work at Idaho is the relationships I had developed with people on campus during college.
What is your favorite part about working here?
I enjoy working in a diverse environment with well-educated people that are dedicated to supporting the further education of others. I also enjoy watching the students grow with their successes and challenges during their college years.
Tell us a little about yourself.
I was raised in southern Idaho by parents who were educators. We spent most of our summers exploring central Idaho and the Sawtooth Mountains. I met my wife of over 30 years, Michelle, in Jazz Choir at U of I. She earned her Bachelor's and her Juris Doctorate from U of I and is currently a magistrate judge in Lewiston. We have two sons, Joshua and Keith. Joshua will graduate from U of I in Spring 2021 with a Bachelor of Science in Virtual Technology and Design and his brother has four more years until he mostly likely becomes a Vandal. My family enjoys camping, hiking and other outdoor activities and I also enjoy working as an audio engineer with various regional groups in my spare time. But most of all, we enjoy cheering on our Vandals. Go Vandals!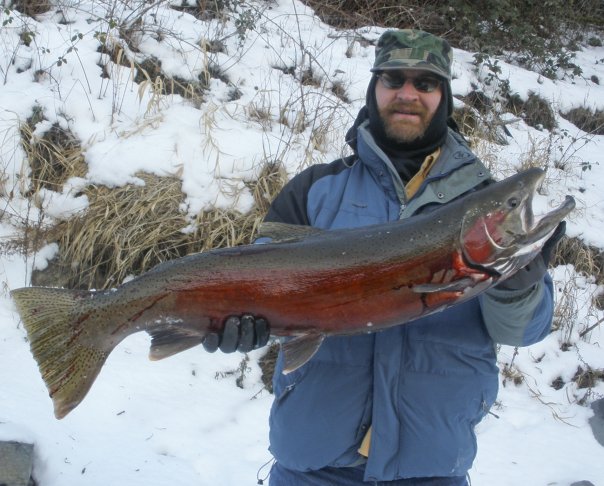 Erika Rader, Assistant Professor, Geological Sciences, participated in an expedition to Iceland as part of NASA's FELDSPAR (Field Exploration and Life Detection Sampling for Planetary Analogue Research) project. Read more about the expedition in Phys.org

Jacob Kennedy, undergraduate student, Microbiology, and his adviser Kristopher Waynant, Assistant Professor, Chemistry, had an article, "Carbohydrate Characterization through Multidimensional NMR: An Undergraduate Organic Laboratory Experiment" published in The Journal of Chemical Education. Garrett Larson (B.S. Biology 2019) and Alex Blumenfeld, Analytical Instrumentation Supervisor, Chemistry, are also authors. Jacob was also awarded the second cover.

Katelyn Slavens Burleigh (B.S. Molecular Biology and Biotechnology 2013) had an article titled, "Human DNA-PK Activates a STING-independent DNA Sensing Pathway" published in Science Immunology.

Marty Ytreberg and Jason Barnes, Professors, Physics, published a paper titled, "Protein Stability in Titan's Subsurface Water Ocean," in Astrobiology. Kyle Martin, Ph.D. student, Physics, and Shannon MacKenzie (Ph.D. Physics 2017) are also authors.

In a series of three cover articles, all published in Organic & Biomolecular Chemistry, Professor Patrick Hrdlicka and his team in the Department of Chemistry have shown that the DNA-targeting properties of Invader probes - a type of designer nucleic acids that was invented by this laboratory - compare favorably to current non-protein-based state-of-the-art approaches. Moreover, next-generation Invader probes with faster and more efficient recognition characteristics are disclosed in this series of articles. The team now hopes to utilize next-generation Invader probes as more specific, efficient and cost-effective alternatives to CRISPR-Cas technologies for detection of disease biomarkers, modulation of gene expression, and gene editing. Team members include Chemistry Ph.D. students Shiva Adhikari and Raymond Emehiser, Saswata Karmakar (Ph.D. Chemistry 2013), and Eric Hall (B.S. Biochemistry 2014, M.S. Chemistry 2016). Read more about the work here, here, and here.

Jeff Hicke, Professor, Geography, is quoted in the Idaho Statesman.

John Abatzoglou, Professor, Geography, has his work featured in The Colorado Sun.

Lokendra Khanal, PhD student, Physics, received a job offer from Intel. He is the third graduate student from Professor You Qiang's research group to receive such an offer in the last five years.

Academic Adviser Megan Fuhlman received the U of I Faculty/Staff International Development Award.

Bryan Carstens (Ph.D. Zoology 2004), has been elected a 2019 Fellow of the American Association for the Advancement of Science. Dr. Carstens is a professor in the Department of Evolution, Ecology and Organismic Biology at Ohio State University.

Janneke Marie Schwaner, Ph.D. student, Biological Sciences, won the university's Three Minute Thesis (3MT) competition. She is quoted in the Moscow-Pullman Daily News. She will represent the university in the state competition later this month.
Here's a challenging puzzle about challenging puzzles:
A homework assignment given to a class of 25 students features three challenging problems. No student is able to solve all three. Furthermore, none of the six students who sit on the back row were able to solve any of them. The teacher receives 17 solutions to problem A, 13 solutions to problem B, and 8 solutions to problem C. How many students solved both problems A and B?
Hint: Can you figure out how many students solved exactly one of the three problems?
Solution to Dec/Jan puzzler:
The tenth term in the sequence is a10 = 123. Here's how to find that answer.
We're told the value of a9, so we'd be able to calculate a10 easily if we could only figure out a8. But the only other piece of information we're given is that a72 - a62 = 517. Fortunately, if we factor this as
(a7 - a6)(a7 + a6) = 517
some nice things happen courtesy of the Fibonacci rule. In particular, since
a7 = a5 + a6
and
a8 = a6 + a7
we can rewrite our equation above as
a5 a8 = 517
Now 517 just happens to be the product of 2 primes: 517 = (11)(47). We must have a5 = 11 and a8 = 47. (It's easy to see that factoring 517 as (517)(1) doesn't work, and neither does putting 47 and 11 in the other order, even if we allow negative numbers in our sequence.) So, we now know both a8 and a9, so it's easy to calculate
a10 = a8 + a9 = 47 + 76 = 123.
Correct Solvers
Roger Allen, B.S. Chemistry 1951
Alex Blumenfeld, NMR Lab Manager, U of I Chemistry
Michelle Boese-Empey, Web Coordinator, U of I College of Agriculture and Life Sciences
Fred Burton, B.S. Mathematics 1968
Timothy Householder, B.S. Mathematics 2002
Duke Hughes, B.S. Chemistry 1961
Jay Hunter, B.S. Chemistry 1973, WWAMI 1977
Marianne Milander, Student, Animal and Veterinary Science
Greg Stenback, B.S. Geological Engineering 1985, M.S. Statistics 1987