Vandal Science News - December 2021
Dear Friends of the College of Science,
Did you hear the great news? The U of I is ranked the #1 Best Value Public University in the West for the second year in a row! We moved up 51 spots in the national rankings. The only public university in the entire country ranked above U of I is the University of North Carolina- Chapel Hill. We are in good company!
Word is getting out about the great education offered by the U of I. The university's fall enrollments are up more than 4.7% overall while national enrollments are trending down. We have our largest freshman class since 2016, with an increase of 16.2% compared to fall 2020. What a great time to be a Vandal.
In early October the university welcomed alumni and advisory boards to campus for our annual celebration of the university, which was rebranded this year as Vandal Fest. We officially opened the beautiful new ICCU Arena and launched the first phase of our boldest comprehensive funding raising campaign ever: Brave. Bold. A Promise to Idaho Students.
College alumni are already helping us fulfill our promise to our students. This month we draw your attention to the generosity of current College of Science Advisory Board member Charlotte Hill '76 and '77 (bacteriology and chemistry), who recently endowed a new scholarship to help ensure that students today and into the future can access the benefits of a science education at the University of Idaho. Charlotte and her scholarship recipient Jenna Gardiner are interviewed below.
Vandal Fest also coincided with the college's 17th Annual Student Research Exposition, which is one of the highlights of our year. It is an output of the promise the College of Science makes to its students—providing meaningful hands-on research opportunities that prepare students for careers and post-graduate education. In our college, we learn science by DOING science.
At the Expo, undergraduate and graduate researchers from across the college presented their work in poster format, and many students prepared presentations for the Virtual Exhibit Hall. We awarded scholarships to the top presentations in each of four divisions, and this year's winners are listed below.
Undergraduate Division:
Tanner Badigian (Biochemistry) – The discovery of novel aerolysin homologs within yeasts (Paul Rowley Biological Sciences, faculty mentor)
Jordan Hieronymus (Medical Sciences) – Identification and sequencing of zebrafish CRISPR mutants carrying Cas9-induced mutations in the apoc1 gene (Diana Mitchell Biological Sciences, faculty mentor)
Graduate Division:
Megan Kight (Chemistry) – Unusual annelated Weiss Cook reaction products: spectroscopic and crystallographic structural determination (Richard Williams, Chemistry, faculty mentor)
Isiaka Lukman (Physics) – Ultra-Wide Band Gap Semiconductors at UV ~3.3eV -7.0eV (Leah Bergman, Physics, faculty mentor)
Kyle Seabourn (Chemistry) – Polynuclear Metal Clusters Synthesized with a Redox Active Ligand (Sebastian Stoian, Chemistry, faculty mentor)
Sigma Xi Award:
Sarah Lawrence (Geography) – Delineating the reality of flood risk: a comparison of physics based and machine learning models (Sam Brody, Texas A&M University, faculty mentor)
Virtual Exhibit Hall:
Bandita Karki (Statistical Science) – Modeling a novel viral intervention strategy: Defective Interfering Particles (DIPs) (Steve Krone, Mathematics and Statistical Science, and Jim Bull, Biological Sciences, faculty mentors)
Keera Paull (Microbiology) – Bacteriophages of the honeybee, Apis mellifera (JT Van Leuven, Biological Sciences, faculty mentor)
In late November three College of Science students were honored with the Alumni Award for Excellence, which recognizes distinguished seniors who've excelled in academics and leadership:
Megan Dobson (Microbiology) (Shirley Luckhart, Biological Sciences and Entomology, Plant Pathology & Nematology, faculty mentor)
Gillian Glivar (Medical Sciences) (Onesmo Balemba, Biological Sciences, faculty mentor)
Sydney Miller (Medical Sciences) (Dan Stelck, Chemistry, faculty mentor)
Congratulations to all these College of Science students and their faculty mentors.
To learn more about the impact of a degree from the College of Science, read the story below about the successes of students from You Qiang's laboratory in the Department of Physics who have acquired jobs at Intel after completing their graduate degrees.
As you can see, the College of Science is already making good on its promise to Idaho's students, but we can and should do more. With your generous donation we can provide scholarships, research experiences and other experiential learning opportunities to our outstanding majors.
Moving forward, Vandal Science News will arrive in your inbox approximately twice per semester. Keep an eye out for our exciting updates and the puzzler.
Thanks for all you do to support the College of Science. Happy holidays and Go Vandals!

Ginger E. Carney, Ph.D.
Dean, College of Science
Scholarship Conversations
Scholarships Help Students in Science
Physics Lab is Pipeline to High-Tech Industry
Nanocluster Research Gives Students Real-Time Know-How
Finding Plumes at Europa 
NASA's Clipper is on the Case
College of Science Staff Appreciation
Name: Tim Roberts
Position at U of I:
Web Coordinator for the College of Science and College of Law
How long have you been with the U of I?
I have been in my current position for a little over 6 years, but have worked at the university off and once since I was a student here.
How did you find the U of I?
I was a student here out of high school and coming from a small town in North Idaho it was really the best option for college and to stay close to family.
Why choose to work here?
I choose to work here because I love living in Moscow. I have been a part of the University of Idaho in one way or another for the last 19 years. I met my wife here, I have worked on campus and for the university when I was a student and then after I graduated. I don't know where else I would work that would feel like home.
What is your favorite part about working here?
The best part of working at the U of I is being part of the Vandal family. We have struggles like any family but it is great to be part of something that has such an impact on the state and the next generation.
Tell us a little about yourself.
I have been in Moscow for almost 20 years now and love this little town. I have two children who keep me busy and are a delight to be around. I like camping and traveling with my family and am a sucker for cool technology. On my weekends I like to tinker in my woodshop or play with my 3D printer. I am a tinkerer and a fixer at heart and that tends to be what I find myself doing in my free time. My wife appreciates it because she likes having someone handy around the house but wishes I could stick to one project long enough to finish it before finding something else to tinker with.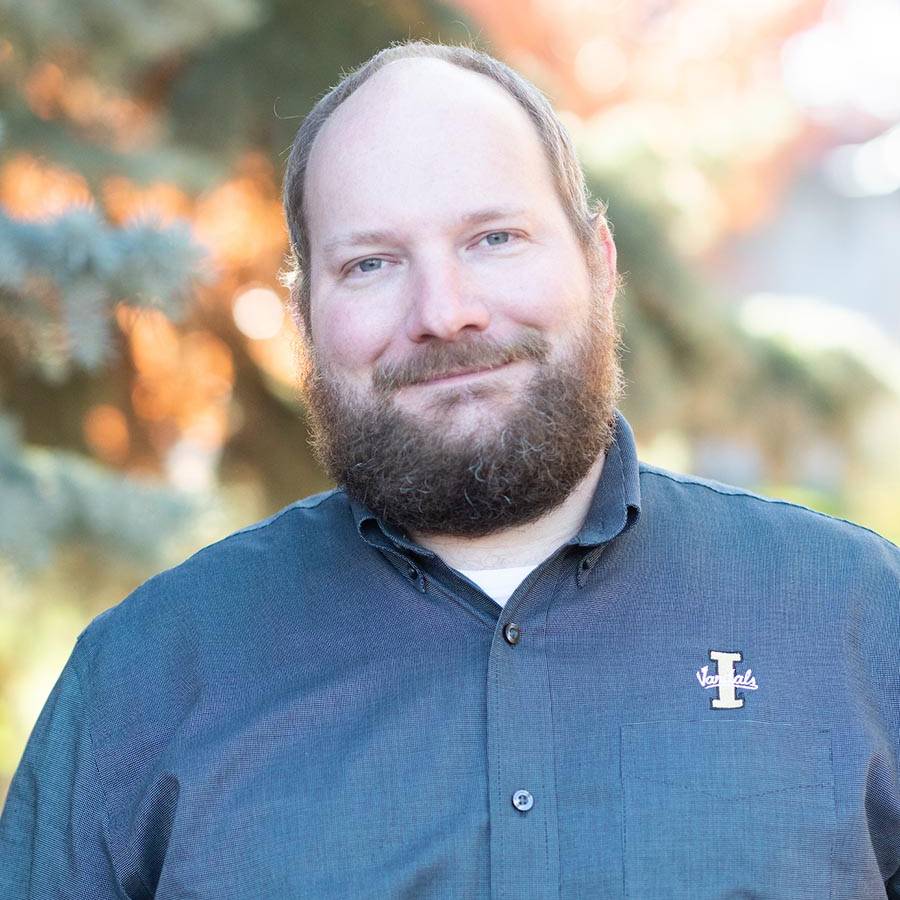 A large holiday banquet served between 500 and 600 people. The dinner rolls came in baker's dozens (packages of 13) -- after everyone had been served a roll there were several empty packages plus one open package with 10 rolls left. The pies for dessert had each been cut into ninths, and after everyone had been served a slice there was a stack of empty pie tins plus one pie with 4 slices left. The tables in the banquet hall each had room for 15 guests. All but one of the tables were full. How many people were seated at that last table?
Solution to September puzzler: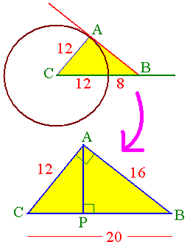 The slope of the ramp is 3/4 (or -3/4, depending on whether you draw it sloping to the right or to the left). The answer is easily found by using similar triangles: As in the top diagram at right, consider a cross-section of the ramp and barrel, and in this cross-section let A be the point where the ramp meets the barrel, B the base of the ramp, and C the center of the barrel. Then:
Since the radius CA of the barrel will be perpendicular to the ramp, the triangle ABC is a right triangle with right angle at A.
The side CA of this triangle has length 12.
The hypotenuse CB has length 12+8 = 20.
Since 12 = 3*4 and 20 = 5*4, we can recognize ABC as a 3-4-5 right triangle (more specifically, a 3*4-4*4-5*4 right triangle). So, the side AB must have length 4*4 = 16. (Alternately, we could find the length of AB from the Pythagorean Theorem.)
Now let P be the point on BC so that AP is perpendicular to BC. Then PBA is a right triangle that is similar to ABC (both have a right angle and both have the angle at B in common).
So, the ratio of the lengths |PA| and |PB| must be the same as the ratio of |AC| and |AB|. That is:
slope of ramp = rise/run = |PA|/|PB| = |AC|/|AB| = 12/16 = 3/4
Correct Solvers
First correct solution: Jerry Fairley, U of I Department of Geography and Geological Sciences
Second correct solution: Ruprecht Machleidt, U of I Department of Physics
Others:
Alex Blumenfeld, NMR Lab Manager, U of I Chemistry
Mark Daily, B.S. Physics 1981
Carey Edwards, B.S. Forest Products 2002, GIS Certificate 2010
Elizabeth Kang, M.S. Adult Organizational Learning and Leadership 2017
Marianne Milander, Student (Animal and Veterinary Science, Microbiology)
James Schreiner, B.S. Chemistry, 1977
Greg Stenback, B.S. Geological Engineering 1984, M.S. Statistics 1987