Vandal Science News - December 2020
Dear Friends of the College of Science,
Welcome to the December/January edition of Vandal Science News. We are approaching the end of fall semester, and classes and final exams are being delivered online. Winter commencement was held in a virtual format on Saturday, Dec. 12. Please check the college's commencement website for information and congratulations.

The university has exciting news on the leadership front! After a national search and review of over 70 applicants, President Scott Green appointed Torrey Lawrence to serve as provost and executive vice president for the U of I. Torrey has served on the faculty for over 20 years and began his career here as an assistant professor. Prior to his latest appointment, he held a variety of leadership positions at the U of I, including director of the School of Music, associate dean in the College of Letters, Arts and Social Sciences, vice provost for faculty and interim provost and executive vice president. I am excited to continue to work with Torrey. He is a dedicated Vandal and is the compassionate and strong leader that we need for the U of I.

The college is pleased to announce this year's recipients of the Hill Undergraduate Research Fellowships. These fellowships are funded by Brian '65 and Gayle Hill, and we appreciate their continued generosity and support of our students. Brian studied chemistry and Gayle studied biology at U of I, and both participated in undergraduate research as students. Given their experiences with research and the impact on their careers, Brian and Gayle take great pleasure in supporting research opportunities for current U of I students.

2020 Brian and Gayle Hill Undergraduate Research Fellows

Kally Arnzen, molecular biology and biotechnology, microbiology (mentor: Christine Parent)
Jeffrey Badigian, biochemistry, microbiology (mentor: Paul Rowley)
Emilia Carrillo, exercise, sport, and health sciences (mentor: Sebastian Stoian)
Andy Johnson, physics (mentor: Somantika Datta), mathematics (mentor: Somantika Datta)
Mete Yuksel, mathematics (mentor: Chris Remien)

Congratulations to the awardees and their mentors.

Our students identify a variety of mentors while they are at the U of I, and the recently established Vandal Mentor Network helps connect students with faculty, staff and alumni who have similar interests or can provide career advice or information on job shadowing opportunities. If you would like to participate as a mentor or mentee, please visit this website for more information. It's all about Vandals helping Vandals!

Wishing you and yours a safe and relaxing holiday season. Go Vandals!
Ginger E. Carney, Ph.D.
Dean, College of Science
Vandal Spirit Forged by Experience
The Tasmanian Devil Comeback Story: U of I Lab Combines Genetic Research With Conservation
Alumni Awards for Excellence | College of Science
College of Science Staff Appreciation
Name: Lorrie Williams
Position at U of I: Assistant to the Dean
How long have you been with the U of I?
18 years in February 2021
How did you find the U of I?
My first encounter with the University of Idaho was as a first-generation, nontraditional student. I worked full time and went to school part time. As a nontraditional student, I was quite a bit older than other students and was technologically challenged. There were so many opportunities available to assist me in being successful, such as tutoring, writing center, group sessions and most of all working one-on-one with faculty.
Why choose to work here?
I worked off campus and after taking a few classes over a couple of years, I decided it would be a wonderful place to work. I wanted to assist students as others had done for me. My first position was in development working with alums who loved the University of Idaho and who gave funds to assist students with their financial needs, in turn helping students be successful. After eight years in that position I decided I needed to know what the academic side of the university was all about and how that fit in with development. I moved into my current role as the assistant to the dean in the College of Science. I work with faculty and other areas on campus to help students be successful as so many did for me!
What is your favorite part about working here?
The people. Everyone cares about each other. I can say without a doubt our faculty have so much passion for student success. To watch alumni gifts and faculty contribute to student success over the years has been a true blessing for me. I am thankful to be a part of the University of Idaho.
Tell us a little about yourself.
I have lived in Moscow most of my life. My husband and I have five grandchildren. We have three cats and a fish. I make cards and scrapbooks. I love all kinds of music including some rap. When I have a free minute, I work on puzzles and sudoku and play the piano.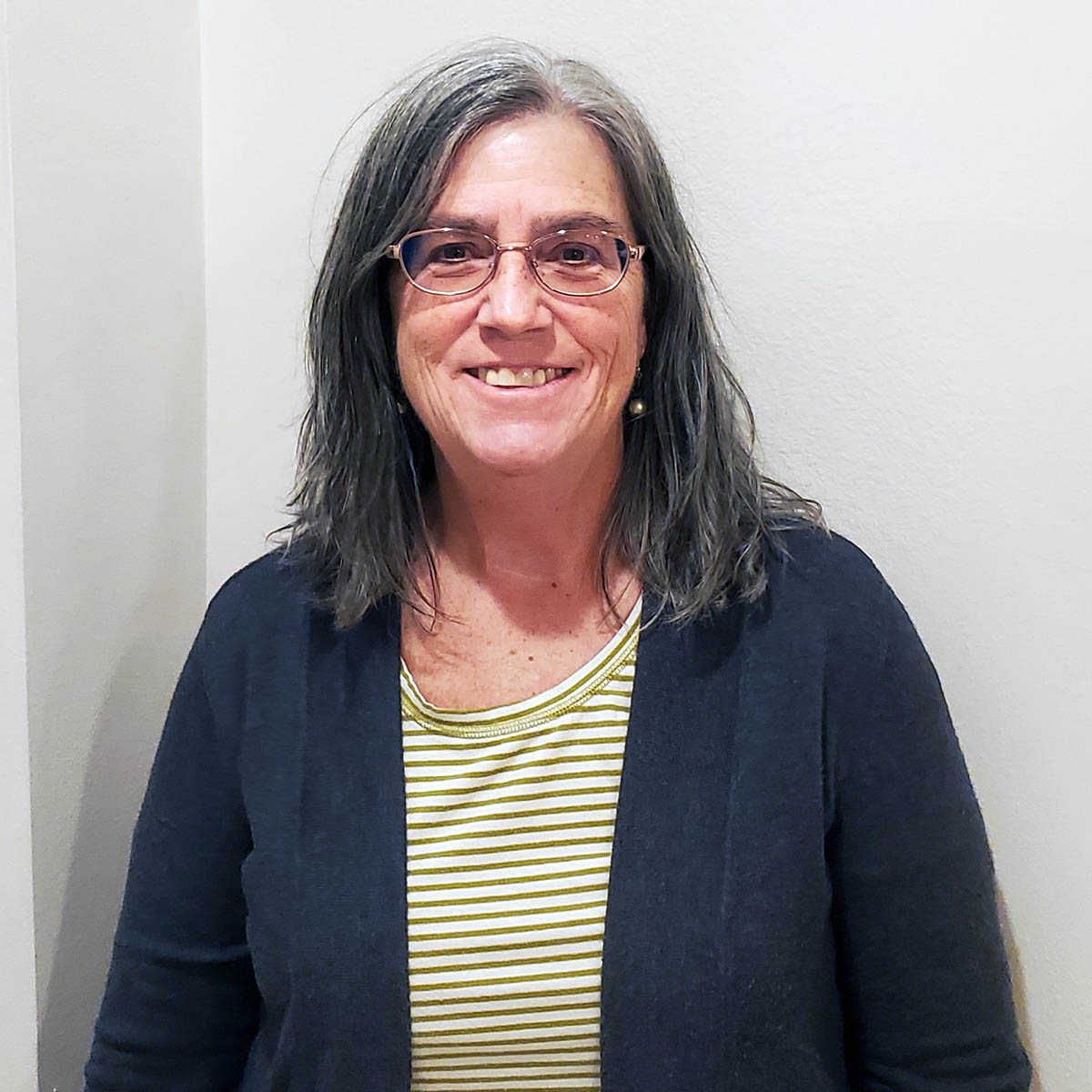 New Grants and Fellowships

Ben Ridenhour (assistant professor, Department of Mathematics and Statistical Science) is co-PI on a collaborative grant from the National Institutes of Health totaling $339,425 to work on a research project with the Texas Biomedical Institute titled "Microbiome-mediated therapies for aging and healthspan in marmosets." The research is focused on modeling the impact of fecal microbiome transplants on health.
Featured Publications

Paul Hohenlohe (professor, Department of Biological Sciences) co-authored two recent papers. The first titled "Intercontinental genomic parallelism in multiple three-spined stickleback adaptive radiations" was published in Nature Ecology and Evolution. The second paper titled "A transmissible cancer shifts from emergence to endemism in Tasmanian devils" was published in Science.
Andreas Vasdekis (associate professor, Department of Physics) published a paper in Scientific Reports titled "Integrative quantitative-phase and airy light-sheet imaging"
Onesmo Balemba and Lee Fortunato (associate professor and professor, Department of Biological Sciences) published a research article in Journal of Virology titled "Human cytomegalovirus interactions with the basement membrane protein nidogen 1". Additional U of I collaborators on this work were Man I. Kuan (postdoctoral associate), Hannah Jaeger ('18, B.S. molecular biology and biotechnology), Emmerentia Marx ('15, B.S. molecular biology and biotechnology), John O'Dowd (staff) and Deborah Duricka (former postdoctoral associate).
Other Kudos

The U of I is one of only 23 public land grant universities in the U.S. to earn AAALAC International accreditation for every college in the university that uses animals in research or teaching projects. This accreditation indicates the university and its researchers adhere to the strictest and most ethical animal care protocols for housing and research.

Avery Pierce-Garnett, a Moscow native who is pursuing degrees in music performance and mathematics, placed first in the category of Young Artist Woodwind in the statewide Idaho Music Teachers National Association (MTNA) competition in November. Avery will represent Idaho in December at the Divisional Competition where he will compete against students from Washington, Oregon, Montana, Alaska and Wyoming.
In Case You Missed It

Diana Mitchell's (assistant professor, Department of Biological Sciences) work on her recently funded NIH grant is described here.

Ben Ridenhour (assistant professor, Department of Mathematics and Statistical Science) led the U of I team that developed this COVID-19 risk map for the state.

Work by Paul Rowley and Jagdish Patel (assistant professors, Department of Biological Sciences) on drugs to prevent coronavirus infections was featured in the most recent issue of Here We Have Idaho magazine.

College of Science researchers are collaborating on a multi-state project to track tick-borne diseases.

Tom Ptak (assistant professor, Department of Geography and Geological Sciences) was quoted in an article about renewable energy in Idaho.

Darren Thompson (adjunct professor, Department of Chemistry) overcame many personal challenges to become a professional chemist and now spends his summers serving as a research mentor for science students at the University of Idaho – Coeur d'Alene.
Here's a puzzle that seems at first to be truly clueless – that is, it doesn't seem like there's anything at all to work with. Ah, but there is! After all, would we give you a puzzle that can't be solved?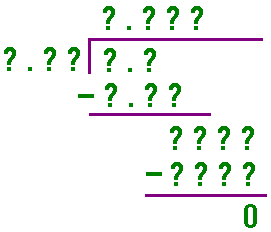 Suppose you find a piece of paper that at one time had a long division problem written on it. Someone, however, has erased all of the digits in the problem. You can see where the digits were from smudges on the paper, and you can see that the division came out to have no remainder, because the only digit you can read is the zero at the end. If the smudge locations are marked by "?" in the diagram, find the answer to the division problem.
Solution to the October Puzzler:
The radius of the circle is 5/4. There are lots of ways to solve this one. The variety of methods I saw in submitted answers was amazing. Here's the method I used.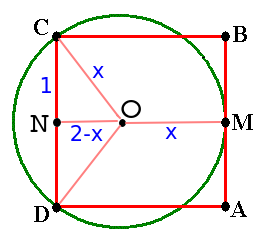 I started by naming a few more points in the diagram. The midpoint of CD will be N and the center of the circle will be O. Now the square has side length 2, so CN is 1 and MN is 2. If we let x be the radius of the circle, then NO is 2-x (since MO is x and MN must be 2). We now have a right triangle CON to which we can apply everyone's favorite theorem – the Pythagorean Theorem!
12 + (2-x)2 = x2
1 + (4 – 4x + x2) = x2
5 – 4x = 0
5 = 4x
x = 5/4
Correct Solvers
1st correct solution: Mark Daily, B.S. Physics, 1981
2nd correct solution: Alex Blumenfeld, NMR Manager, U of I Chemistry
Others:
John Baugh
Gary Green '64, B.S. Mathematics
Marianne Milander, Student (Animal and Veterinary Science, Microbiology)
Greg Stenback '84 and '87, B.S. Geological Engineering, M.S. Statistics
Keith and Nancy Stutler '87, B.S. Mathematics