Geologist Hopes to Understand the Nature of Water on Mars
Assistant Professor of Geology Erika Rader spent last summer studying volcanic eruptions across the Pacific Northwest. This coming summer, her research will take her to a major riverbed eruption area in Iceland. In the summer of 2021, she will be looking at a permafrost eruption on the Seward Peninsula in Alaska, all with the goal of determining if the eruptions in these areas can give her insight to the nature of water on Mars.

"We are using the same tools to look at the rocks here that are used to examine rocks on Mars." she said. "For the Inland Northwest, we were looking at the crystal formation in lava that erupted onto dry land. In Iceland, the eruption happened in a riverbed, which will most likely mean that there is more glass and fewer crystals because the water freezes the lava very quickly. In Alaska, we will see what it looks like when lava erupts onto permafrost."

According to Rader, one hypothesis for water on Mars is that it may have been trapped, frozen in the surface. The implications of her research are significant as her data could help prove or disprove this theory depending on comparisons she is able to make.

After gathering all of her information, Rader and her team will compare their images to those taken on the surface of Mars. "We are looking for any water/lava interaction," said Rader. "We will hopefully know what patterns we should see if lava erupted into water or sub-surface water instead of dry land. Then we will know more about the rivers or lakes on the surface of Mars at some point."

Rader also hopes to create laboratory simulations of lava flows with a specialized geotechnical facility she wants to build at the U of I campus. This device would allow the researchers to make crystal patterns in controlled environments to compare to the natural rocks and better understand the patterns seen on Mars.
This project was funded under NASA grant 80NSSC18K1518. The total funding from this grant is $290,028 of which 100% is the federal share.
Christi Stone, College of Science
Dec. 2019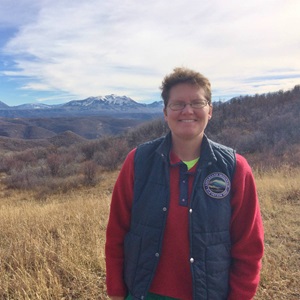 McClure 303D
208-885-1142
M.S. students Adrianne Reeder, Kari Odegaard, and Kevin Cerna stand atop a lava bar that was once surrounded by a river of lava at Lava Beds National Monument, CA.
The IceCrystal team demonstrates how partially molten spatter clasts drape and deform when they land after being erupted.
Kari and Adrianne use the portable visible near-infrared (VNIR) and laser induced breakdown (LIBS) spectrometers to analyze the chemistry of the lava.