New Eclectic Album by U of I Music Director Releases Nov. 1
October 30, 2020
MOSCOW, Idaho — Oct. 30, 2020 — Saxophonist Vanessa Sielert, director of the University of Idaho Lionel Hampton School of Music, and Catherine Anderson, a Northwest-based collaborative pianist and former U of I professor, have released their first solo album, "duality."
The 12-track album contains original commissions by U of I Distinguished Professor Daniel Bukvich and U of I Alumnus Dylan Champagne. The album also includes an arrangement by U of I Professor Vern Sielert of the Simple Minds tune "Don't You Forget About Me" as well as compositions by Thom Yorke of Radiohead and other contemporary musicians.
An eclectic mix of contemporary classical music, each piece in "duality" is distinctly different from the next and ranges from traditional to avant-garde to pieces that require improvisation in mixed meters, Vanessa Sielert said.
An advocate of new music, she commissioned the new compositions on "duality" for the opportunity to perform original works as well as challenge the listener.
"I've always enjoyed commissioning and performing new works," Sielert said. "This album is special because it is a compilation of some of my favorite pieces I've premiered over the past 10 years. Each track takes the listener on a different journey."
Sielert released two prior recordings: "Fireflies" with the Free Range Saxophone Quartet and the "Palouse Jazz Project" with faculty from the Lionel Hampton School of Music.
She has been featured on several other professional jazz recordings including: "The Music of Pat Metheny and Lyle Mays, Vol. 2"with the Bob Curnow Big Band,"Yazz Band" with the Greg Yasinitsky Big Band, "Tricks of Light" with the Jessika Smith Big Band and "Come Rain or Come Shine" with the Emerald City Jazz Orchestra. Classical recording credits include "The Saxophone Music of Allan Blank" and "America's Tribute to Adolphe Sax, Vol. XIII and Vol. IX."
The new album is available beginning Sunday, Nov. 1 through Amazon at uidaho.edu/duality.
For more information about the Lionel Hampton School of Music, visit uidaho.edu/class/music.
—
Media Contact
Kelly O'Neill
Media Relations
Lionel Hampton School of Music
University of Idaho
208-885-6465
koneill@uidaho.edu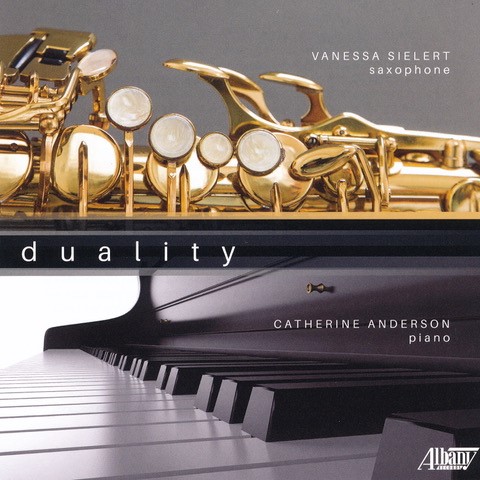 About the University of Idaho
The University of Idaho, home of the Vandals, is Idaho's land-grant, national research university. From its residential campus in Moscow, U of I serves the state of Idaho through educational centers in Boise, Coeur d'Alene and Idaho Falls, nine research and Extension centers, plus Extension offices in 42 counties. Home to nearly 11,000 students statewide, U of I is a leader in student-centered learning and excels at interdisciplinary research, service to businesses and communities, and in advancing diversity, citizenship and global outreach. U of I competes in the Big Sky and Western Athletic conferences. Learn more at uidaho.edu