U of I Catheter Project Earns $16K in Entrepreneur Wins Across Region
April 21, 2020
MOSCOW, Idaho — April 21, 2020 —The University of Idaho entrepreneurial team CatheterX has boosted its seed money for the testing and patent process of an innovative urinary catheter designed to prevent infections, save lives and reduce hospital costs.
The interdisciplinary team of U of I College of Business and Economics and College of Engineering students have won a total of $16,000 for their business plan over the past two months, including $3,000 at the 2020 Northwest Entrepreneur Competition in Spokane, Washington, last week. The team's investor pitches also won first place in March at the 2020 Idaho Entrepreneur Challenge, hosted by Boise State University, as well as the Hollomon Health Innovation Challenge, hosted by the University of Washington. p>
"Entrepreneurs have to be flexible in the marketplace, and this year's pitch teams got an early lesson in flexibility as they adjusted to meet challenges posed by coronavirus," George Tanner, director of Idaho Entrepreneurs, said. "While a number of national pitch competitions were canceled due to COVID-19, CatheterX did not give up and took advantage of opportunities to pitch in virtual formats."
Pitching online required mechanical engineering senior Edward Hall, from Eagle River, Alaska, to adapt the team's message and business plan to presentations compatible with virtual platforms. Olivia Esser, a masters of accountancy student from Harrison, constructed the financial modeling for CatheterX. Tyber Dodson, a marketing student from Coeur d'Alene, demonstrated market opportunity for CatheterX while also developing a marketing plan.
"CatheterX faced the additional challenges presented this spring and went on to win top honors, repeatedly," Tanner said. "As we say in the entrepreneurship program, 'Life's a Pitch!' and this season proves Vandals do it better than anyone else, regardless of venue and circumstances."
More About CatheterX
Each year, more than 5 million patients in the U.S. require a urinary catheter during short- and long-term hospital stays. Eighty percent of long-term patients will develop a Catheter-Associated Urinary Tract Infection (CAUTI).
These infections are responsible for about 13,000 deaths in the U.S. each year and a $400 million increase in costs for hospitals.
"Nobody really knows about the dangers of CAUTI," Hall said. "That's why this problem has gone unsolved. The catheter designs haven't changed for so many years, and the problem has been around the entire time."
CatheterX features an embedded spiral design that, using a syringe, allows solution or antibiotics to be easily pumped through the catheter and released from the urethra. The design was created in 2019 by a team of engineering seniors for U of I's nationally recognized Senior Design Capstone Program.
A preliminary patent for CatheterX was submitted in early March, and Hall said competition earnings will be put toward intensive testing of the device over the next year to build on the 100-page patent document the team will need to have submitted by March 2021.
The most commonly used catheter in the U.S. is the Foley catheter. Originally designed in 1929, not much has changed on the two-channel device inserted through the urethra that uses a balloon piece to anchor inside the bladder and allow urine to flow into a collection bag outside the body.
"Medical staff even refer to catheters as Foleys — that's how much of a standard these devices have become," said Elena Tipton, a 2019 U of I mechanical engineering graduate from Boise and a member of the senior engineering design team. "This device has remained the same because it's such a hard design to change. The Foley catheter may cause issues, but the device does do an important job effectively."
Innovations in the catheter design, including laser catheters and devices specifically for children, have come about, but manufacturing costs have impeded distribution of the new devices.
CatheterX's injection mold manufacturability is cost-effective and would allow it to be produced on a large scale. It is also adaptable in size.
"Some new catheter designs are really scientific and futuristic, but they're way too expensive," said Amy Macias, a 2019 biological engineering graduate from Nampa and member of the senior engineering design team. "Our design is made the same way catheters are made now, but adding a simple feature sets it apart from any design currently out there."
Image Credit: George Tanner
—
Media Contacts
Alexiss Turner
Marketing & Communications Manager
U of I College of Engineering
208-885-7511
alexisst@uidaho.edu
Ross Wulf
Marketing & Communications Manager
U of I College of Business and Economics
208-885-7500
rwulf@uidaho.edu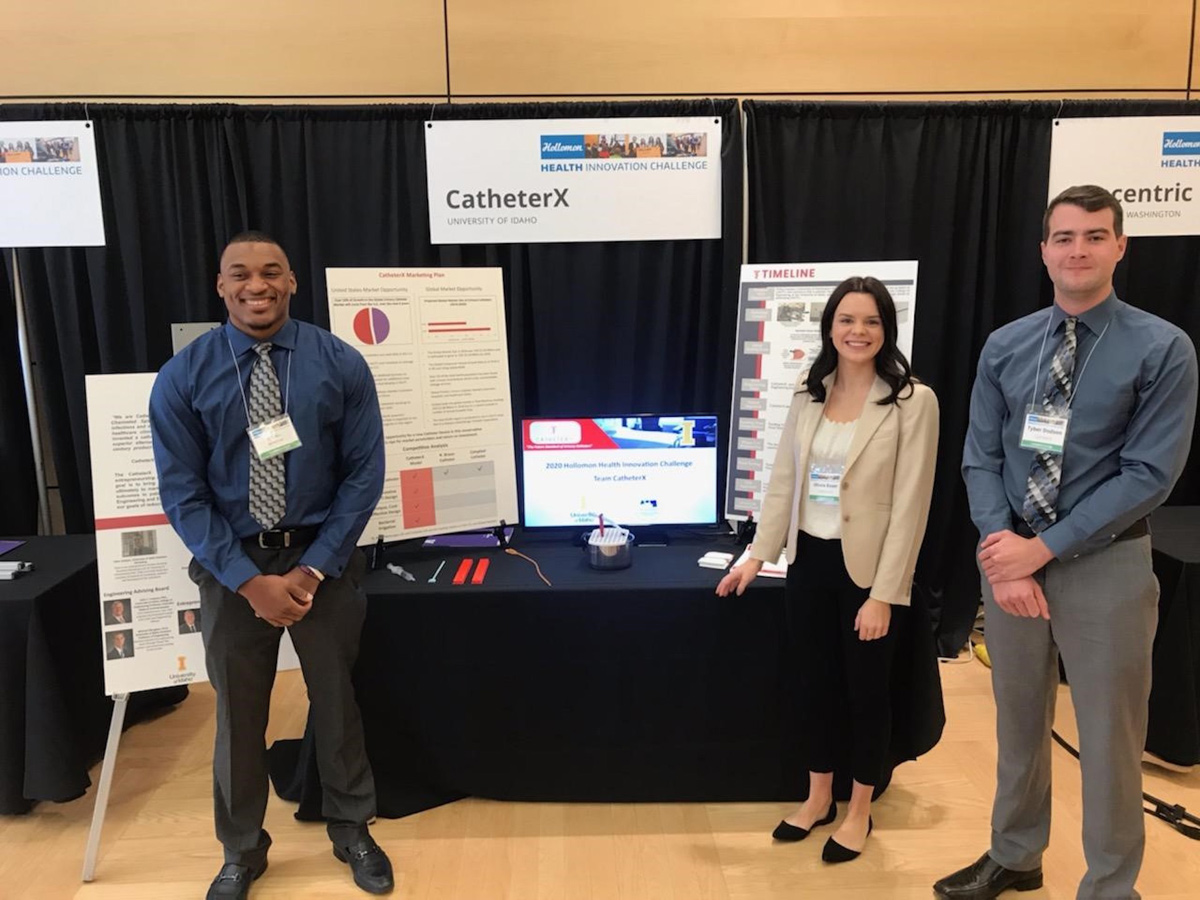 About the University of Idaho
The University of Idaho, home of the Vandals, is Idaho's land-grant, national research university. From its residential campus in Moscow, U of I serves the state of Idaho through educational centers in Boise, Coeur d'Alene and Idaho Falls, nine research and Extension centers, plus Extension offices in 42 counties. Home to nearly 11,000 students statewide, U of I is a leader in student-centered learning and excels at interdisciplinary research, service to businesses and communities, and in advancing diversity, citizenship and global outreach. U of I competes in the Big Sky and Western Athletic conferences. Learn more at uidaho.edu