U of I Students Earn Top Awards for Theatre Work
April 08, 2020
MOSCOW, Idaho — April 8, 2020 — Four University of Idaho theatre students and Professor Emeritus Forrest Sears are among the recipients of top awards at the Region 7 Kennedy Center American College Theatre Festival in Fort Collins, Colorado.
Junior Andrew Yoder of Boise won the Regional Award for Excellence in Sound Design for the second consecutive year for his work in U of I's production of "Drowning Ophelia" and the Stagecraft Institute of Las Vegas Don Childs Cross Collaboration Award. In a normal year not hampered by the coronavirus pandemic, Yoder would have been in the running with students from the seven other regional KCACTF winners this month in Washington, D.C., for the national award, attended specialty workshops and networked with industry professionals.
Master of Fine Arts candidate Luke Holt of Columbia, South Carolina, won the Regional Musical Theatre Scholarship. The honor would have come with an expenses-paid invitation to compete at the national level.
Plans are forthcoming from KCACTF as to how the national finalists will be honored in the coming months.
Master of Fine Arts candidate Jared Sorenson of Portland, Oregon, took home two first-place awards in the Tech Olympics for knot tying and floor tape out. Both skills are used in theatre design and technology. Additionally, he received an honorable mention award for his scenic design for "This Random World."
Sophomore Mason Chadd of Meridian won first place in the Tech Olympics for rigging and earned a one-week scholarship to the Stagecraft Institute of Las Vegas.
Sears, who was a member of the Department of Theatre Arts from 1966 to 1997, was presented with the Gold Medallion Award, honoring his contributions to the teaching and producing of theatre and for his demonstrated commitment to the values and goals of KCACTF. This award is considered one of the greatest honors in theatre education.
"Forrest is an important part of the legacy of our department and what makes it strong," said Robert Caisley, chair of U of I Department of Theatre Arts. "To have our students rewarded alongside our most senior and experienced professors is gratifying."
The festival awards, presented at the group's Region 7 conference, are part of a national theatre program involving more than 18,000 students from colleges and universities across the country and has served as a catalyst in improving the quality of college theatre in the United States. U of I competes in Region 7, which includes Idaho, Washington, Oregon, Wyoming, Montana, Colorado, Alaska, Northern Nevada and Northern California.
In addition to the top individual awards, U of I also took first place in Tech Olympics, Theatre Trivia and received The Golden Hand Truck award.
The Tech Olympics team was composed of Sorenson, Chadd, Valerie Denton of Meridian, Stephanie Lutz of Oakley, California and Megan Inmon of Maryville, Tennessee. The competition evaluates skills used in theater design and technology including lighting, sound, knots, wardrobe and scenery/carpentry.
The Theatre Trivia team was composed of Hannah Verdi of Hayden, Katharine Sonas of Spokane, Washington, and Sorenson.
The Golden Hand Truck was awarded to the students involved in "This Random World" for their smooth and efficient work loading the show in and out.
Other U of I students who won regional awards include:
Emma Pace of Portland, Oregon: George R. Caldwell Graduate Scholarly Paper Award
Brindle Brundage of St. George, Utah: Meritorious Achievement in Scenic Design for her work in "Little Women: The Musical"
Megan Inmon of Maryville, Tennessee: Meritorious Achievement – Allied Design in Scene Painting for her work in "This Random World"
Emma Lindemood of Salt Lake City, Utah: Meritorious Achievement – Stage Management for her work in "Little Women"
Stephanie Lutz of Oakley, California: Honorable Mention in Lighting Design for her work in "Little Women"
Hannah Verdi of Hayden: Musical Theater Certificate of Achievement
Joseph Winder of Layfayette, California: First Alternate for the Society for Directors and Choreographers
For information on U of I Theatre Arts visit uidaho.edu/class/theatre.
Media note: Photographs of Mason Chadd, Jared Sorenson, Andrew Yoder, Luke Holt and Forrest Sears are available upon request.
—
Media Contact
Kelly O'Neill
Media Relations, College of Letters, Arts and Social Sciences
208-885-6465
koneill@uidaho.edu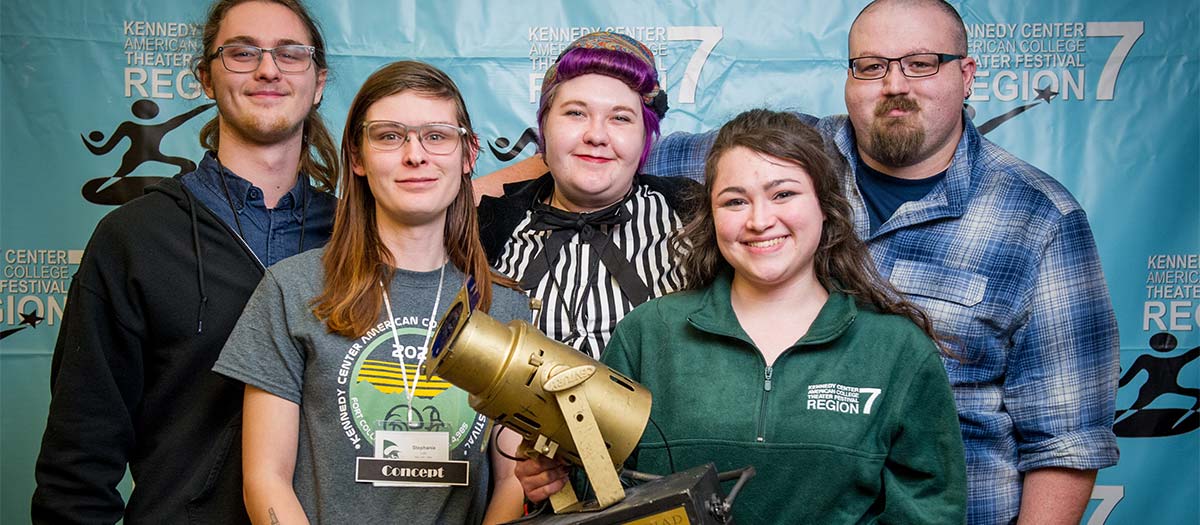 About the University of Idaho
The University of Idaho, home of the Vandals, is Idaho's land-grant, national research university. From its residential campus in Moscow, U of I serves the state of Idaho through educational centers in Boise, Coeur d'Alene and Idaho Falls, nine research and Extension centers, plus Extension offices in 42 counties. Home to nearly 11,000 students statewide, U of I is a leader in student-centered learning and excels at interdisciplinary research, service to businesses and communities, and in advancing diversity, citizenship and global outreach. U of I competes in the Big Sky and Western Athletic conferences. Learn more at uidaho.edu.