U of I Rallies to Assist Communities in Fight Against COVID-19
April 02, 2020
MOSCOW, Idaho — April 2, 2020 —The University of Idaho is rallying in different ways to help the fight against the coronavirus (COVID-19) pandemic.
Here's some of the ways U of I students, faculty and staff are answering the call:
Production of Redesigned 3D-Printed Respirator Masks Boosted
U of I College of Engineering is working with medical staff on the Palouse and in the Lewiston-Clarkston Valley to fulfill the overwhelming demand for respirator masks and equipment sterilization systems at area hospitals.
The coronavirus has nearly depleted the supply of needed personal protective equipment nationwide.
"We're all stuck at home, and we want to fix this in any way we can," said U of I College of Engineering Associate Professor Gabriel Potirniche. "We can't have COVID-19 overwhelm our healthcare system. If we keep medical staff safe, this is less likely to propagate in our community. Everyone has a duty to put a stop to this virus."
U of I engineering faculty is finalizing an improved design for a 3D-printed filtering facepiece respirator mask. This new design allows the wearer to breathe more easily and can be used with different filtration materials that are readily available.
These masks, similar to N95 masks, are recognized by the Centers for Disease Control and Prevention as the best tool for filtering bacteria and virus particles. Prototypes of the design have already been delivered to medical staff in the Lewiston-Clarkston Valley for validation and feedback.
With a design expected to be finalized this week, work will begin with 3D printing partners across Idaho and Washington to mass produce the masks for delivery to hospitals in need.
"One of the things that has helped me get through this difficult time is watching the huge outpouring of support and efforts from the people in the community as we continue to work toward this goal," said Cassidy Hall, director of the U of I Doceo Center for Innovation and Learning, which has five 3D printers ready to begin production.
Community members who have access to 3D printers and are interested in supporting this effort should contact Hall at cassidyh@uidaho.edu.
While boosting the supply of filtration masks, the U of I Department of Electrical and Computer Engineering is also working to develop mobile mask sterilization stations that can be used to clean several masks at a time.
The system uses ultraviolet C (UVC) light, a short-wavelength light capable of converting the virus into harmless carbon compounds and water.
Traditional UVC bulbs are also in short supply because of the pandemic. Biological Engineering Professor Dev Shrestha and Research Support Scientist Chad Dunkel are prototyping the system using a more readily available LED bulb also capable of reaching the needed frequency for germicide.
The college expects to be able to deliver a plan this week that would allow community hospitals to build their own systems using the specific bulbs and materials available at any hardware store.
Theatre Department Making Cloth Masks for Hospital
The Department of Theatre Arts is using costume supplies to make cloth masks that can be used by Gritman Medical Center staff to cover N95 masks, extending the useful life of the medical equipment.
Ginger Sorensen, a clinical assistant professor and costume director, and her students have made more than 100 masks.
"Someone sent me a link about people making masks at home in other states, so I called Gritman and talked to volunteer services to get more information," Sorensen said. "This is something in my skillset that I can do to help."
Other U of I Efforts Supporting Battle Against Pandemic
Idaho INBRE (IDeA Network of Biomedical Research) administrators donated 33 boxes of personal protective equipment from a previous National Institutes of Health (NIH) research project to Gritman. The material included disposable gowns, pants, sleeves, booties and three power air purifying respirators.
A decommissioned, stand-alone dormitory on the edge of campus – the old Targhee Hall – has been brought back to life. The building would have 32 beds for use by Gritman should the hospital need it. The building has been cleaned, and all utilities have been prepared for Gritman's use.
The Idaho Community Relief fundraiser benefits students feeling the impacts of job loss or unplanned travel through the Bruce and Kathy Pitman Fund for Student Emergencies, the Vandal Food Pantry and Project ECHO (Extension for Community Healthcare Outcomes) medical education program that connects medical professionals to fight the pandemic.
Project ECHO hosted a virtual full-capacity panel presentation and question-and-answer period for more than 700 Idaho medical providers March 24 to address challenges stemming from the pandemic. Sessions are now being held twice weekly to address the crisis.
U of I is providing regular updates on the pandemic on its COVID-19 website.
(Media Note: Photo of the 3D project is attached. Video and more photos, including of the cloth mask project, are available upon request from the media contacts below.)
Caption:University of Idaho Department of Mechanical Engineering Associate Professor Joel Perry, left, and mechanical engineering graduate student Chris Bitikofer test a prototype of an 3D-printed, N95-type mask for intended distribution to area hospitals.
Image Credit: University of Idaho Photo
—
Media Contacts
3D-printed masks:
Gabriel Potirniche
Associate Professor
College of Engineering
985-981-7579
gabrielp@uidaho.edu
Alexiss Turner (photos and video)
Marketing & Communications Manager
College of Engineering
208-885-7511
alexisst@uidaho.edu
Cloth masks:
Kathy Foss, Marketing and Communications Manager
College of Letters, Arts and Social Sciences
509-432-4425
kfoss@uidaho.edu.
Other efforts:
Jodi Walker
Director of Communications
208-791-2109
jwalker@uidaho.edu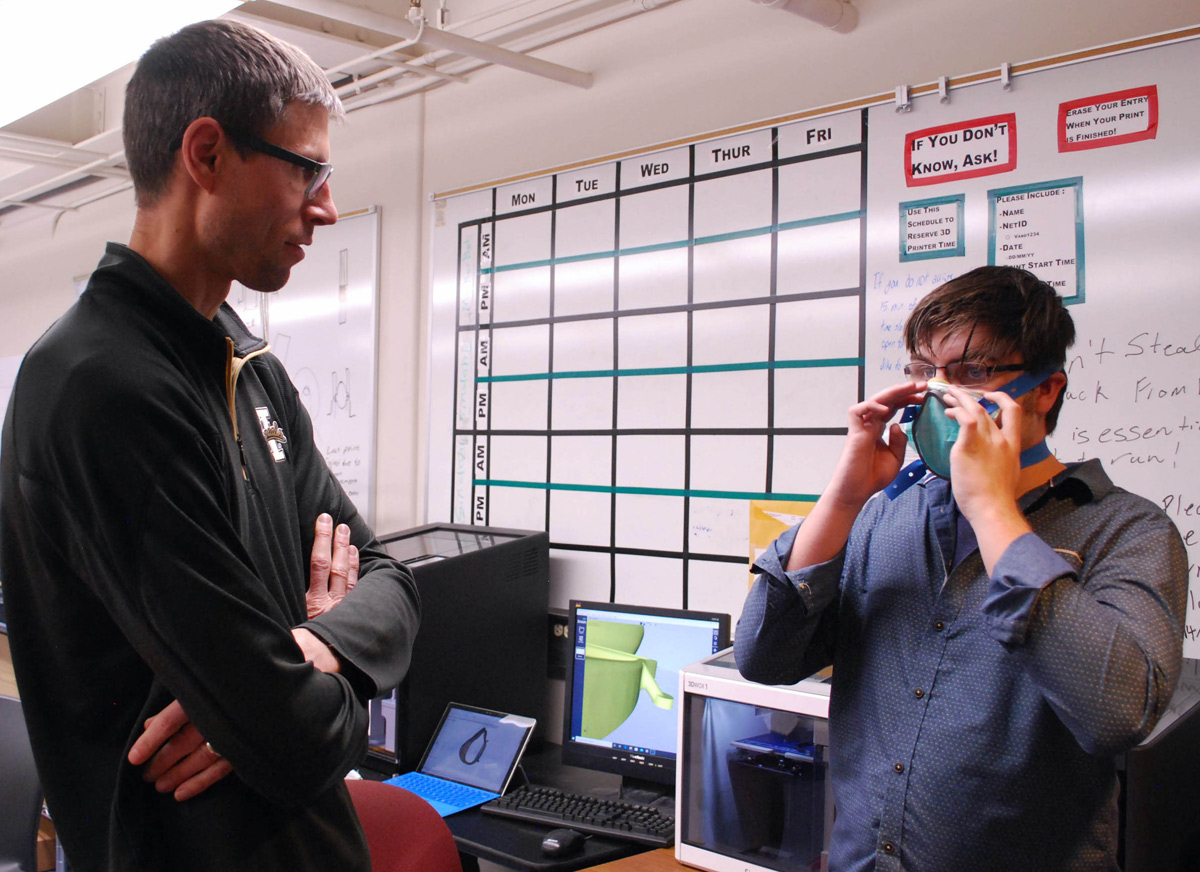 About the University of Idaho
The University of Idaho, home of the Vandals, is Idaho's land-grant, national research university. From its residential campus in Moscow, U of I serves the state of Idaho through educational centers in Boise, Coeur d'Alene and Idaho Falls, nine research and Extension centers, plus Extension offices in 42 counties. Home to nearly 11,000 students statewide, U of I is a leader in student-centered learning and excels at interdisciplinary research, service to businesses and communities, and in advancing diversity, citizenship and global outreach. U of I competes in the Big Sky and Western Athletic conferences. Learn more at uidaho.edu