Raised in The Big City, I Thought I'd Seen It All
April 20, 2020
This article was written by Leo Tamba and published in Moscow-Pullman Daily News, April 20, 2020 and the Coeur d'Alene Press, May 1, 2020.
I'm a University of Idaho football linebacker from the Los Angeles area, a place so big, diverse and pulsating that by the time you're grown, you think you've seen it all.
But nothing I've experienced has compared with the coronavirus, which has unnerved even a guy like me who weathered some tough times as a kid.
The fear that the virus is generating hit home when I returned to Southern California during spring break in mid-March. It was startling to see empty shelves at supermarket after supermarket in Orange County, the Los Angeles suburb where my family now lives. I had never seen the stores where my family shops lacking milk, eggs, rice, toilet paper and other necessities.
Like a lot of university students, I've also been worrying about my parents' financial situation. That's particularly true of my mom because she works for an airline – and the virus has hit the transportation sector hard.
Quarantines and lockdowns, and people's fear about catching the virus on a plane or in an airport, have slashed demand for flights. Some airlines have responded by furloughing or laying off staff. And the industry has asked for help from the federal government.
Mom has worked at the same airline for 20 years, and her salary generates a lot of our family income. She has told me her job situation is all right for now, but she's not sure what will happen if California's lockdown lasts several more months.
When the University of Idaho went to online classes after spring break, I decided to stay in California. I've been looking for part-time work to help my family as the coronavirus lingers.
Online learning hasn't been easy for me and most other students, although we're trying hard to adjust.
But the coronavirus has decimated the extracurricular activity that has been such a big part of my life – sports – by cancelling college seasons and even preventing teams from practicing together. I worry about my athletic future, the futures of my Vandal teammates, and the futures of college athletes across the country.
I played well enough at Saddleback College in Southern California in 2018 to earn a scholarship to the University of Idaho in the spring of 2019.
I loved my junior year as a Vandal. Not only did my athletic scholarship pay for my education, but I was playing Division 1 football, a jump in competition that made me a better athlete. Joining a team far from home also led to me making a lot of new friends.
Then the coronavirus surfaced, threatening my dreams. In March the Big Sky Conference joined leagues across the country in canceling sports for the rest of the academic year.
The football season was already over, but athletes in sports like lacrosse and track and field had been looking forward to spring competition – and in an instant it was gone.
Some of them were seniors, which meant their college athletic careers were over. I felt for them. They had spent their entire lives perfecting their skills, only to lose their last chance at university competition because of a once-in-a-lifetime situation.
Before I left for spring break, my Vandal teammates and I practiced hard for the annual spring football game – a preview of how we might do in the fall. But it, too, was canceled.
Leo Tamba is a junior from the Los Angeles area.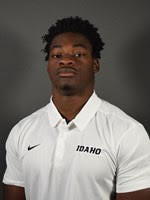 About the University of Idaho
The University of Idaho, home of the Vandals, is Idaho's land-grant, national research university. From its residential campus in Moscow, U of I serves the state of Idaho through educational centers in Boise, Coeur d'Alene and Idaho Falls, nine research and Extension centers, plus Extension offices in 42 counties. Home to nearly 11,000 students statewide, U of I is a leader in student-centered learning and excels at interdisciplinary research, service to businesses and communities, and in advancing diversity, citizenship and global outreach. U of I competes in the Big Sky and Western Athletic conferences. Learn more at uidaho.edu