International Students Hit Hard By Virus
April 14, 2020
This article was written by Naga Pruidhvi and published in Moscow-Pullman Daily News, April 14, 2020.
While the coronavirus has disrupted the lives of hundreds of thousands of university students across the United States, international students like me have been among the hardest hit.
Our psychological support systems are far away, with our families overseas. But many of us are afraid to go home for the summer for fear that stricter U.S. coronavirus controls will prevent us from returning to finish our education. The virus has also hurt my financial situation.
In addition to coping with the coronavirus while far from my home in India, I've been upset about it striking several of my international soccer heroes.
Soccer is more than a hobby for me — it's my future profession. I'm a journalism and history major at the University of Idaho, and my goal is to become either a soccer writer or a soccer team's public affairs person when I graduate.
As an international student, I pay tuition and other fees that are considerably higher than Idaho residents.
To ease my family's financial burden, I have been meeting my basic need by working at the university library — until the coronavirus curtailed many university functions and that income vanished.
I had also planned on using my work money to apply for master's programs and to take the Graduate Record Examination. Now I will need to scramble to find alternative sources of income for those expenses.
Before the virus surfaced in the United States, I had planned on returning to my home in Guntur, India, to be with my parents this summer. But in the past few weeks, many airlines have slashed their international flights and what tickets are available can be very expensive.
I'm also afraid that if I go to India and return, I will face stricter coronavirus controls that keep me out of the country without going through expensive health checks or a costly quarantine.
If that were to happen, it could spell disaster for me obtaining my bachelor's degree on time. Given all this, it is highly unlikely I will go home this summer.
I have been pleased with my journalism education at the U of I. I am certain that the practical writing and editing skills I am learning will help me find a job that revolves around my passion for soccer.
I love watching the sport, analyzing what's happening on the field, and writing about the game. But most soccer action, like that of most major sports, has been suspended globally because of the virus.
I am missing watching games, and it is even worse to learn about soccer players I admire getting coronavirus.
I was crushed when the virus struck my idol Paulo Maldini, a former A.C. Milan and Italian national team player who is regarded as one of the sport's best defenders.
Other stars whom the virus has hit include Paulo Dybala, an Argentine national who plays for Italian club Juventus; Blaise Matuidi, a French national who also plays for Juventus; and Callum Hudson Odoi, an English national who plays for Chelsea football club.
I like basketball, too, and for sports lovers like me, this has been a very bad year, starting with Kobe Bryant's death and the big sports leagues suspending their games and other activities.
I know that some day the coronavirus will pass and I can realize my dream of a career that revolves around soccer writing or PR.
In the meantime, like every other U of I student, I will do the best I can to get through this difficult period.
Naga Prudhvi Panguluri is a junior from Guntur, India, majoring in journalism and history.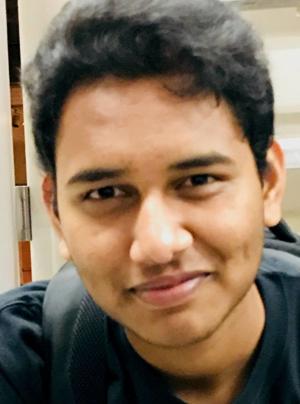 About the University of Idaho
The University of Idaho, home of the Vandals, is Idaho's land-grant, national research university. From its residential campus in Moscow, U of I serves the state of Idaho through educational centers in Boise, Coeur d'Alene and Idaho Falls, nine research and Extension centers, plus Extension offices in 42 counties. Home to nearly 11,000 students statewide, U of I is a leader in student-centered learning and excels at interdisciplinary research, service to businesses and communities, and in advancing diversity, citizenship and global outreach. U of I competes in the Big Sky and Western Athletic conferences. Learn more at uidaho.edu