Grandiose plans offered for future of Lewiston's Bollinger Center
February 20, 2020
This article was written by Joel Mills and published in The Lewiston Tribune on Thursday, Feb. 20, 2020. Read the original article.
While there is a heap of doubt surrounding Lewiston's Anne Bollinger Performing Arts Center, a group of University of Idaho architecture students offered their versions of a bright future Wednesday for the condemned former church and theater.
The students were enlisted by a task force that is working to keep the city of Lewiston from resorting to demolition. The city acquired the sandstone block building when the Lewiston Civic Theatre gave it up after a large roof truss failed in 2016, leading to the condemnation.
"By saving those outstanding rock walls from the wrecking ball, we're trying to save the cultural history of Lewiston and the valuable community memories," architecture instructor Hani El Hajj said while introducing the student presentations at the Lewiston Community Center.
Some city officials, like task force member and city Councilor Cari Miller, want to maintain the building until a new owner and new use can be found. Others see the structure as a liability, and a recent engineering assessment warned of the increasing danger posed by pieces of stone falling from its high walls.
But those concerns were on the back burner for the students, who were encouraged to dream big. None of them proposed returning the Bollinger exclusively to its former use as a community theater, but several incorporated some sort of entertainment in their mixed-use proposals. Some focused on converting it into creative spaces for artistic and other ventures, while others included food and beverage operations in their concepts. All proposed ways to generate revenue to support ongoing operations.
Josh Corgatelli and Bashra Tashkandi envisioned the Anne Bollinger Creative Center, where a sculpture museum for local artists would operate alongside a commercial ceramics studio. There would also be space to exhibit Bollinger history, both of the building and its namesake opera star, who grew up in Lewiston.
Art sales and an included cafe and bar would help the center make money, they said, noting that smaller museums have become more enticing recently and could also be used to generate revenue through memberships and ticket sales.
Anissa Watson and Hannah Schnebly proposed the Bollinger Wellness House, a health care facility that would offer spa-like services like massage and physical therapy. It could also offer mental health programs, and appeal to students and faculty from nearby Lewis-Clark State College and the residents in the surrounding neighborhood, they said.
The Bollinger's performance area could be reused as a lecture hall and the basement converted into a nutritional space with a coffeehouse and juice bar in a lounge-like atmosphere, they added.
Beverages took center stage with a proposal by Kylie Kerber and Morgan Collins, who thought a brewery and event center would help recreate the community gathering space the theater once represented. They studied other churches that have been successfully converted into breweries, like The Church Brew Works in Pittsburgh.
In addition to brewing and selling beer, Kerber and Collins designed a space that could host a variety of events and offer extras like bar games and an ice cream parlor that would pair beer and ice cream tastings.
Hosting events was paramount for the team of Victoria Thornton and Sonya Fernandes. Their Bollinger Event Center would be a congregating spot for the entire community with its focus on accessibility for people of all ability levels. And it would generate a steady stream of revenue with rentals for large events like weddings, or multiple smaller events that could happen simultaneously through savvy interior design.
It could also welcome concerts, something that would appeal to the younger generation of area residents. There is some local competition for concert halls, like the Clearwater River Casino and bars. But the casino is out of town and bars can only let in the 21-and-over crowd, while the Bollinger could be an all-ages venue, they said.
Kiara Wetzel and Elisabeth Bowker also conceived an events center, but one that would also utilize some sort of outdoor space in its operations. And while some proposals radically transformed the Bollinger's basement from a dark, cramped space with low ceilings, they embraced it with a restaurant and distillery that would feature a "speakeasy aesthetic" that has become popular in recent years.
Wetzel and Bowker were the most up-front about the obstacles to any of the ideas: cost. They emphasized that the city would need to give the task force time to find solutions, instead of resorting to demolition.
"It is more sustainable and economic to repurpose a building, rather than to tear it down," Bowker said.
One of the more unorthodox ideas came from Stephanie Aguilar and Ariana Vega, with the "Bollinger Fuse and Sip." Under their proposal, the building's activities would be focused around the growing art of glass fusing, where repurposed glass items are heated, smashed, shaped and otherwise manipulated to create objects both artful and useful. Ceramics would be produced too, and the operation could raise revenue through a gift shop and by hosting parties where guests create their own pieces.
Wine would also feature, with tastings for groups and private events. Like some other proposals, Aguilar and Vega included a historical exhibit, but their idea to put in an elevated walkway — called the "Timeless Bridge" — around the building's iconic central chandelier got the task force's attention.
Finally, Kiana Aros and Iris Ramirez described a multiuse facility for exhibitions, artistic installations in a gallery and some kind of cafe with a bakery. But they were the only ones to build their proposal around the relatively new concept of a co-working space, where employees from several different companies share a modern office space. The concept has been used to repurpose historic buildings around the world, with the closest example probably the Innovation Den in Coeur d'Alene.
Each presentation put a heavy emphasis on reusing the striking architectural aspects of the Bollinger, from its soaring stone walls to its many stained-glass windows. The students will make more detailed follow-up presentations at 2:30 p.m. March 6 at the community center, 1424 Main St.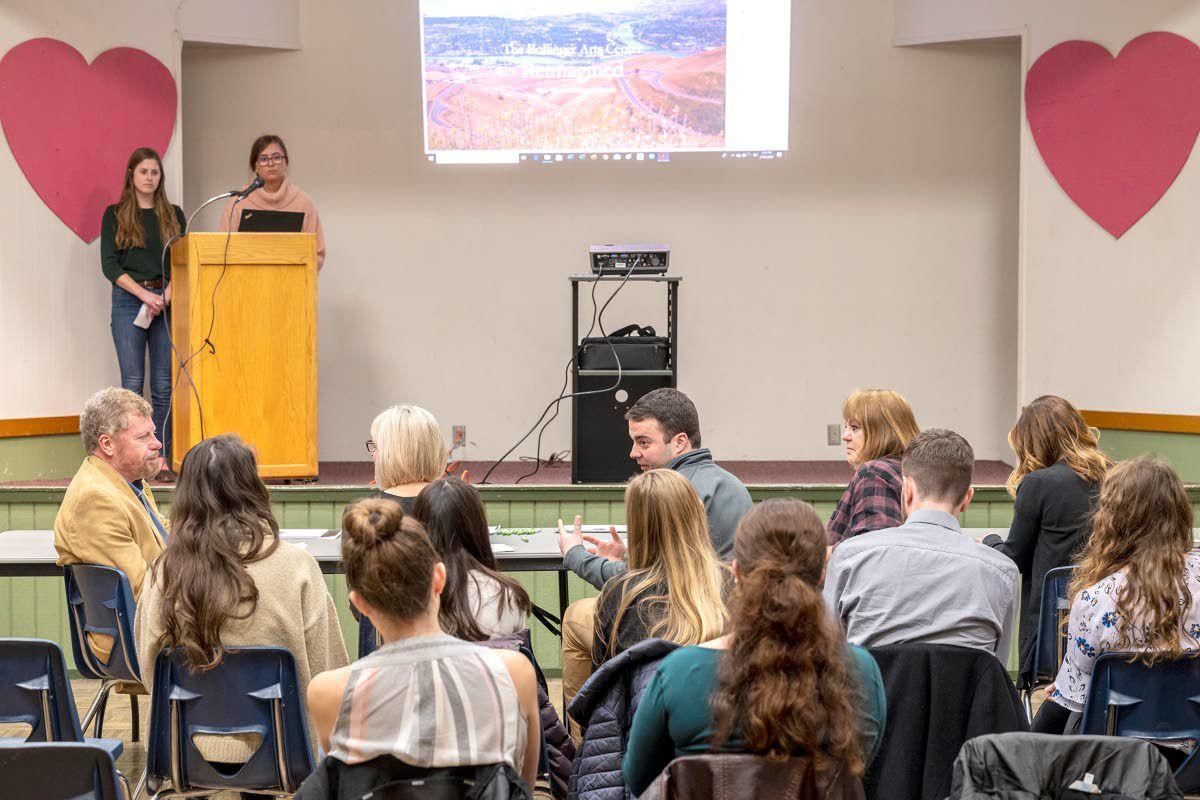 About the University of Idaho
The University of Idaho, home of the Vandals, is Idaho's land-grant, national research university. From its residential campus in Moscow, U of I serves the state of Idaho through educational centers in Boise, Coeur d'Alene and Idaho Falls, nine research and Extension centers, plus Extension offices in 42 counties. Home to nearly 11,000 students statewide, U of I is a leader in student-centered learning and excels at interdisciplinary research, service to businesses and communities, and in advancing diversity, citizenship and global outreach. U of I competes in the Big Sky and Western Athletic conferences. Learn more at uidaho.edu