U of I Students Come to Aid of Asylum Seeker
January 06, 2018
This article was written by Taylor Nadauld and published in the Moscow-Pullman Daily News on Saturday, Jan. 6, 2018. Read the original article here.
Mumin Abass reached the U.S.-Mexico border with nothing but the clothes on his back and a plea for asylum, according to his lawyers, a team of pro bono University of Idaho College of Law students.
He's described on a fundraising page as a queer man from Ghana, a country in West Africa known for its suppression of LGBTQ rights.
Abass fled to the U.S. with the intent to immigrate lawfully, Jonathan Shirts, a U of I student on the case, told the Daily News.
But the process has since been long and painful.
Now, Abass is nearing 1,000 days of imprisonment in various U.S. detention centers and prisons in Southern California, seeking money to post bond and be free from prison as he awaits a verdict on his asylum claim from the U.S. Court of Appeals for the 9th District.
Abass had been detained for 919 days when a U of I law student, Andrew Augustine, and his professor, Kate Evans, visited the Adelanto Detention Center in California to represent Abass at his first bond hearing Nov. 15.
Though he had already been receiving legal help over the phone from a team of U of I law students regarding his asylum claim, Augustine and Evans were the first legal representatives Abass had met in person who would argue a bond case for him before a U.S. judge.
Though he lacks U.S. citizenship, Abass has a right to legal representation, Evans said, so long as he pays for a private lawyer. But with no money to his name, Abass had spent years representing himself in court, trying to prove to the U.S. government he was a victim of persecution in Ghana, even a victim of attempted murder, and that he faced persecution from the government for his sexuality.
Father told the town
Abass fled Ghana nearly three years ago after he claimed his sexual identity was discovered by his father, who, Abass said, exposed the secret to his town and later attempted to kill him.
Abass went to Brazil before he ended up on the U.S. border in 2015, surrendering himself as an asylum seeker. He was held at the Santa Ana Jail in Santa Ana, Calif., until March 2017, when he was transferred to Adelanto, Calif., and kept in a detention center notorious for issuing high bonds or no bonds at all to its prisoners.
Abass is both a small and humble man, Augustine told the Daily News. Grateful for the free legal representation, upon meeting Augustine and Evans, the two said Abass bowed at their feet.
"You could just look at him and tell he was emotionally broken," Augustine said.
In a major victory for Abass and his legal team, on Nov. 15, an Adelanto judge granted Abass a $5,000 bond, significantly more attainable than what Abass had been granted previously, which was no bond at all.
"We were really happy, we were really surprised," Augustine said. "The clerks were just like, 'Wow, this is really unheard of.' "
But despite the victory, Abass remains in prison. Human rights organizations are currently attempting to raise the money for Abass to post bond via a YouCaring fundraiser page.
Still another obstacle
But the bond is not Abass' only obstacle to freedom.
Previously, in an immigration court in Los Angeles, Calif., a judge had found that not only had Abass not proved he faced persecution for his sexuality, but that the government did not aid in the persecution.
Abass appealed that decision to the Board of Immigration Appeals, which reversed part of the judge's decision, determining Abass had, in fact, faced private persecution. The board did not reverse the judge's decision that the Ghanaian government was not to blame.
That was when U of I's pro bono legal representation first stepped in over the summer.
For Kaylee Woodard, a U of I law student on the case, Abass's situation is personal. Woodard said she has seen her own family members go through the immigration process.
"For me, it's more of giving back and helping others to get through this," Woodard said. "It's a great learning experience because immigration is definitely one of the hardest things I've ever tackled."
Woodard and the rest of the legal team are now asking the government to re-evaluate its decision by again reviewing a 160-page report detailing the conditions in Ghana and the government's treatment of LGBTQ citizens.
Though Abass has proven he faced private persecution as a citizen of Ghana, Woodard said the team must now prove Abass is more than likely to face persecution by his government were he to return. That evidence, she said, is manifested not only in communications from Abass's family, which Woodard said indicates a threatening situation, but in the conditions report included in the case, which Woodard believes the government might have skimmed or not looked over at all.
Awaiting court's ruling
The team expects to receive a response from the court soon, and the 9th District is expected to hear the case this spring.
In the meantime, Abass remains in the detention center in Adelanto, where the U of I law team says his mental health is deteriorating.
"If he doesn't get bond, he'll just be sitting, waiting that whole time," Shirts said.
Abass's team said Abass would have a place to stay were he released.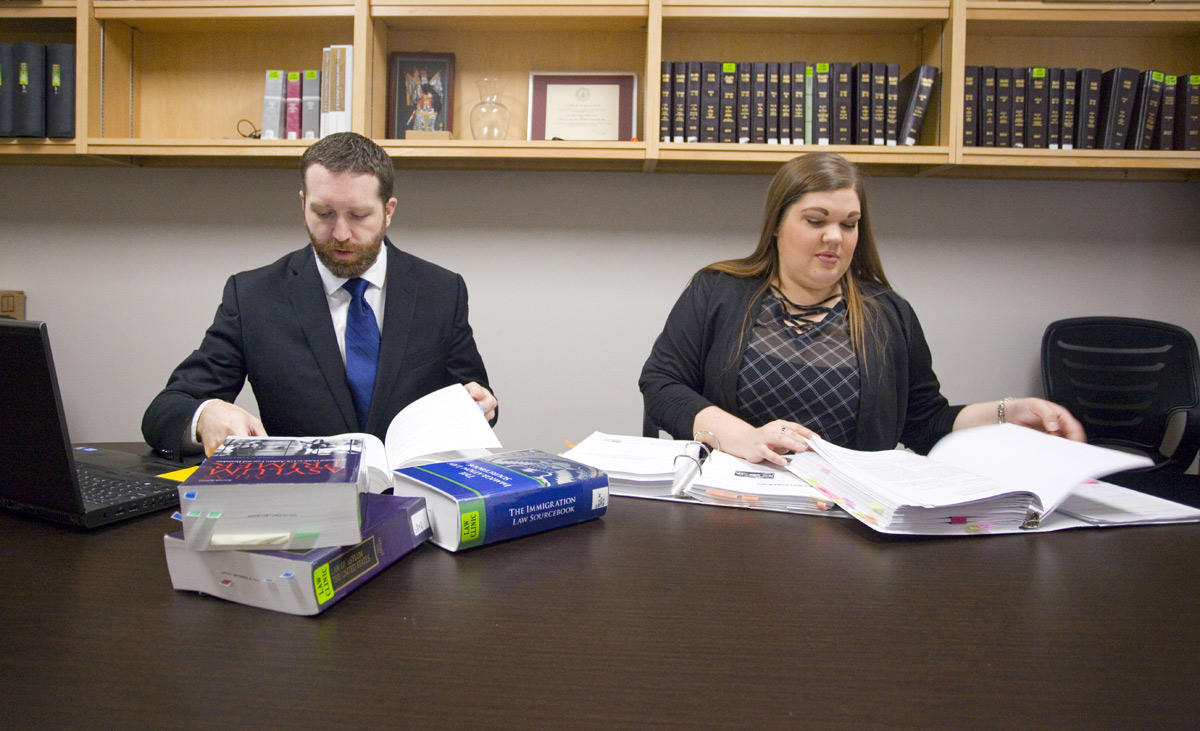 About the University of Idaho
The University of Idaho, home of the Vandals, is Idaho's land-grant, national research university. From its residential campus in Moscow, U of I serves the state of Idaho through educational centers in Boise, Coeur d'Alene and Idaho Falls, nine research and Extension centers, plus Extension offices in 42 counties. Home to nearly 12,000 students statewide, U of I is a leader in student-centered learning and excels at interdisciplinary research, service to businesses and communities, and in advancing diversity, citizenship and global outreach. U of I competes in the Big Sky Conference. Learn more at uidaho.edu