Engineering Students Place Top Four in Global Grand Challenges Summit Competition
September 26, 2019
University of Idaho College of Engineering students traveled to London and earned top placement in the Global Grand Challenges Summit student competition, jointly organized by the National Academy of Engineering (NAE). Featuring 900 engineering students, entrepreneurs and industry leaders from across the globe, the Global Grand Challenges Summit is hosted by the NAE, Chinese Academy of Engineering and the Royal Academy of Engineering. The summit is part of the NAE's Grand Challenge Scholars Program (GCSP), implemented globally at universities to prepare students to tackle the toughest challenges of the 21st century. The U of I College of Engineering is the only college in Idaho to offer the program.
An interdisciplinary group of students attended the summit, including biological engineering junior Kaitlin Lindholm, mechanical engineering senior Anson Lunstrum and civil engineering majors Devin Richards and Holly Terrill.
Students were put into interdisciplinary teams and given six hours to come up with a business plan to solve one of two prompts involving measures to sustain a world of 10 billion people or using artificial intelligence to change the world for the better.
Lindholm and her team placed in the top four of 50 teams competing overall for their business plan to bring an over-the-counter method of self-diagnosing irritable bowel syndrome to market.
"It feels a bit daunting to represent U of I globally," said Lindholm. "But it is also a great honor to demonstrate the great things that have come out of the state of Idaho at the college level."
Terrill's team placed in the top 10 for their plan to boost the structural integrity of bricks using recycled plastic.
"Students put their skills against top students from around the world and worked with those same students to develop solutions to engineering challenges facing society," said Daniel Robertson, U of I GCSP director and mechanical engineering assistant professor. "These are the kinds of doors that a Vandal education can open. It's more than just textbooks and a high GPA, it's about being a force for good to change our world for the better."
Students were nominated by the NAE to travel to London after placing in the top eight of 30 entrepreneurial teams at the academy's preliminary, U.S.-only student business model competition playoffs in California in April. The team, Trash2Gas, presented their business plan to bring sustainability and energy education to sixth- through 12th-grade classrooms on the Palouse.
Anaerobic digestion is the natural process of breaking down organic material in closed spaces where there is no oxygen. This process also creates a biogas composed of methane and carbon dioxide that can be used as a natural energy to produce heat or electricity.
The goal is to bring these digesters into classrooms and integrate sustainability-focused curriculum to help students better understand how food waste can be broken down and see the recycling process from start to finish.
In the last six months, team Trash2Gas has been awarded funding through an $18,000 grant through the Idaho Space Grant Consortium and a $5,000 first-place win in the U of I Idaho Pitch Competition. In the next year, funding will go toward finalizing a design for the digester, building a model for educational displays and developing middle and high school curriculum plans for the project.
"The way students typically see recycling is seeing people putting paper in a bin. From there, they never see it get used," Terrill said. "Our goal is to put food waste in, but actually see the energy and get something out of it, to actually see recycling from start to finish."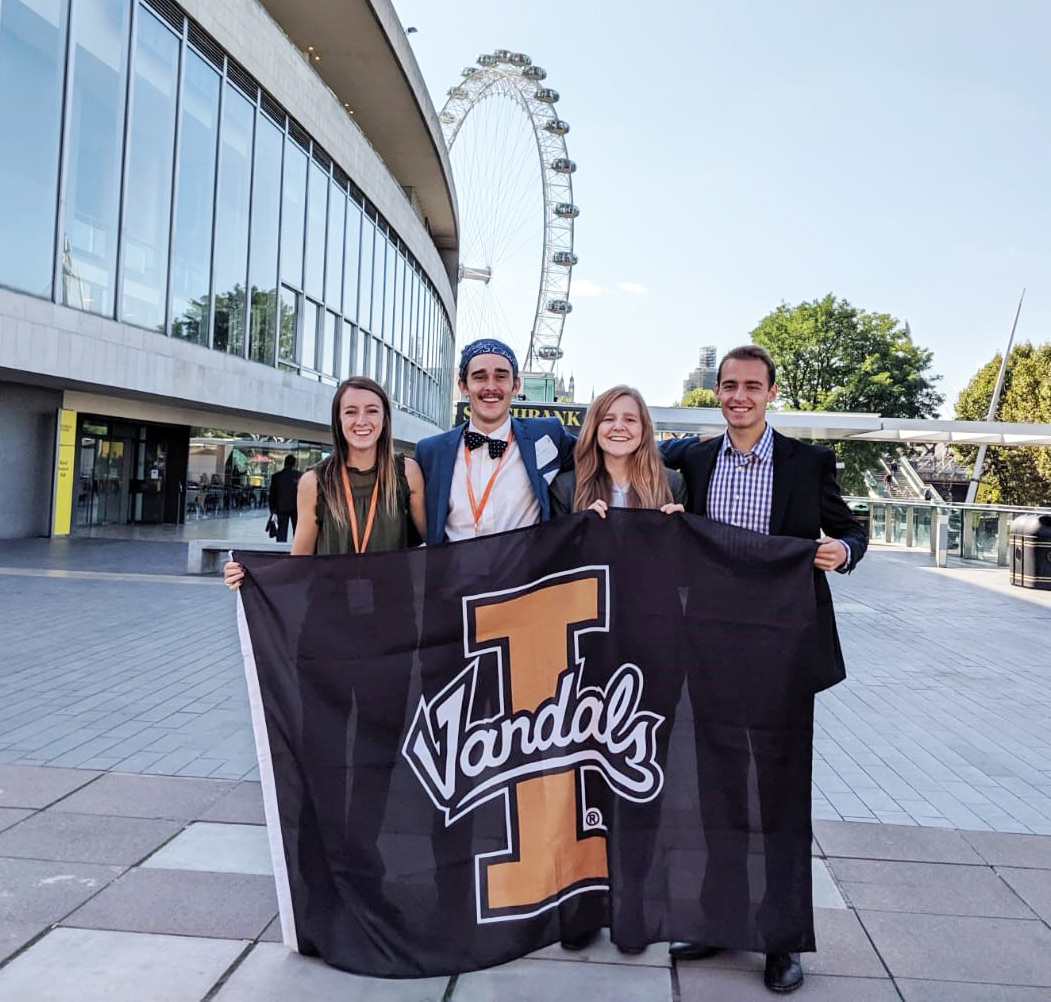 About the University of Idaho
The University of Idaho, home of the Vandals, is Idaho's land-grant, national research university. From its residential campus in Moscow, U of I serves the state of Idaho through educational centers in Boise, Coeur d'Alene and Idaho Falls, nine research and Extension centers, plus Extension offices in 42 counties. Home to nearly 11,000 students statewide, U of I is a leader in student-centered learning and excels at interdisciplinary research, service to businesses and communities, and in advancing diversity, citizenship and global outreach. U of I competes in the Big Sky and Western Athletic conferences. Learn more at uidaho.edu