U of I Partners with Air Force on New Biofuel Research
August 27, 2019
The University of Idaho Advanced Biofuels Lab is partnering with the U.S. Air Force on a student-led research project to commercialize a biofuel that doesn't freeze at high altitudes and has the potential to be carbon negative. U of I recently received a U.S. Air Force Small Business Technology Transfer (AFWERX) grant of $25,000 to engage entrepreneurs in Air Force operations. The lab was one of 33 nonprofit awardees among thousands of applicants.
The award allows U of I to explore solutions researched in the lab to find potential market opportunities in the defense and commercial sectors.
"The Air Force is the largest single consumer of jet fuel in the world," said U of I College of Engineering Master of Biological Engineering graduate Brian Hanson '19, the principal investigator on the project. "We've identified a potential solution to a problem for the 600,000 that work for the Air Force, and we want to bring this technology to other potential markets."
The research team has also partnered with Colfax, Washington, lubricant company TriboTEX to bring a commercial product to the market later this year.
"Not everyone can come up with great discovery that is useful for people," said TriboTEX founder Pasha Rudenko. "I've seen what's happening at U of I, and our company can assist down that path. There's more to be gained."
A culmination of three years of research, Hanson said a key to this new biofuel is a coconut oil-based additive.
"You don't think about putting food in your engine," he said. "But when I saw properties of this plant oil, I knew this is what we'd been looking for. It's pretty much like diesel from a chemical property standpoint."
Biofuels are susceptible to freezing, but U of I researchers have found this fuel blend can withstand temperatures below minus 58 degrees Celsius.
"If fuel freezes, it doesn't go into the engine, the engine dies and the plane falls out of sky," Hanson said. "Our fuel doesn't freeze, it's nontoxic, has a high flashpoint and it burns cleaner."
Most methane-based biofuels are produced in a petroleum refinery. Hanson said this alternative is more natural and could create a fuel that is 100 percent bio-based and has the potential to be carbon-negative.
Coconut husks and wood waste can be used to produce biochar, essentially a charcoal created from organic matter heated in a low-oxygen environment that can store carbon and keep it from leaking into the atmosphere. Burying biochar in the ground has been labeled as an effective means of removing the carbon and storing it safely, while improving the soil.
U of I Biodiesel Education Program Project Director Dev Shrestha said the Advanced Biofuels Lab is the largest in the nation, and has contributed immensely to the commercialization of biodiesel over the past 15 years.
"Since becoming industrialized, biodiesel research has slowed, but there is much more of a need for more research into bio-based products," he said. "This new additive opens up a whole new opportunity for student research."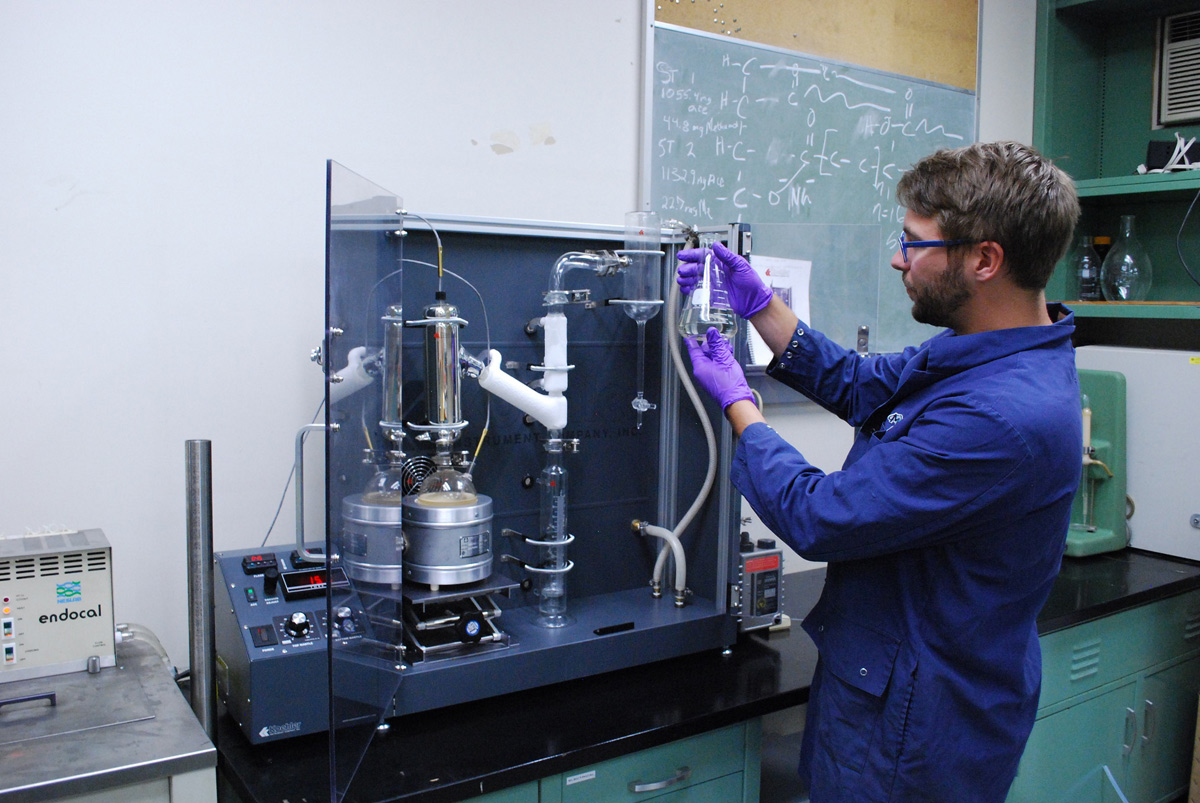 About the University of Idaho
The University of Idaho, home of the Vandals, is Idaho's land-grant, national research university. From its residential campus in Moscow, U of I serves the state of Idaho through educational centers in Boise, Coeur d'Alene and Idaho Falls, nine research and Extension centers, plus Extension offices in 42 counties. Home to nearly 11,000 students statewide, U of I is a leader in student-centered learning and excels at interdisciplinary research, service to businesses and communities, and in advancing diversity, citizenship and global outreach. U of I competes in the Big Sky and Western Athletic conferences. Learn more at uidaho.edu