Tribal Nations Night a Win for Vandals
January 10, 2017
A win all around for the Vandals at Tribal Nation's Night at the UI men's basketball game on Saturday, Jan. 7. The men's basketball team not only outscored Montana State University with an exciting 83-81 point lead, but the game featured Tribal Nations Night, a collaboration between UI Athletics, the Native American Student Center, and the Office of Tribal Relations. This event served to honor the relationship between the university and regional tribal communities, as well as support current Native American students and athletes.

Quanah Matheson, a Coeur d'Alene Tribal member, spoke on behalf of the highlighted events, which included a flag ceremony to introduce the game, an exhibition of dancers at half time, T-shirt tossing, and the chance to have won $500 with a half-court shot. Participants for the youth scrimmage earlier in the afternoon were members of the Nez Perce, Coeur d'Alene, Colville and Spokane tribes.

For the spotlight dance exhibition, UI students Lucas Thomas (Shoshone-Paiute), and Teata Oatman (Confederated Tribes of the Umatilla Indian Reservation) represented Fancy style. Tommy Whiteplume (Nez Perce), a Lapwai High School alumnus, and Justine Slimjohn (Chippewa Cree, Yakama, Nez Perce, Sioux) a Lapwai High School student, represented Traditional style. Hershel and Willis Williamson, and Junee Picard, all Nez Perce members and elementary students, showcased Grass, Traditional, and Jingle style. Two drum groups, Lightning Creek and Dancing Eagle from Lapwai, led all songs. It was a thrilling night with an estimated 1,114 spectators coming to support the Vandals and Tribal Nations Night.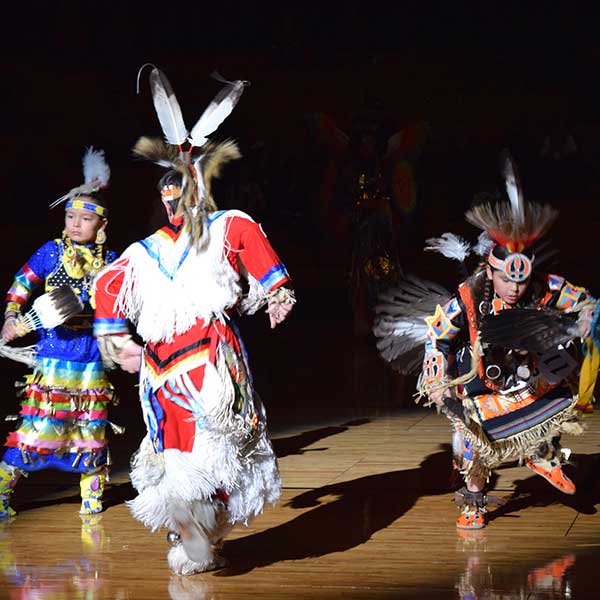 About the University of Idaho
The University of Idaho, home of the Vandals, is Idaho's land-grant, national research university. From its residential campus in Moscow, U of I serves the state of Idaho through educational centers in Boise, Coeur d'Alene and Idaho Falls, nine research and Extension centers, plus Extension offices in 42 counties. Home to nearly 11,000 students statewide, U of I is a leader in student-centered learning and excels at interdisciplinary research, service to businesses and communities, and in advancing diversity, citizenship and global outreach. U of I competes in the Big Sky and Western Athletic conferences. Learn more at uidaho.edu