October 5, 2015 - First Monday
The fall semester is always a lively and busy time for the College of Law. This year has been no exception.
Idaho Law and Justice Learning Center Grand Opening Celebration
The Grand Opening celebration for the Idaho Law and Justice Learning Center (ILJLC) was held Thursday, September 24. The building was packed with people who came to view the renovated and historic Ada County Courthouse and to celebrate the new home of the College of Law in Boise, the Idaho State Law Library, and the Idaho Supreme Court's Institute for Advanced Judicial Education. Many of those in attendance have their own personal connection to the building, including judges whose chambers were located there, practicing attorneys who attended court there, members of the Idaho Legislature who were housed in the building during the Idaho State Capitol renovation, or members of the public who have experienced the building as part of the downtown Boise landscape.
The celebration featured welcoming remarks from Lieutenant Governor Brad Little, Chief Justice Jim Jones, UI President Chuck Staben, and Professor Don Burnett. I provided remarks on behalf of the College of Law. With special thanks to the Idaho Supreme Court and Idaho State Archives, we were also fortunate to include a traveling exhibit of the Magna Carta, which was on display during the event.
Special recognition was presented to Don Burnett for his vision and leadership to the ILJLC and to Lee Dillion for his hard work in overseeing the construction project. There are so many others to thank for their role in making the ILJC a reality. Please take a look at a copy of the program from the event that lists the platform party and those who have supported this project over the years.
Other September Events
The College of Law hosted Constitution Day events in Moscow and Boise September 17. In Moscow, Peter Alexander, former dean of Southern Illinois University and author of It Takes a Village, a book about the segregated school system that existed in Hillburn, New York until 1943 spoke in the courtroom. In Boise, the College of Law hosted a CLE panel discussion about the importance of civic education in democracy. Panelists included Justice Joel Horton '85, Judge Melissa Moody, Judge Berecz, and Attorney General Lawrence Wasden '85.
On September 25, the Native American Law Program, Native American Law Student Association and UI Native American Student Center partnered for the Annual Tribal Judge Panel. The judges spoke about the importance of respect in Tribal Courts.
Class of 1965 Reunion
September 11-12 I had the privilege to spend time with members of the class of 1965 who were in Boise for their 50-year class reunion. It is a highlight of my job to attend these class reunion events. A very special thanks to Mike Felton, Sr., Iver Longeteig, and Fred Gentry for their work in organizing the event and chairing the reunion planning team.
Two more reunions are set for this fall – the Class of 1975 on October 9-10 and the Class of 1971 on October 24 – please contact our Assistant Dean for External Relations, Terri Muse for more information: tmuse@uidaho.edu.
Professor Anastasia Telesetsky Awarded Ian Axford New Zealand Fellowship
I am very pleased to share the good news that Professor Anastasia Telesetky has been awarded a 2016 Ian Axford New Zealand Fellowship in Public Policy. The fellowship is awarded annually to outstanding mid-career professionals so they can conduct research and gain public policy experience at the country level. Her research will focus on "Marine Food Security and Sustainable Fishing Practices: The Role of Law and Policy in Reducing Waste in the Fishing Sector." She will work with the Ministry for Primary Industries in Wellington, New Zealand. Congratulations, Professor Telesetky.
2015 Sherman J. Bellwood Lecture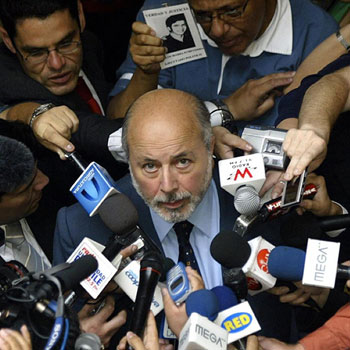 Please mark your calendars and plan to attend the 2015 Sherman J. Bellwood Lecture. This year's program, which will take place Monday, October 12 in Boise and Tuesday, October 13, and Wednesday, October 14 in Moscow, will feature the Honorable Juan Guzmán as speaker. Judge Guzmán, a former judge and current professor who was the first judge to prosecute former Chilean dictator Augusto Pinochet will present "Truth, Justice and Democracy: Post Dictatorship."
In Boise, the documentary film about Judge Guzmán "The Judge and The General" will begin at 3 p.m. Mountain time at the Idaho Law and Justice Learning Center, 514 W. Jefferson Street. The film will be followed at 5 p.m. by brief remarks from Judge Guzmán and a welcoming reception.
In Moscow on Tuesday, the documentary will be shown in the Menard Law Courtroom beginning at 3:30 p.m. Pacific time followed by a panel discussion. On Wednesday October 14, the Bellwood Lecture will begin at 3 p.m. Pacific time in the Pitman Center International Ballroom on the University of Idaho Moscow campus. The Lecture will be followed by a reception in the Ballroom Lobby. Events in Boise and Moscow are open to the public.
I have known Judge Guzmán for many years. He is a remarkable person and his story is one you will want to hear. If you are unable to attend the event in person, the full lecture on Wednesday will be available via web-streaming. It will also be archived on our Bellwood webpage for future viewing.
Upcoming Events
Class of 1975 Reunion
October 9-10, 2015
Boise, Idaho
Registration contact Terri Muse 208-364-4044
Sherman J. Bellwood Memorial Lecture
"Truth, Justice and Democracy: Post Dictatorship," with former Chilean Justice Juan Guzmán
October 12-14, 2015
Moscow and Boise
Class of 1971 Reunion
October 24, 2015
Boise, Idaho
Registration contact Terri Muse 208-364-4044
Law Advisory Council
November 13, 2015
Moscow, Idaho
Mark L. Adams
Dean
Bellwood Lecture
The Sherman J. Bellwood Lecture will be Oct. 12-14, 2015 in Moscow and Boise.