Dean's May 2021 Newsletter
Spring 2021 and a continuing pandemic have generated some of the most resilient, determined and capable Vandal engineers to date.
Earlier this month, we celebrated nearly 200 graduates from our college for their achievements, industry experience and, most importantly, their leadership.
Leadership skills, making ethical engineering decisions, professional development and mentorship are as important to any engineering degree as the technical and hands-on experience. Our graduating students are even more immersed in this type of skillbuilding thanks to a recent gift from alumni and longtime University of Idaho supporters Rich '73 and Sharon '73 Allen.
Using lessons learned from two very successful careers, Rich and Sharon are pioneering the Engineering Professional Skills Initiative.
This initiative, bolstered by a $250,000 gift from the Allens, will encourage the development of a variety of curricular and co-curricular improvements to develop engineers who are not only technically capable, but ready for the ethics and leadership challenges they will encounter in the workforce related to professional culture.
Plans for this year include launching a student mentor network, expanded recruiting, integrating professional skills training into courses and improving student leadership experiences.
Through more opportunities and hands-on learning experiences – internships, cooperative education, undergraduate research and competition teams – the initiative purposefully integrates professional skills into the curriculum for all students, so they develop professionally during all four years of their college careers.
We launched a beta test of our professional skills classes this semester, and I had the pleasure of co-instructing the course. Getting back in the classroom was incredibly refreshing, and I hope to continue that as I transition back to the role of a regular faculty member.
Both Rich and Sharon have been closely tied to our university and our students' development for years. Their industry knowledge is key to the development of the programs we are building inside and outside the classroom that will help our engineering students succeed.
Both Rich and Sharon graduated from U of I in 1973, Sharon with her bachelor's in accounting from the College of Business and Economics and Rich with a degree in agricultural engineering. Sharon was awarded her honorary doctorate in Administrative Science from U of I in 2004.
Learn more about the Allens and their commitment to leadership training in the classroom on our website.
Sincerely,
Larry Stauffer
Dean, College of Engineering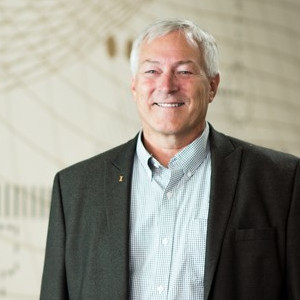 A recent University of Idaho graduate will be the first non-NASA employee to be featured on NASA's Tumblr Answer Time.
In a broadcast expected to reach 1.3 million viewers, Hannah Johnson, a 2021 chemical engineering graduate from Coeur d'Alene, will answer questions relating to her experience with NASA's Student Payload Opportunity with Citizen Science (SPOCS) program, building research payloads focusing on bacteria resistance in space.
The scientific question-and-answer segment will be hosted on NASA's Tumblr account 9-10 a.m. PDT on Thursday, June 3.
Through a mix of in-person and virtual pathways, thousands experienced engineering and computer science education at the University of Idaho through the 28th annual 2021 Engineering Design EXPO.
More than 200 engineering students presented their projects virtually and in-person on April 29 and 30, and 5,000 users visited the EXPO website to browse student projects remotely, attend Zoom sessions, and participate in the EXPO Extended Experience for high school and community college students.
---
Tim Arnold, Lisa Grow Receive Silver & Gold Awards
The Silver & Gold Award was created in 1982 to recognize living alumni who have a distinguished record of achievement and service in their specialized area of endeavor, thus bringing honor and recognition to the university.
Two college of engineering alumni received this award:
Tim Arnold '82, College of Mines & Earth Resources, serves as vice president of operations for Pershing Gold Corporation.
Lisa Grow '87 began working for Idaho Power in 1987 and held many engineering positions before moving into management. She was named president of Idaho Power in 2019.
University of Idaho Professor Fritz Fiedler has been named chair of the Department of Civil and Environmental Engineering (CEE). Fiedler has taught more than a dozen different courses from freshman to graduate, including CEE Senior Design, in which he has supervised approximately 100 projects in collaboration with industry sponsors. He was a co-creator of U of I's unique interdisciplinary Water Resources Graduate Program.
Professor Dev Shrestha researches and teaches in areas related to biological and agricultural engineering. He has secured more than $6 million of external competitive research grant funding working on more than 20 projects. His current research projects have mainly been funded by the U.S. Department of Energy, Department of Agriculture and the Environmental Protection Agency. He has published more than 70 research articles, the majority of which are peer-reviewed publications.
University Excellence Awards
The following awards were given to engineering faculty for their exemplary dedication to the University of Idaho. Watch the full presentation online.
Postdoctoral Mentoring Award
Daniele Tonina, Postdoctoral Fellow, Department of Civil & Environment Engineering
College of Engineering, University of Idaho Boise
Faculty Advising Excellence Award
Daniel Robertson, Assistant Professor, Department of Mechanical Engineering
College of Engineering
2021-2023 University Mid-Career
Joel Perry, Associate Professor, Department of Mechanical Engineering
College of Engineering
2021 College of Engineering Awards Ceremony
Outstanding undergraduates, graduates, faculty and staff were also recognized at the college level for their hard work and dedication to engineering. A recording of the ceremony is available online.