Dean's May 2019 Newsletter
Letter from the Dean
With a senior design program ranked top 7 in the nation, Idaho's only Grand Challenge Scholars Program, and many paid undergrad and graduate assistantship opportunities, all University of Idaho College of Engineering students participate in hands-on experiences essential to developing the skills needed to make a difference in our world.
Opportunities like this, especially at the undergraduate level, are not found on every college campus. One of our truly immersive learning experiences is the Cooperative Education Program (Co-op), launched with the support of the Idaho STEM Action Center.
"As a broke college student, it's a good thing. I've got a family – a wife and a one-year-old daughter – so being able to work has been really helpful for us." Luke Hill, Computer Science Senior
Watch video to learn about Luke's Co-op Experience
Unlike a basic internship, Co-op students are part of a 6-month extended experience, giving them ample opportunity to immerse themselves in high-level projects and make a lasting impact with the companies they serve.
Students may do one or two co-op assignments during their junior year and then return to campus for their final two semesters to graduate. Co-op is an educational model popular at many universities but surprisingly at only one other university in the Northwest.
Co-op matches students and their interests to industry partners across the Pacific Northwest. We've had students work at SEL, Micron, Idaho National Laboratory, Ednetics, Safeguard Equipment, Itron, the Ability app and more.
Students also earn market wage – $20,000 or more for each 6-month experience – which makes a big contribution to help pay college expenses.
Computer science senior Luke Hill has been working for Schweitzer Engineering Laboratories in Spokane Valley and will graduate this December.
Co-op students meet specific learning objectives and are indoctrinated into the company and the kind of work they do. For our industry partners, this is a great "extended interview," giving them access to emerging talent from our college.
"We get to work with these students before anyone else. We get to pick the best of the best by doing this, and the student does real work. It's good for us all the way through." Phil Tallman, SEL Engineering Manager
The Co-op program began in the summer of 2018 with four computer science students. It has since expanded to welcome other engineering degrees with a second cohort of five additional students, two of which are majoring in mechanical engineering. A third cohort is starting now with five more students, including one in electrical engineering and one in chemical engineering.
Our goal is to make the Co-op program an experience available to all students college-wide and grow the number of students and companies participating.
Companies interested in partnering in this program can email Co-op Coordinator Rachel Otto to get the process started.

Sincerely,
Larry Stauffer
Dean, College of Engineering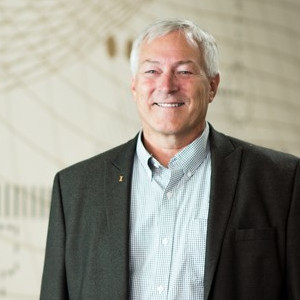 ---
College Awards Ceremony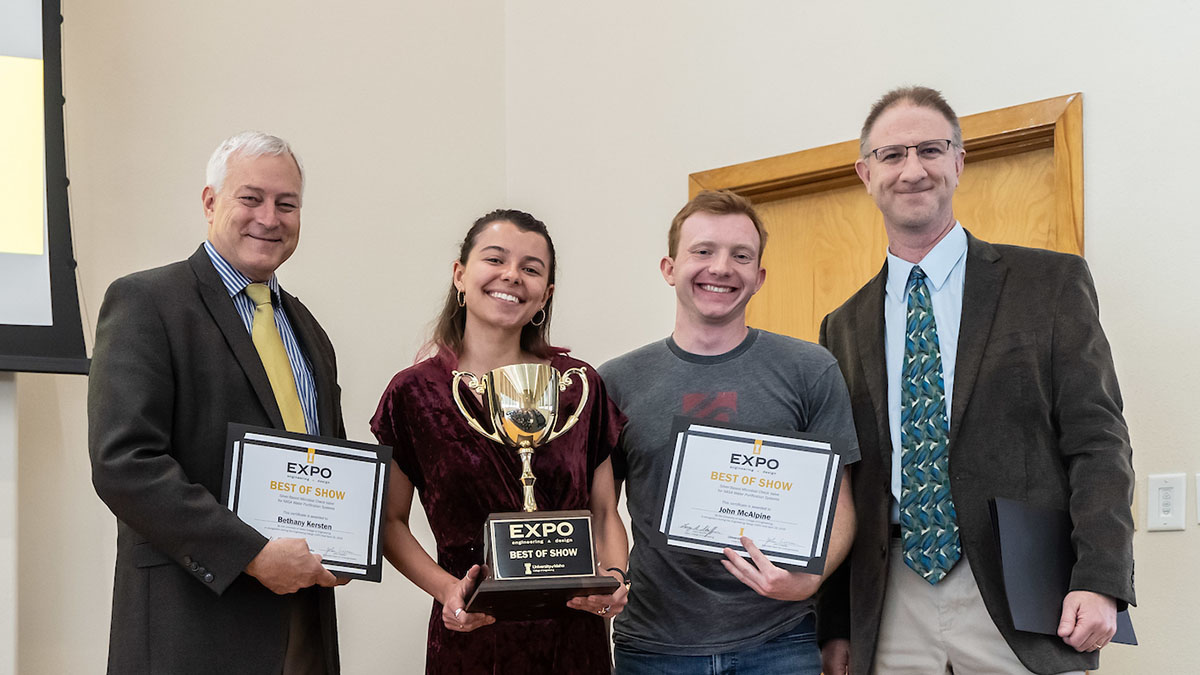 Twenty-two outstanding students, faculty and staff within our college, along with several Engineering Design EXPO teams were recognized for their hard work and dedication to engineering. These individuals help shape our college by setting a high standard of achievement.
---
26th Annual EXPO a Banner Year
Record number of K-12 student attendees and sponsorship levels
The 26th annual Engineering Design EXPO was a success, with 830 K-12 students in attendance and strong participation from rural schools from the elementary level to community colleges. Over 50 percent of these attendees were women, strengthening our college's Diversity Initiative.

This was also a record year for sponsorship, with three new sponsors joining in support of this event: On Semiconductor and the J.R. Simplot Company.

With more than 50 senior capstone design teams presenting, the Bruce M. Pitman Center on the Moscow campus was full and active. Nearly 20 percent of these presenters were women, and 25 percent were underrepresented minorities.
---
'I Knew I was Very Different'
Graduate Alex Schlotterbeck overcomes addiction battle to obtain chemical engineering degree.
It didn't take long for Alex Schlotterbeck to look around the room and realize she wasn't meant to be there.

The people around her showed little to no regret, no accountability and no compassion for the lives they had impacted leading up to this point. These were addicts who had been incarcerated for years, yet still talked openly about how they couldn't wait to get out and use again.

"I couldn't believe I'd landed myself in this situation," Schlotterbeck said. "It was just very hard to process that I had been grouped into this bunch of people. I knew I was very different."

Schlotterbeck spent two months in jail for a DUI charge as a residual consequence of a five-year on-again, off-again relationship with heroin.

The "hellish nightmare," as Schlotterbeck describes, was a steep freefall for the University of Idaho College of Engineering graduate.
---
Engineering Teams Pitch Business Plans to Save Lives and the Planet
University of Idaho College of Engineering students earned money toward innovative business plans during the College of Business and Economics' Idaho Pitch Competition and Startup Vandal on April 26.

Both teams tied for first place in the Startup Vandal technology track, earning $4,250 each along with additional winnings in other categories.
---
2019 TMS Bladesmithing Competition
Interdisciplinary engineering team wins honorable mention for forged blade.
An interdisciplinary University of Idaho College of Engineering team won honorable mention in the 2019 Bladesmithing Competition hosted by The Minerals, Metals and Materials Society.

The team's 11 1/2-inch blade took about 30 hours of metal work and craftsmanship on the blade handle and presentation box.