Dean's March 2019 Newsletter
Letter from the Dean
Aside from the Engineering Design EXPO and, of course, Commencement, one of the most exciting and energy-filled days for all members of the University of Idaho community is Vandal Giving Day.
This two-day event on April 2 and 3 garners donor support for initiatives across our university. Last year, the College of Engineering raised more than $63,000 from 167 gracious donors, some who had been giving to our college for some time and others who discovered they, too, have a passion for getting more young people introduced to and immersed in STEM fields.
Overall, that is what Vandal Giving Day is about for the College of Engineering, and this year's priorities reflect that:
Dean's Endowment to Support Diversity & Inclusive Initiatives
The Dean's Endowment to Support Diversity & Inclusive Initiatives is designed to increase the number of women and underrepresented minorities among our students and faculty.
Our college has a diversity plan in place to guide our actions as we work to become more inclusive and diverse with regard to gender, race, or any other characteristic that makes our student body unique.
Part of that plan includes outreach events designed to introduce women students in ninth through 12th grades to STEM education through our Women in Engineering (WIE) events. Events include the upcoming WIE Networking Dinner and the recently passed WIE Exploration event. More than 250 women participated in our outreach events last year, and 76 percent of our ninth and 10th grade attendees said they could envision themselves studying engineering.
Engineering Ambassador Engagement with K-12 Students
Another way we outreach to K-12 students is through our Engineering Ambassador program.
Over the last year, ambassadors gave 24 presentations to K-12 groups across Idaho, targeting rural areas. Ambassadors volunteer at women in engineering events, and act as mentors for our current students. Since 2017, the Engineering Ambassador program has grown from eight to 22 students.
Student Clubs & Organizations
We have more than 20 clubs and chapters in our college, some connected to national professional engineering societies, where students can gain true experience and build their professional networks through design competition and technical presentations.
For just one example, our U of I Clean Snowmobile Challenge Team recently competed in the Society of Automotive Engineers International Clean Snowmobile Challenge.
Kenneth V. Noren Endowed Scholarship
Kenneth V. Noren was a professor in the College of Engineering Department of Electrical and Computer Engineering. A first-generation college student himself, Noren was known for his ability to make complicated concepts easy to understand while being a mentor who expected great things from his students.
Gifts to this fund support the annual award to a full-time electrical engineering student with consideration given toward financial need and academic success.
Become an Ambassador!
Vandal Giving Day Ambassadors help our college spread the word about our giving priorities and encourage others to offer support in many ways, including social media, email and word of mouth.
Larry Stauffer
Dean, College of Engineering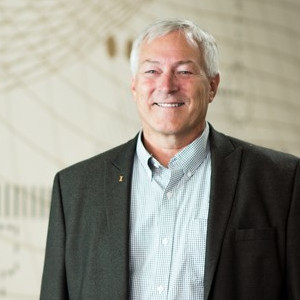 ---
Engineering Design EXPO April 26
Event is free and open to the public
The University of Idaho Engineering Design EXPO welcomes young learners, industry leaders and community members to experience the many ways U of I students are making a difference and solving real-world problems.
EXPO showcases senior projects from the U of I College of Engineering's senior capstone program, recognized by the National Academy of Engineering as one of the best in the country.
Be a Judge at EXPO
Judges are a critical part of the Engineering Design EXPO experience for University of Idaho College of Engineering students. Interaction between students and judges creates opportunities for students to gain new insights and to learn about engineering career paths and the profession in general. Review student team projects, facilitate team discussion and evaluate team process and communication.
Applications deadline is Friday, April 12.
---
Empower Our Women Engineering Students
Our College of Engineering alumna have valuable experience in the engineering world and can provide invaluable insight for our current women students. Please join us for an opportunity to:
Network with our college's current women students
Help women succeed and be recognized for their achievements as engineers and leaders
Expand their understanding of engineering and other STEM professions and how they can have a positive impact in their field
Our Women in Engineering Networking Dinner will be held 4:30 p.m. Monday, April 1, 2019 in the International Ballroom, Bruce M. Pitman Center on the Moscow campus.
---
Idaho Clean Snowmobile Team Ranks Fourth
Congrats to our Idaho Clean Snowmobile Team for ranking fourth in points overall of 13 spark-ignition teams in the 2019 SAE Clean Snowmobile Challenge.
They also won an award for Best Value and produced less than a fifth of the in-service emissions of the top ranked machine.
Our engineering undergrad and graduate students have competed in this weeklong challenge since 2001, with a goal to reduce emissions and create a quieter snowmobile while maintaining performance and power.
---
General Mills Leader Alex Merritt Talks Strengthening Gender Relations
The National Society of Black Engineers U of I Chapter welcomed General Mills Agriculture Operations Business Manager Alex Merritt to the Moscow campus in February as part of their 12th annual Dynamic Engineers Lecture Series.
Merritt shared stories from her 15 years with General Mills, in which she has held roles of increasing responsibility in manufacturing, quality and regulatory operations, continuous improvement, and sourcing. Merritt also specializes in relationship development and discussed strengthening gender relations and how to equip people with the tools and skills to build effective relationships.
The event was also an opportunity for NSBE-U of I to honor individuals and groups who've supported the student group throughout the year. Several students and administrators were recognized.
---
U of I Engineering in China
Several U of I College of Engineering faculty and staff members are in China this month to meet with representatives from engineering colleges in China and industry leaders.
The trip helps bolster the college's partnership with the Wenzheng College of Soochow University (WCSU) in Suzhou, China, in the joint 3+1 electrical engineering exchange program that has existed since 2014.
WCSU students spend their first three years studying U of I curriculum in Suzhou and the fourth year at the U of I in Moscow. One distinct aspect of the program is that U of I-WCSU students use the same curriculum and textbooks as students on the Moscow campus. All classes are taught in English, creating a seamless credit transfer process.
In addition to Chinese students traveling abroad to study at U of I Moscow, eight current U of I College of Engineering students will travel to Suzhou this April. In addition to their engineering coursework, they will learn about Chinese culture and visit many of the country's top historical landmarks.
---
One Gift, Twice the Impact
As the Director of Resource Planning and Operations at Idaho Power, Mitch Colburn has a lot to worry about: long-term resource planning, river operations and development of a billion dollar joint-venture transmission line project.
The one thing Mitch doesn't have to worry about is establishing a legacy through the U of I. An electrical engineering graduate of '06 and '10, Mitch credits much of his success to his education.
"I consulted with my accountant and found out that with the state tax credits and tax deductions, I would get most of my donation back," he said. "I would likely be only donating roughly 30 cents on the dollar after tax credits and deductions."
Encouraged by the tax deductions, Mitch also learned that Idaho Power would match his contribution to the U of I College of Engineering. The money donated to a student would be doubled.
"I consulted with my accountant and found out that with the state tax credits and tax deductions, I would get most of my donation back," he said. "I would likely be only donating roughly 30 cents on the dollar after tax credits and deductions."
To explore tax benefits and potential ways to maximize your company match, contact Tessa Schaecher at 208-334-2087 or email tschaecher@uidaho.edu.