Dean's July 2021 Newsletter
A Decade of Leadership and Thanks – A message from Larry Stauffer
An engineering career can lead a person down many paths, and I feel fortunate to have spent the past 10 years as dean to one of the University of Idaho's oldest and most well-respected colleges.

I want to thank the support of our faculty, staff, students, and alumni for the opportunity to serve over the years. It has been an honor to lead this college that means so much to so many people. Through the hard work of our faculty and staff, we have accomplished some truly great things.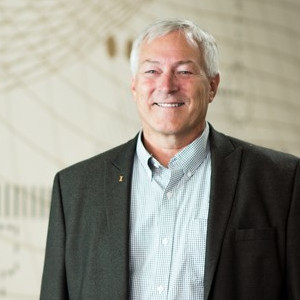 Our college's Interdisciplinary Capstone Design Program has been ranked one of the top 7 in the nation for "infusing real-world experiences into engineering education" by the National Academy of Engineers.

Working in teams, engineering students present their final projects in this program at our annual Engineering Design EXPO. During the 2021 event, more than 5,000 virtual users across 28 countries experienced engineering and computer science education through a variety of virtual and in-person pathways.
Cybersecurity job openings in Idaho have increased 160% since 2015, according to a recent Idaho Department of Labor report, and our degree offerings will continue to meet state and national demand.

Our college now offers a master's degree in cybersecurity, one of the few graduate cybersecurity programs in the region. The program will open to students this fall and follows U of I's bachelor's program that began last year. We've also expanded our computer science and cybersecurity degrees to Coeur d'Alene to better serve students and industry in northern Idaho.
Grand Challenge Scholars Program Launch
Enabling students to tackle National Academy of Engineering's toughest challenges of 21st century
Our college was one of the first engineering schools in the country to establish a Grand Challenge Scholars Program.

It is the only program of its kind in Idaho and one of only a few in the West that provides students the opportunity to tackle society's greatest challenges.
Using funding from the Idaho STEM Action Center, we started a Cooperative Education (Co-op) Program first in Coeur d'Alene, before expanding to the Moscow campus. What started in computer science has now expanded to all engineering disciplines with plans to expand to other colleges at the U of I.

Students can earn up to $20,000 during a six-month work assignment in industry, make a lasting impact at the companies they serve and graduate with a competitive edge.
A team of 10 faculty across the college has been designing a shared first-year experience for engineering students in all disciplines.

Our model for student development is based on transformation of the whole self that includes balanced mastery of STEM knowledge, cultivation of life-long learning skills, culturally relevant hands-on learning experiences, and attention to growth of academic as well as professional identity.
Our college was one of the first sign the Dean's Diversity Letter released by the American Society for Engineering Education's (ASEE) in 2014. We are Idaho's only Exemplary Status Bronze Level institution, recognized by the ASEE's national Diversity Recognition Program, for our Diversity & Inclusion Initiative. Our goal is to graduate more women and other underrepresented groups to supply more engineers with the skills and knowledge demanded by industry in the region.
In the last decade, our alumni, business and other supporters of the college contributed nearly $40 million to our students, faculty and programs.

We now have four endowed faculty positions in the college, increasing our research profile, and we've added new facilities for our students – including the John C. Wahl thinkTANK and Micron Student Center – and upgraded labs and student spaces in every department of the college.

We have greatly expanded our Academy of Engineers to recognize some of the greatest individuals for their contributions to engineering and career success. We've also changed U of I's approach to industry sponsored research and the management of intellectual property thanks primarily to our college's Advisory Board.

It has been an honor to be a part of these changes this past 10 years and again, I want to say thank you for the opportunity to serve as your dean. Working with students has been one of the biggest highlights of my career, and I'm looking forward to getting back to my role as a faculty member. I look forward to the future accomplishments of this college and the achievements of our highly skilled graduates!
Sincerely,
Larry Stauffer
Professor, College of Engineering