Dean's Newsletter January 2019
As you know, the University of Idaho is an active research university, conducting over $110 million in research last year. What you may not know is, much of this research is conducted by undergraduates.
Undergraduate research gives our students a unique opportunity to gain valuable experience directly applicable to their major and helps prepare them for entry into the workforce after graduation. Students also develop powerful relationships with faculty members who act as mentors and program advisors to help students reach their research goals.
Since 2017, our college's Stone Scholars assistantship program has helped support computer science students at the U of I Coeur d'Alene campus. Our first Stone Scholar, senior Amanda Ward, received an award of nearly $10,000. Her assistantship has allowed her to continue research on Catfish, the deep-water drone in development to survey Lake Coeur d'Alene autonomously through artificial intelligence. This real-world project management experience and 1-on-1 faculty mentorship is a unique experience in itself at the undergraduate level. But the impact the Stone Scholars program has had on Amanda's ability to afford a college education is even greater.
"Without the Stone Scholars assistantship, my family would not have been able to afford for me to attend school full-time. Having this scholarship allows me to direct my focus toward my educational goals." Amanda Ward, 2017-18 Stone Scholar and Computer Science Major at U of I Coeur d'Alene
Our college is always mindful of the difficulties students and families have when covering college costs. Assistantships like these give a wide variety of high-achieving students more ways to see the U of I as an affordable option for a college education ranked in the top 15 percent nationally by Princeton Review and the "Top College in Idaho" by Money Magazine.
Alumni from our college know attending U of I is a unique experience. Our Grand Challenge Scholars Program (GCSP) is one of the only programs of its kind in Idaho and the Pacific Northwest, offering undergraduate research opportunities that prepare students to solve the 14 Grand Challenges of Engineering in the 21st century, as established by the National Academy of Engineering.
Since launching in 2016, membership in the program has more than tripled, and our students presented at the National Academy of Engineering Grand Challenges Scholars Program annual meeting in Washington D.C. last year.
Undergraduate students can also participate in assistantships supported through the Gary Dau Memorial Engineering Endowment. Dau, a successful program manager with Pacific Northwest National Laboratory and the Electric Power Research Institute at Palo Alto, California, also benefited from financial assistance during his college career. His endowment was created to help students succeed without financial burden.
Our college is also in the process of launching a new assistantship program, the Durcan Scholar Program, focused on connecting undergraduate students to faculty-mentored projects.
The program offers a $7,500 award during the academic year, including a match from the faculty mentor for conference travel and other expenses, along with a summer stipend of $5,000. Applications will open for students in February.
These student opportunities wouldn't be possible without support from generous alumni, corporate sponsors and other donors. Thank you for your help to connect talent with industry needs and advance economic development in the region.
Sincerely,
Larry A. Stauffer
Dean, College of Engineering
Follow the link above to fill out the giving form, and select "College of Engineering — Undergraduate Research" as your designation.
---
Academy of Engineers Nominations Now Being Accepted
It is that time of year to submit nominations for the 2019 class of the U of I College of Engineering Academy of Engineers.
The academy is a mix of U of I alumni and others recognized for their personal contributions to engineering achievement, leadership, education, service to the profession and advancement of society.
Nominations will be accepted through February 15, 2019.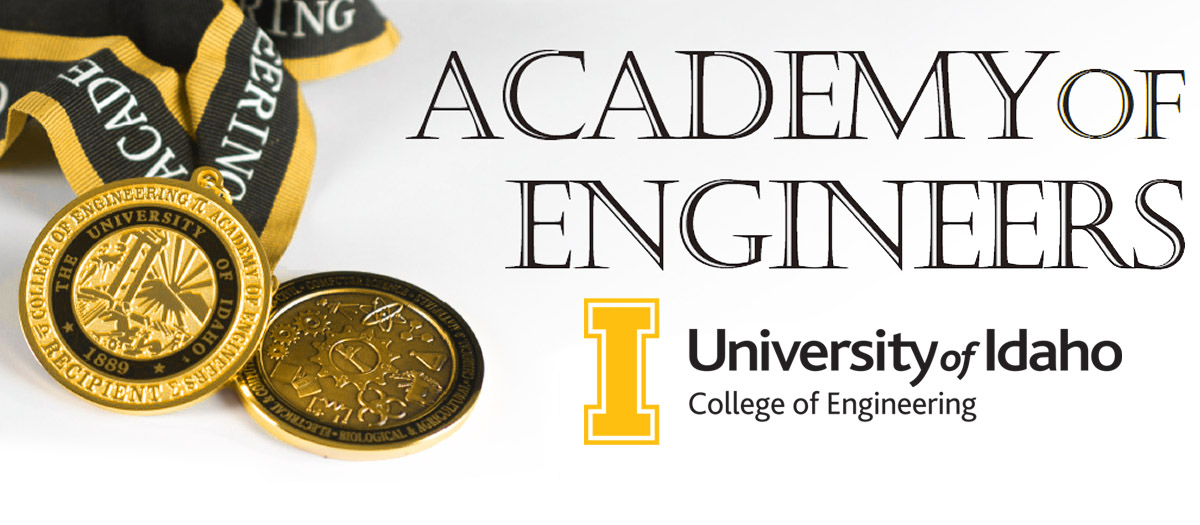 ---
Donuts with the Deans Highlights SEL Partnership
College of Engineering Dean Larry Stauffer and College of Business and Economics Dean Marc Chopin presented to about 60 Vandal alumni and Schweitzer Engineering Laboratories employees during the company's annual Donuts with the Deans event.
In addition to giving updates on the college, Dean Stauffer gave updates on the college's 30-year partnership with SEL, including:
$3,091,026 in contributions from SEL across all U of I colleges
65 University of Idaho funds in 18 areas supported by SEL employee owners through the company's giving program
U of I welcomed SEL's first endowed faculty chair
300+ alumni employed at SEL
50 student interns at SEL
SEL is also this year's Engineering Design EXPO presenting sponsor. We look forward to working with SEL during this event and furthering our powerful partnership.
---
Civil Engineering Junior Brings Water Bottle Refill Station to Janssen through U of I Sustainability Grant
U of I College of Engineering students will use less plastic in 2019. Students can now refill their own water bottles in the Janssen Engineering Building, thanks to civil engineering junior Andrea Boyd. Boyd used funding from the U of I Sustainability Center to install an Elkay EZH20 Bottle Refill Station on the main floor of the Janssen Engineering Building in Moscow in order to promote water conservation and a reduction of single-use plastic water bottles.
---
Overcoming Change and Uncertainty
U of I student's dedication to learning brings him a long way from home
When biological engineering sophomore Bishal Thapa first arrived in Idaho, he assumed he would encounter tall buildings, large groups of people and cars everywhere. Growing up in Nepal, Thapa harbored the perception that the United States was similar to what he'd seen on the big screen of New York or Los Angeles.
Arriving in Moscow to begin his studies quickly dispelled him of that notion. Thapa talks resiliency, grit and optimism like a true Vandal.
He is one of our Grand Challenge Scholars, researching the production of nitrogen-rich fertilizer using dielectric plasma to advance agricultural technology and better feed our growing population.
---
Upcoming Events
Feb. 8 Women in Engineering Exploration – Ninth and 10th grade women across the region are invited to learn more about engineering, science, technology, math and college life.
Feb. 19-22 Engineers Week – Egg launch competition, free ice cream, free movies in the thinkTANK and other activities. Open to U of I community.