Dean's August 2020 Newsletter
A global pandemic affects all of us in different ways. Our students are navigating a robust but safe mix of in-person, hybrid and online classes this semester. Our faculty continue to vault our signature hands-on experience into a remote learning environment. And our alumni, partners and friends have stayed connected and supportive through all the changes our college and the entire University of Idaho have endured.

Over the past decade, we have seen major changes in our budget. The significant increases were followed by significant decreases, and we now stand about where we were in 2014. Add to that a deadly virus that has pushed our enrollments down more than 12 percent from this time last year, largely impacted by a major loss in international students.

I know these realities, as experienced by many organizations around the country, can be tough to swallow, but I assure you it's not all doom and gloom. Our enrollments will improve as the uncertainty of this pandemic wanes, students and parents regain confidence and restrictions are lifted for our students abroad.

As a college, we are not retreating but taking advantage of the opportunities. In addition to planning changes in curriculum to bolster our first- and second-year experience, these challenges have taught us how to be more efficient in course delivery and shed light on the crucial need for lab improvements we continue to make along the way.

We have launched Idaho's only cybersecurity bachelor's degree program and one of the few comprehensive programs in the nation. As one of the National Security Agency's first seven National Centers of Academic Excellence in cyber defense education, U of I has more than two decades of leadership in this field. We are more prepared than ever to fill our nation's growing need for professionals who can protect our computing systems, networks and critical infrastructure.

We have also established a new department, the Department of Nuclear Engineering & Industrial Management, centered at our Idaho Falls campus. This action will help us better support our undergraduate degree program and graduate programs in nuclear engineering, engineering management and technology management. It will also improve our support of initiatives at the Idaho National Laboratory.

Biological engineering and chemical engineering programs have merged into the Department of Biological and Chemical Engineering, providing more effective program management and increasing collaboration between faculty and students. Faced with dipping enrollments over several years, our college, with support from President Green, made a recommendation to eliminate our materials science and engineering degree programs. Accepted by the Idaho State board of Regents, overall savings to the university will be more than $800,000 annually.

I'm also proud to announce all of our engineering and computer science programs have been accredited by global accreditor ABET for the full six-year cycle through September 2026. This is the best result that can be awarded from an ABET accreditation process. ABET accreditation assures programs meet standards to produce graduates ready to enter critical technical fields that are leading the way in innovation and emerging technologies, and anticipating the welfare and safety needs of the public.

Evolving to meet the emerging needs of Idaho is part of the University of Idaho's land-grant mission. These changes will allow our college to preserve program quality and invest in the new opportunities our students demand.

Sincerely,

Larry Stauffer
Dean, College of Engineering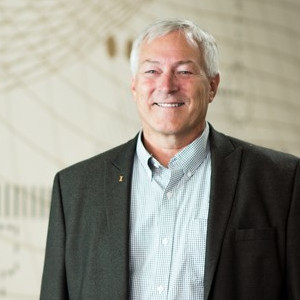 With safety our first concern as students return to campus this fall, our college has in place several precautionary measures with regard to class delivery and overall student health:
Implementing CDC best practices for in-person instruction, all engineering and computer science classes are held either in-person, via a hybrid of remote zoom and in-person instruction, or entirely online.
All Moscow-based students engaging in in-person learning are required to have a negative COVID-19 test.
There are 220 classrooms across campus, including 26 in our college, that are equipped with technology for video presentation and Zoom sessions.
All faculty, staff and students received a Vandals-fabric, washable/reusable mask prior to the start of fall semester. Disposable masks are available for visitors.
All employees providing instruction were provided a face shield.
U of I is making FDA-approved hand sanitizer. Hand sanitizer is in sanitation stations throughout campus. It is also in spray bottles for all departments.
All departments have received disinfectant for their main offices.
Labs and main department offices were provided with disinfectant, paper towels and hand sanitizer.
Each department received a hand-held thermometer.
Despite challenges added by COVID-19, students in our college stayed safe and active through remote and on-campus internships and research this summer.
Since March, open-source designs for 3-D-printed face masks and face shields, as well as devices that use ultraviolet C light (UVC) to disinfect personal protective equipment, have been accessed by thousands from our COVID-19 response website.

Our college has also delivered 200 masks and nearly 1,000 face shields to area medical staff, working closely with the Public Health – Idaho North Central District to distribute them to areas with the greatest need. Requests for masks, face shields and for help building UVC stations have been met across the country by faculty, staff and students.
---
Building COVID-19 Wastewater Testing and Analysis
U of I researchers partner with City of Moscow to develop early-warning system
Research Scientist Cynthia Brinkman and Civil Engineering Professor Erik Coats are part of a research team that's partnered with the City of Moscow to improve wastewater testing for the presence of SARS-CoV-2, the virus that causes COVID-19.

The team hopes to develop an early warning system for spikes in local cases.