Dean's April 2020 Newsletter
In the past weeks, amid the COVID-19 pandemic, our faculty and staff hosted hundreds of Zoom and online meetings, including engineering and computer science courses and other sessions with students and groups.

Our college is working to ensure students have what they need to be successful. This includes regular touchpoints with faculty through online office hours, rentable laptops, remote access to lab computers, recorded hands-on lab sessions and a lot more.

What initially seemed like an impossible task is becoming more and more attainable with the outpouring of skills within our faculty and staff. Each day, I see individuals using their expertise to help others as we continue to deliver to our students a nationally recognized education and hands-on experience.

A signature piece of our student experience in the College of Engineering is our senior capstone design program. Students present their completed capstone projects during the Engineering Design EXPO each spring.
VIRTUAL EXPO SET FOR EARLY MAY
As you probably know, this year's EXPO was scheduled for May 1. With safety our highest concern, we also recognize our responsibility to the hundreds of attendees that come to campus for this event.

This year, EXPO will not be canceled but will be re-envisioned as a virtual experience.

Our students are still working closely with industry sponsors, faculty advisors and mentors to develop prototypes and complete their projects. Their work will be showcased online to the public. Those who have already registered to be EXPO judges will have the opportunity to score projects online.

Thank you to the hundreds of K-12 students, Invent Idaho participants, teachers and chaperones from across Idaho and Washington who have already signed up to attend EXPO. Thank you as well to all our sponsors for their continued support and patience as we work to honor your contributions by providing a quality educational and hands-on experience for students at a distance.

Visit our EXPO website to stay up to date on developments as we work to provide a quality experience for all participants.
HOW TO HELP STUDENTS
If you're looking for a way to help students in need, I encourage you to give to the College of Engineering Student Emergency Fund.

These funds are given specifically to students within the College of Engineering and can be used to pay rent and provide housing for students who are unable to travel, to ensure students are able to have quality internet access at their place of shelter, and to provide laptops and other technical needs to give students the best possible chance of navigating this new way of learning.

Select the College of Engineering Student Emergency Fund from the designation list on the online giving form at uidaho.edu/give to make a donation. Students in need of emergency funds can make requests by emailing our Student Services Director, Paulette House, at phouse@uidaho.edu.

Thank you all for your creativity and willingness to work together. I know we will come out of this stronger than we were.

Sincerely,

Larry Stauffer,
Dean, College of Engineering.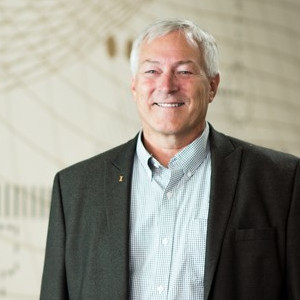 Medical staff on the Palouse and in the Lewiston-Clarkston Valley are working with the University of Idaho College of Engineering to fulfill the overwhelming demand for additional respirator masks and equipment sterilization systems at area hospitals.

The coronavirus COVID-19 has nearly depleted supply of needed personal protective equipment nationwide. U of I engineering faculty are finalizing an improved design for a 3D-printed filtering facepiece respirator mask. This new design allows the wearer to breathe more easily, and can be used with different filtration materials that are readily available.

With a design expected to be finalized this week, work will begin with 3D printing partners across Idaho and Washington to mass-produce these masks for delivery to hospitals in need.

Our college is also working to develop mobile sterilization stations that can be used to clean several masks at a time. Housed on a mobile shelving unit, the system sterilizes equipment using ultraviolet C (UVC) light, a short-wavelength light capable of converting the virus to harmless carbon compounds and water.
Gifts to the College of Engineering "Respirator Mask 3D Printing" fund go to aid this project:
It is that time of year to submit nominations for the 2020 class of the U of I College of Engineering Academy of Engineers.

The academy is a mix of U of I alumni and others recognized for their personal contributions to engineering achievement, leadership, education, service to the profession and advancement of society.

Nominations will be accepted through April 12, 2020.
Our college has gone virtual for UIdaho Bound! Watch our college walkthrough video, take a virtual tour of our Idaho Clean Snowmobile Team lab and Polymorphic Game Studio, and find online advising, campus visit info and other resources for new students.

Let us know how we can help! Email engr-sss@uidaho.edu.
Biological engineering junior Isabel Strawn was named a 2020 Goldwater Scholar. The more than 30-year-old national and highly prestigious scholarship program supports students interested in STEM research careers.

She will receive a scholarship of up to $7,500 during her senior year. Strawn said money will be used to continue her focus on water research.

Bacteria used in the bioremediation of groundwater contaminants face harsh environments with toxic chemicals and changing pH levels. Strawn is part of a research team developing a polymer hydrogel biobead to protect bacteria from the environment, so the microorganisms can more efficiently degrade toxic chemicals.

Strawn was selected for the Goldwater Scholarship from an estimated pool of over 5,000 college sophomores and juniors and was one of the 461 nominated by their own academic institution to compete in the program. The number of number of scholarships awarded since 1989 total over $71 million.
The University of Idaho College of Engineering's Idaho Clean Snowmobile Team earned fourth place overall in the gasoline spark-ignited class at the 2020 Society of Automotive Engineers (SAE) Clean Snowmobile Challenge held March 9-14.

The U of I team competed against 23 teams across the U.S. and Canada in a weeklong challenge to produce innovative solutions to make cleaner, quieter and more efficient snowmobiles that are practical for manufacturers and enthusiasts alike.

The College of Engineering team was one of only a few to use a two-stroke engine preferred for mountain riding but known for being louder and dirtier. The interdisciplinary team of engineering students earned best endurance fuel economy, in-service emissions, subjective handling, best value and best design in the spark-ignited class. Their machine was the third-quietest spark-ignited snowmobile in the competition, and the team placed second overall for its technical presentation and had the third-best design paper.

Read more and find photos and video on Instagram and Facebook.
Alan Griffitts '88, BSEE, Site Director of the Naval Surface Warfare Center Carderock Division (NSWCCD) Acoustic Research Detachment (ARD) in Bayview, Idaho, visited colleagues in the University of Idaho Office of Research and Economic Development and the College of Engineering with NSWCCD Director of Strategic Relations Dr. John Barkyoumb and NSWCCD Signatures Department Head Dr. Paul Shang from Bethesda, Maryland.

The NSWCCD ARD is located on Lake Pend Oreille, Idaho's largest, deepest and quietest body of water providing an ideal environment for acoustic testing without the problems and significant costs of open ocean operations. The ARD conducts research and testing on submarine acoustics and propulsion systems. The Navy and U of I have an Educational Partnership Agreement that allows all University students, including engineering and computer science students on the Moscow and Coeur d'Alene campuses to work with the Navy.
In addition to the College of Engineering Emergency Fund, the University of Idaho is making every effort to support and protect students during this uncertain time.

Explore ways you can help us do even more at an individual level by giving to funds in the Vandal Community Relief Fund, including the Bruce & Kathy Pitman Fund for Student Emergencies, Vandal Food Pantry and Project ECHO, offering telehealth training for coronavirus.
---
Upcoming Events

Early May – Virtual Engineering Design EXPO 2020 – EXPO will not be canceled but will be re-envisioned as a virtual experience. Visit uidaho.edu/EXPO to stay up to date on developments as we work to provide a quality experience for all EXPO participants.

Canceled – College of Engineering Awards Ceremony – The University of Idaho College of Engineering Awards Ceremony normally held at the end of spring semester each year is canceled, but the nomination process is ongoing and students, faculty and staff will be recognized at a later date.

Canceled – Spring Commencement – The University of Idaho's Spring 2020 Commencement ceremonies for Boise, Coeur d'Alene, Idaho Falls and Moscow have been canceled because of concerns about the spread of COVID-19.