Hands-on Activities
Check out the fun hands-on activity listed below!
Take Your Project Further!
These videos will get you thinking like an engineer, but this is just the beginning! Have a design improvement or an idea to enhance your completed project? Don't hesitate to add to your creation, test potential solutions, and expand on these activities.
Previous
Next
Catapult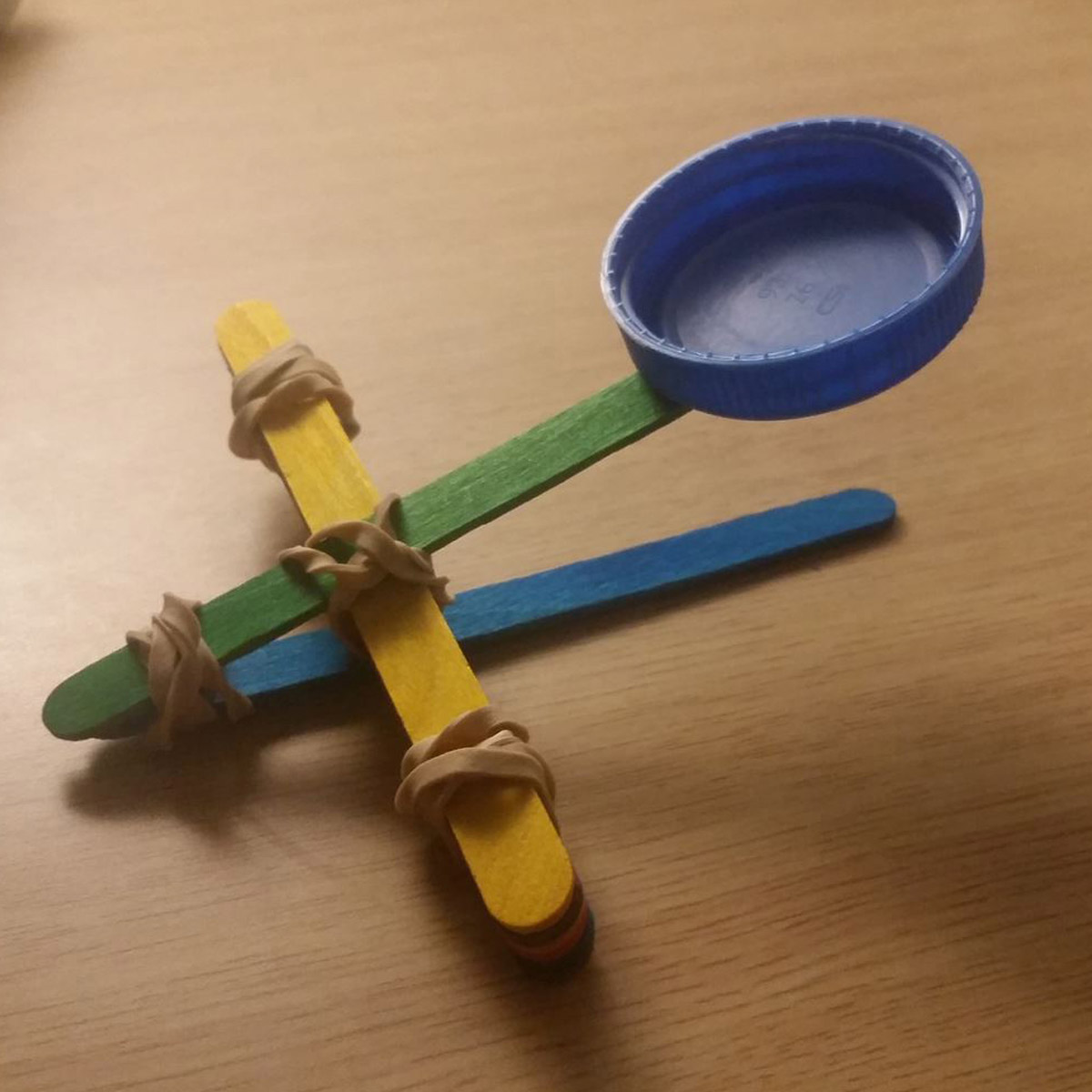 Science & Engineering behind the Catapult

The first catapult was invented in 400 BC, in Greece. The one we're making today is a little more simple, but still uses the same basic principles by using elastic potential energy stored in the wood of a popsicle stick to fling a light object through the air. Just like when you bend a thin tree branch and let it go, the popsicle stick is going to bend slightly, building up elastic potential energy. This means the wood is going to want to return to it's original place once it's let go. When it is, it will spring quickly back, and this force is what we're using to launch our cotton ball.

Once our catapult is built, we can change the trajectory of the cotton ball by changing the length of the lever arm. When there's a greater distance between the cotton ball and the fulcrum, or the middle stack of sticks, we'll be using a greater moment to apply a greater force towards bending the stick with the same amount of work. We also have more material to get a better bend. We can also change the angle of the catapult by adding or removing sticks from the middle stack, which will determine how much height vs distance our projectile will get.
For this activity, you will need the following items:
---
8 popsicle sticks
4 or 5 rubber bands
Bottle lid
Cotton balls or paper wad
Glue
Design a Shoe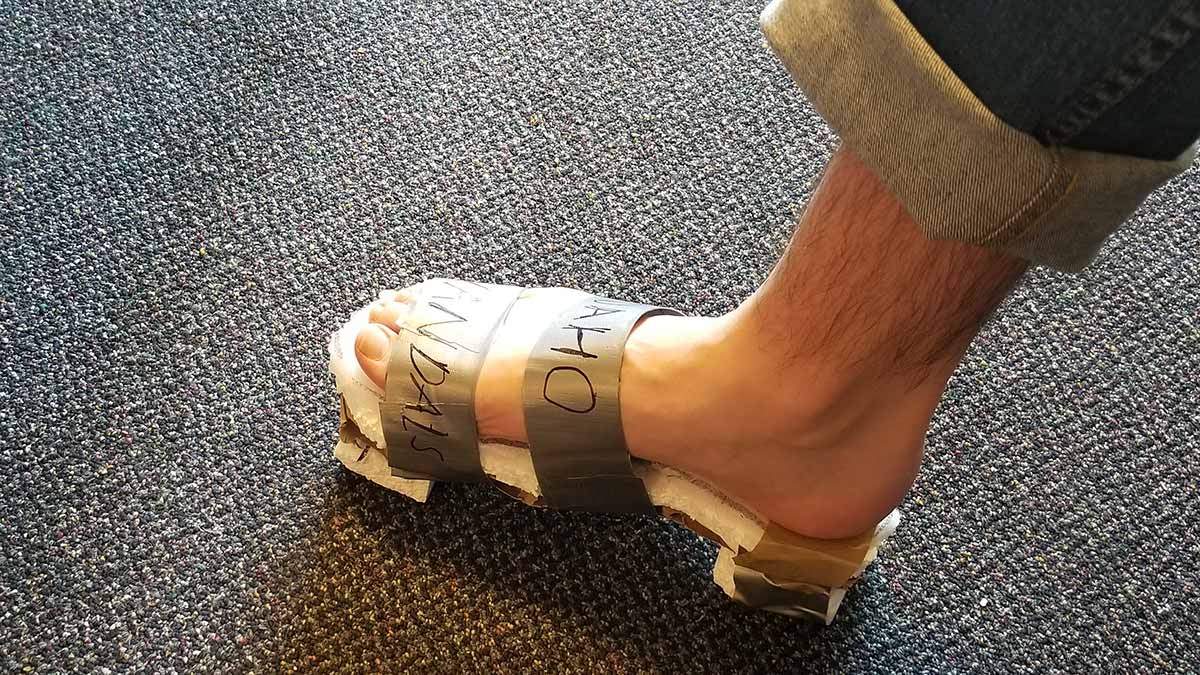 Science & Engineering behind the Shoe:

Footwear design requires a multidisciplinary team of scientists and engineers to create an appropriately designed shoe. When building a shoe, it's important to define the "job" the shoe is intended to fulfill. For example, a high-heel dress shoe is intended for use in drastically different environments than a leather stitch down work boot which is drastically different than the environment of flip-flops. Accordingly, shoes must be engineered to fulfill their specific task.

Regardless of their specific role, all shoes are intended to be comfortable and durable. Too fulfill their requirements, biomedical engineers help design shoes that are conducive to the patterns of the human body (e.g., running shoes have been engineered to have insoles with different levels of arch support depending on foot type). Mechanical engineers work to create methods to construct for durability dependent on the intended job for the footwear (e.g., work boots may have thick outsole stitched to the boot for durability, whereas, flip-flops may be help together by couple pieces of plastic). Material science engineers play an essential role in engineering the appropriate materials needed to construct a shoe (e.g., weight-lifting shoes require specially developed rigid but lightweight soles specifically designed for absorbing high-impact mechanical loads, or, running shoes have materials in the uppers designed to be as light as possible in the uppers without sacrificing support). Testing and analysis of shoe designs follow the scientific method and is essential in identifying, and then resolving, the possible flaws of a design.

A pair of shoes may not conspicuously scream "engineering," but it takes a whole team of different engineers to successfully design each pair of shoes worn everyday around the world!
For this activity, you will need the following items:
---
1 sheet of cardboard
1 sheet of foam particleboard
1 sheet of Styrofoam
Duct tape
Utility knife or hot glue gun
Ribbon, sparkles and markers are optional to add some style afterward!
Harmless Holder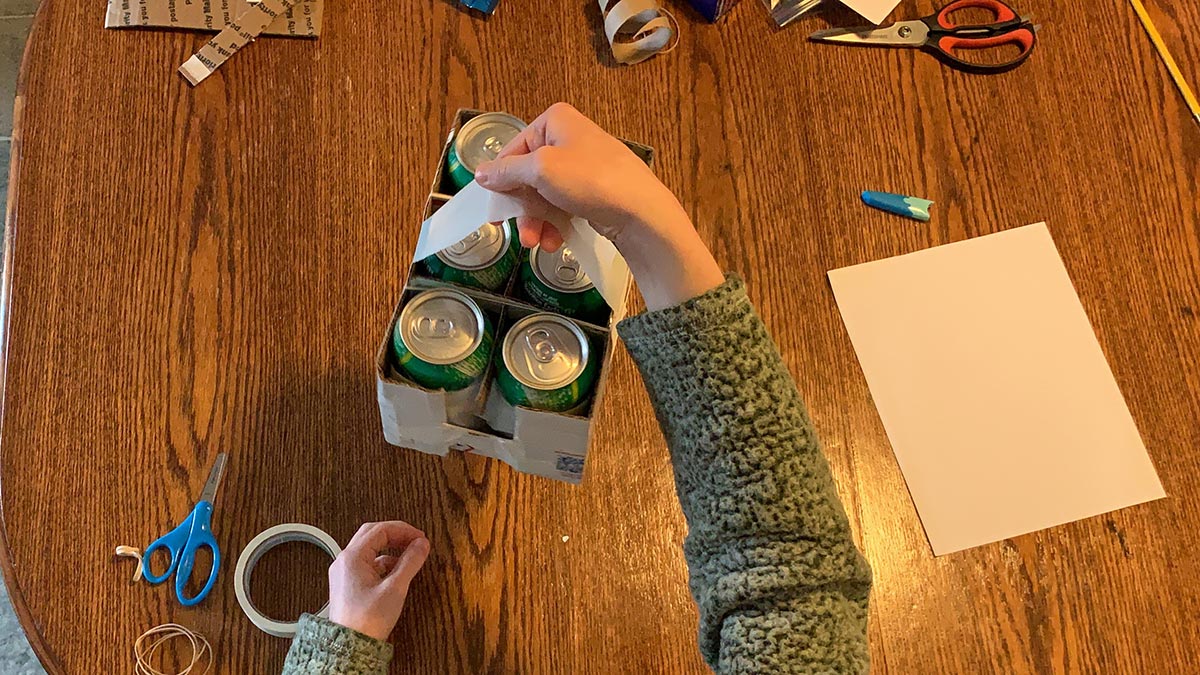 Science & Engineering behind the Harmless Holder:

Engineers look for ways to improve packaging systems to reduce litter and the need for raw materials, eliminate dangers to animals and the environment, and keep the production process cost-effective. To make these improvements, engineers develop prototypes and test them to discover the idea's strengths and weaknesses. They usually go back to the design phase many times before coming up with the final idea.

Traditional plastic holders are dangerous to both the environment and wildlife. They do not degrade easily so they gather and build up in the ocean. Animals feed around these locations and are in danger of ingesting these plastics since small pieces can look like food. There have been some improvements made with photodegradable plastic, which degrade when exposed to light, but their degradation can still take up to 90 days. Engineers are looking for alternative can holders and are striving for 100% degradable options, with some even made from edible materials like barley or corn!
For this activity, you will need the following items:
---
6 cans of soda, seltzer, or juice
Cardboard sheets (8.5x11)
Copy paper
Duct tape, or any kind of tape will work
Wax paper
String
Paint stirrers
Rubber bands
Make your own Glue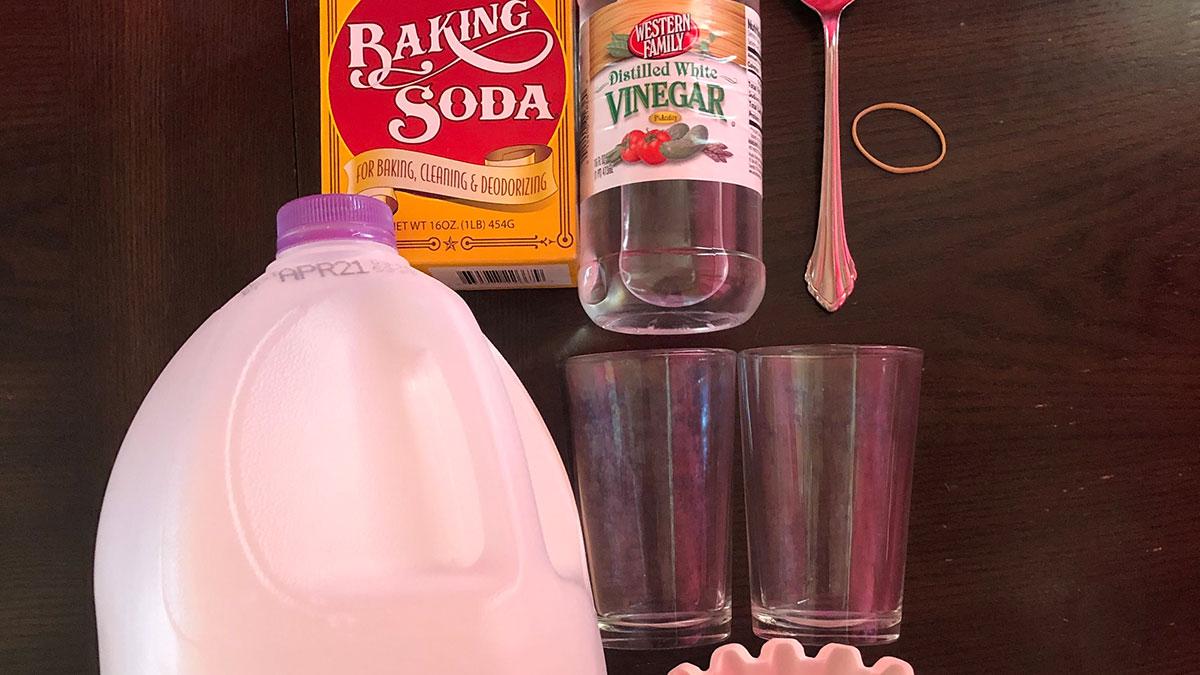 Transcript of Making Glue video:

To start, measure 1/4th cup of milk and 1 Tbsp. of Vinegar and mix in a mixing bowl. Stir for about 1 minute or until well combined. Next, take one of your cups and place your coffee filter on top. Push down on the middle to create a space for the liquid to go into. Secure the filter with a rubber band. Pour all of your liquid through the filter and into the cup. Make sure not to spill! Try to scrape your bowl to get all of it into the coffee filter. Let all of the liquid drain into the bottom of the cup. Once most of the liquid has passed through the filter, remove the rubber band and gather the filter at the top. Gently squeeze out the remaining liquid making sure not to break the filter. Try and drain out as much liquid as you can. Set the liquid off to the side. Open up your coffee filter. Scrape off the remaining pieces of your mixture and place them into a clean cup. Now grab your baking soda. Add a pinch of baking soda to your solid pieces. Now mix with a spoon until well combined. It should have a paste-like consistency. If it is too liquidy add more baking soda. Now you have made your own glue! Feel free to test it against other household glues you have lying around.
For this activity, you will need the following items:
---
1/4 cup milk
1 Tbsp. vinegar
1/8 tsp. baking soda
2 clear cups
Coffee filter
Rubber band
Spoon
Puff Mobile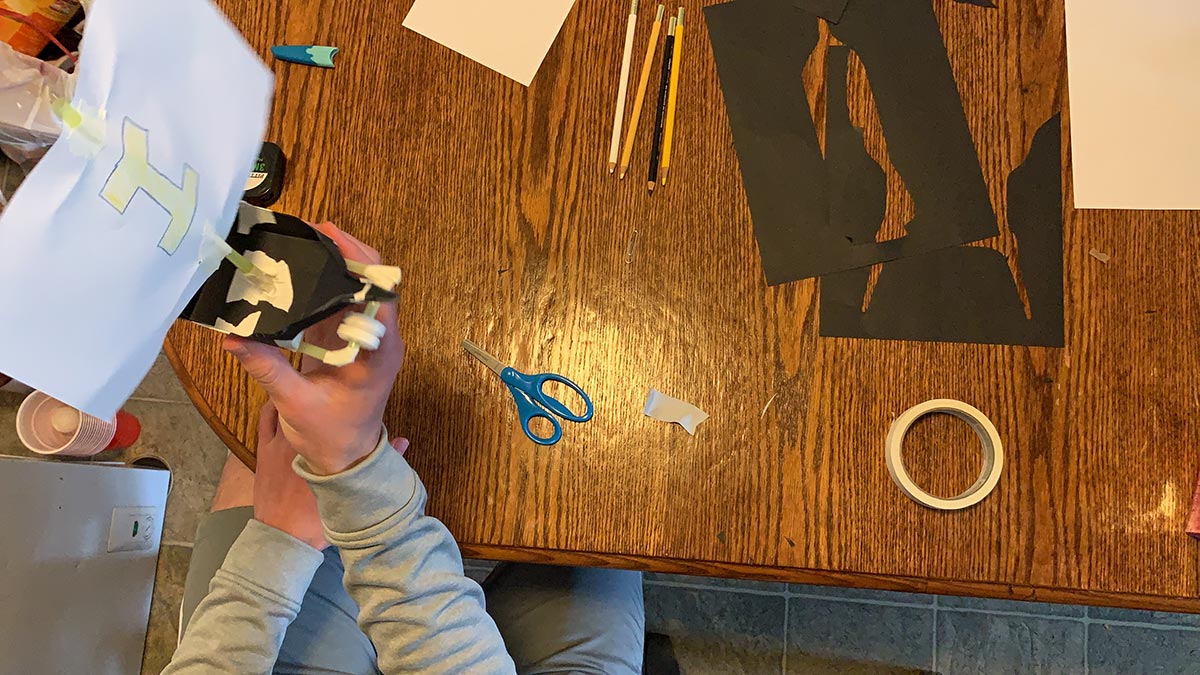 Science & Engineering behind the Puff Mobile:
These puff mobiles use one of the main renewable energy sources known as wind power. The flow of air results in what we call wind power. It comes from the energy that exists because of the motion of the air. Wind power has been used by people around the world for thousands of years. Ancient engineers built ships that used the power of wind to push them to points around the globe. The Dutch began to build windmills nearly 600 years ago that could crush and process grain. Today, engineers are looking to use wind even more to meet global energy needs. Large wind turbines are being used to generate clean electricity, which is electricity that doesn't create pollution. The sail (or sails) is the component of the car that translates the wind power into movement. The pressure created by the wind and the surface area of the sail make up the force that moves the car. This force relationship is shown in the below equation.
F=P*A
As can be seen in the above equation, a larger pressure from the wind, and larger surface area leads to a larger force that moves the puff mobile. The larger force usually means the faster the car will go. So for this activity, the sail is an important part for making these cars mobile. Sails have been used to power boats for thousands of years. But since the wind is always blowing in only one direction, how is it that sailboats can go in any direction they want? The answer lies in two main ways that a sailboat is designed. Both of the ways rely on angles. The first part of the design that enables a sailboat to move in different directions is the sail. Rather than be fixed in one position, the angle of the sail around the mast (which is the pole that the sail is attached to) can be changed. This allows sailors to adjust the sail to always catch the wind and propel the boat forward, regardless of which way the wind is blowing.


For this activity, you will need the following items:
---
3 drinking straws
4 life saver candies
1 big sheet of paper (or 2 regular sheets)
2 paper clips
50 cm masking tape
Scissors
Ruler or tape measure
Markers or colored pencils
Solar Panel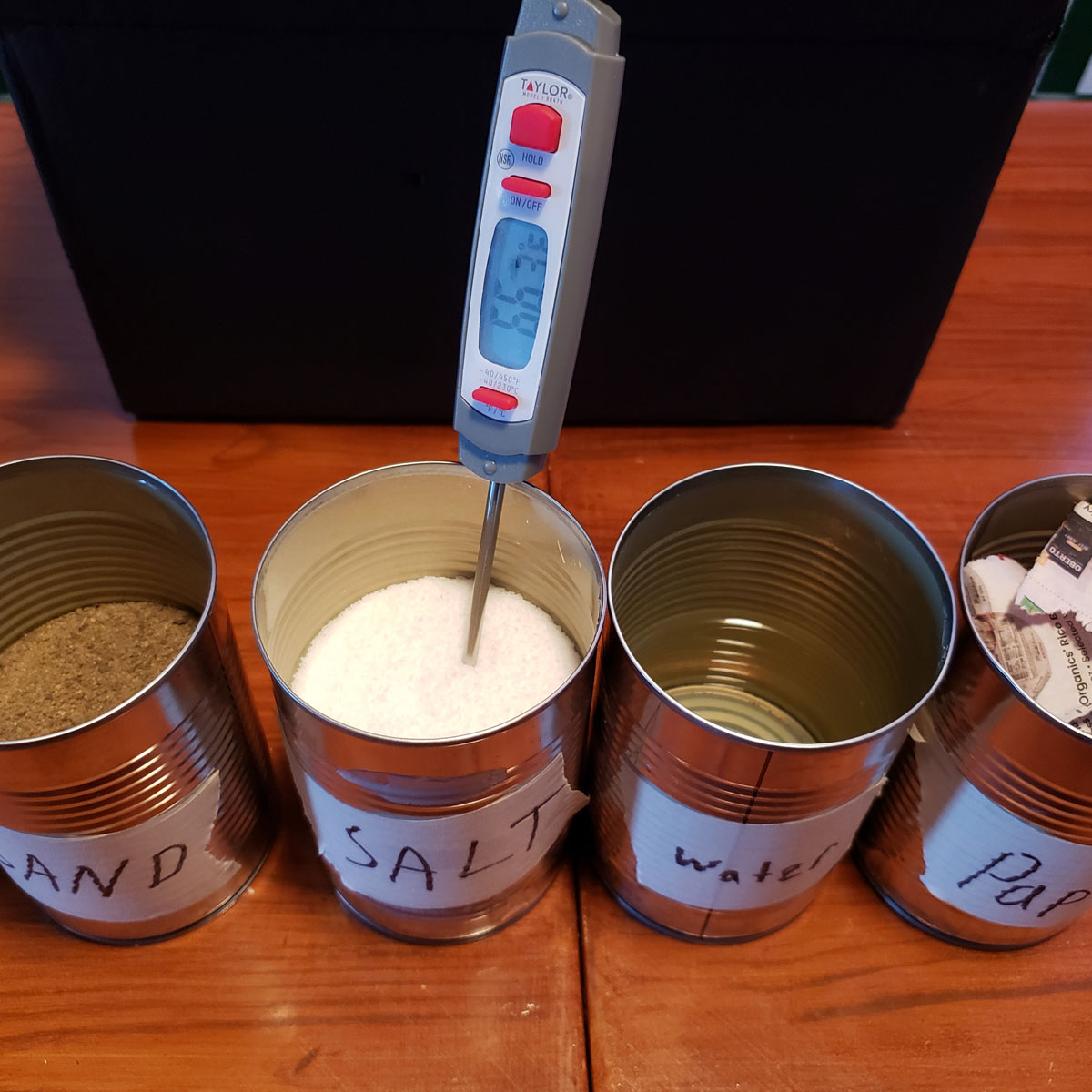 Science & Engineering behind the Solar Panel:

There are many ways that engineers can harvest the energy of the sun. A common one is using Photovoltaic Cells, known as solar panels, to turn sunlight into an electric current. Another way to create electricity is to concentrate the light using mirrors on one spot to cause an intense heat which is channeled through a conventional generator to create electricity. A third method used to harvest the sun is a solar water heater. This uses the suns energy to heat water outside of a house which can then be pumped inside to provide hot water using less electricity or gas.

Different materials have different properties called heat capacity that affect how much thermal energy they can store. This heat capacity defines how much energy a material stores at a certain temperature as well as how much energy is required to raise that material in temperature. For example, it requires a lot more energy to raise the temperature of water 1 degree than it does to raise the temperature of air 1 degree. This is why after taking all of the temperature measurements in the activity different materials heat up at different rates.
For this activity, you will need the following items:
---
A cardboard Box
Black Paint (Spray paint or other form)
Newspaper
4 small metal cans (such as soup)
1 cup of sand
1 cup of salt
1 cup of room temperature water
1 cup of shredded paper
1-cup measuring cup
1 or multiple thermometers
Masking Tape
A Marker
Spaghetti Tower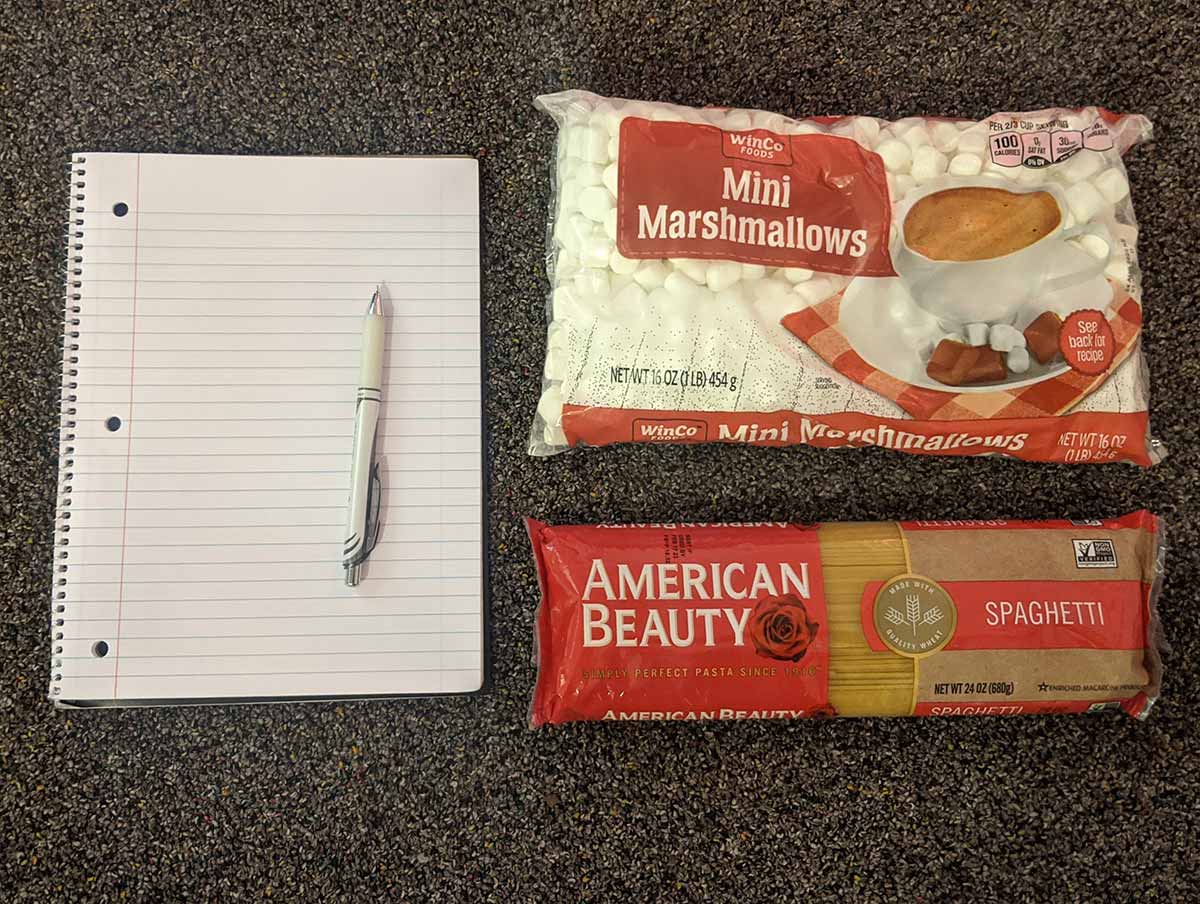 Science & Engineering behind the Spaghetti Tower:

Many forces are at work on towers. Gravity and the dead load of the tower push down; the ground pushes back up and small air movements push from the side. A foundation distributes the load into the surrounding ground material and can help balance the sideways wind force. The size of the foundation depends on the strength of the supporting ground. A foundation placed in rock can be smaller than a foundation placed in sand or mud.
Key Concepts
Bending: Combination of forces that causes one part of a material to be in compression and another part to be in tension
Compression: Force that squeezes material together
Design Process: Identify the problem, brainstorm, design, build, test, evaluate, share, redesign, and rebuild
Load-bearing members: To support or strengthen a roof, bridge, or other elevated structure with a network of beams and bars
Neutral axis: An imaginary plane that runs through the middle of a material under bending, at which zero stress is experienced
Tension: A force that pulls material apart
Truss: Support something with a structure
Source: NASA Aerospace Education Services Project
For this activity, you will need the following items:
---
Dry spaghetti
Mini marshmallows
A tape measure or a ruler
A pen or a pencil
A notebook or a piece of paper