ASME Tours and Revamped Club Lounge
This academic year has been very productive for our American Society of Mechanical Engineers student section. The club facilitated a broad spectrum of industry tours and has completely revamped the ASME lounge. The room now includes a new refrigerator, rearranged furniture for more effective study groups, and storage lockers for rent. The club is also in the early stages of implementing an ASME store, which offers Arduino kits and Vandal gear. As part of the 2019 Engineering Design EXPO, ASME will be hosting an egg launch competition for prospective as well as current students to heighten awareness and respect for the discipline.
This past fall, we had the opportunity to go on two different industry tours hosted by alumni on the Mechanical Engineering Advisory Board. In September, students were guided on a journey through Quest Aircraft's primary production facility by University of Idaho alumni and Principal Engineer Jamie Slippy. Students experienced the entire assembly process of the Kodiak 100 from part fabrication through the final stages of quality inspection.
In October, a smaller group of students visited Little Falls dam, which is about an hour outside of Spokane on the Spokane River, and owned/operated by the Avista Corporation. The company was in the final stages of their updating their turbines. Our tour was hosted by University of Idaho alumni and Avista Chief Dam Safety Engineer PJ Henscheid, and project mechanical engineer Nick Agostinelli. We got a rundown of how the dam works, as well as a close-up look at the turbine blade and housing. Agostinelli spoke to us about what goes into a project like this; from pre-staging, specifying different parts, lead times from overseas shipping, to the final assembly.
Annual Industry Tours in Seattle
At the beginning of the spring semester, the U of I ASME Club visited Seattle for several industry tours as well as a mixer with alumni in the area.
Vandal students visited Electroimpact and learned about their innovative and successful approach to making special purpose manufacturing robots. Guided by Chief of Staff Ben Hempstead, students saw an array of unique world-class products designed, marketed, sold, manufactured, assembled, and tested by the engineers themselves. Electroimpact's Mukilteo, WA campus featured numerous buildings containing products ranging from airplane parts to towering mobile robots fitted with secondary feedback controls that improve end-effector accuracy to levels comparable to the hands of a skilled watchmaker.
Students also toured the Kenworth Truck assembly line, a branch of PACCAR, Inc. PACCAR was originally started in 1905 to engineer and produce logging equipment in Western Seattle. Kenworth was initiated in 1923 and engineered an assembly line to produce custom trucks for a wide variety of customers. On the manufacturing floor students saw a moving assembly line that supported mixed-mode fabrication of different sized, different colored, different featured semi-trucks. Many lean manufacturing principles were illustrated in the feeder line layout, the standardized work procedures, and the real-time metrics displayed on production screens.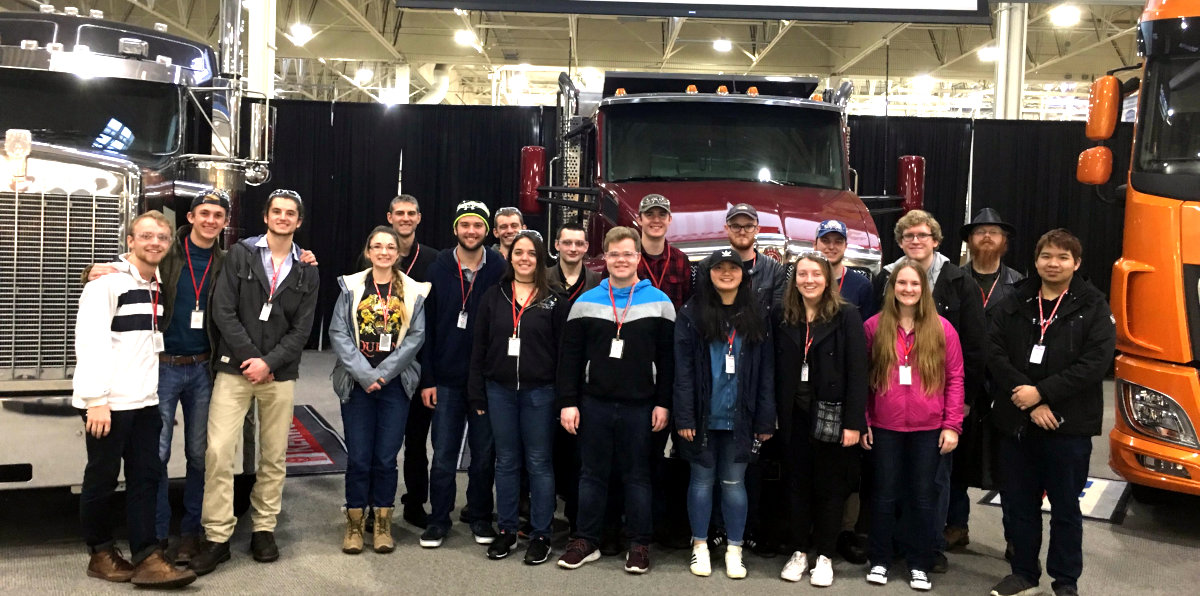 The third stop on the trip was Boeing in Renton, Washington where we met with U of I alumni, Paul Huber, 737 Interiors, Product Excellence Group Manager. While there, we toured the facility that produces the brand new 737 Max and saw final assembly operations from the deck overlooking one of three lines that together produce more than 50 aircraft each month. We also viewed the wing production area which used several of the custom riveting machines produced by Electroimpact. Our Boeing hosts were gracious, articulate, and entertaining. They made our relatively small group feel very welcome.
At the Flying Heritage & Combat Armor museum in Everett, we were shown three hangers focusing on aircraft used in different international conflicts over the last century. Numerous aircraft on display are kept in flight-ready condition so that they could be shown off in summer airshows beginning on the adjacent runway. The docents had first-hand experience in the factories where some of these planes were made, various roles in flying them over enemy airspace, and special responsibilities in supporting them on the ground between missions. There were also interactive display panels that featured several documentaries on different war periods as well as exercises to think about diplomacy and the causes of various world wars. Near the end of the tour a large group formed around a WWII veteran who was stationed in one of the hangers as he related his life story, answering many questions about his proud and inspiring career.
Over 20 Mechanical Engineering alumni joined 40 attendees on the spring ASME Industry Tours at the Brave Horse Tavern in downtown Seattle. The purpose of the evening was networking and sharing information about career paths in regional industry. As the evening rolled along, it was evident Mechanical Engineering alumni enjoyed reconnecting with their peers and former classmates just as much as they enjoyed chatting with current students. Great connections were made and renewed, tasty brews were sipped, a variety of hearty appetizers were sampled. In short, it was a memorable evening of Vandal engineering fellowship between current students and participating alumni.