A Better Version of Herself
Reluctant to become a Vandal, Madison Seymour found a special community in the College of Education, Health and Human Sciences
Madison Seymour was reluctant to become a Vandal.
"Growing up in Rathdrum, a big population of our students end up going down to Moscow," she said. "I wasn't too excited because everybody I knew had done it."
Affordability won out.
"It's so affordable. I got accepted to other schools and could have potentially gone, but I knew that I wanted to be an English teacher. I knew that English teachers in Idaho don't make a big wage, so I had to be smart about where I go to school," she said." You can't beat the tuition at UI."
Her decision paid off in more ways than one: Seymour said she found a welcoming community in Moscow.
"U of I is so special," she said. "The professors know you on a first and last name basis. They're willing to put in the work to help you become better. It's a great place to grow as a human being and become a better version of yourself."
Seymour will graduate this December with a double major in English with a teaching emphasis and secondary education with an endorsement in English.
"The dream job is to teach English in some capacity," she said. "Teaching feels like such a unique career path, in that you have the opportunity to elicit direct impact in the community you live in. With each student, they're going to learn something from me and they're going to carry that on with them."
After finishing her student-teaching at Lakeland Junior High School in Rathdrum in December, Seymour will be a long-term substitute teacher at the Mountain View Alternative School. She also works as a youth developer for the Boys & Girls Club of Kootenai County, a position she expects to hold through the summer.
"Hopefully in the fall, I'll be in a master's program or teaching English in a junior or high school," she said. "U of I is great at presenting opportunities to undergraduate student about what the future can hold. I've had the opportunity to talk to students in the master's program in English and education and hear their perspective. Career Services is great at helping you find a job post-graduation, I know I'll have support even after I graduate."
As an ambassador for the College of Education, Health and Human Sciences (EHHS), Seymour had the opportunity to give back and talk about the opportunities that going to college can offer to high school students from North Idaho.
"I talked with students, answered questions they had about higher education, and hopefully pointed them in the direction of University of Idaho," she said.
Seymour also worked at the university's Writing Center in Moscow, which she said helped change the way she thinks about and teaches writing.
"The skills I used in the Writing Center I find myself using in my classroom almost every day, where I can sit down with a student and explain it in a way that's more approachable than having a teacher stand in front and teach it one way," she said. "Everybody learns differently so the Writing Center helped me hone in on that skill."
That experience, combined with the education she received in EHHS, has made her confident in the classroom.
"There's definitely some moments where I had a student raise their hand and say something, and I went, 'Oh, I learned about this in class. I know what to do,'" she said. "I didn't have to worry about my knowledge because I knew I had a sound base coming out of the classes I have taken."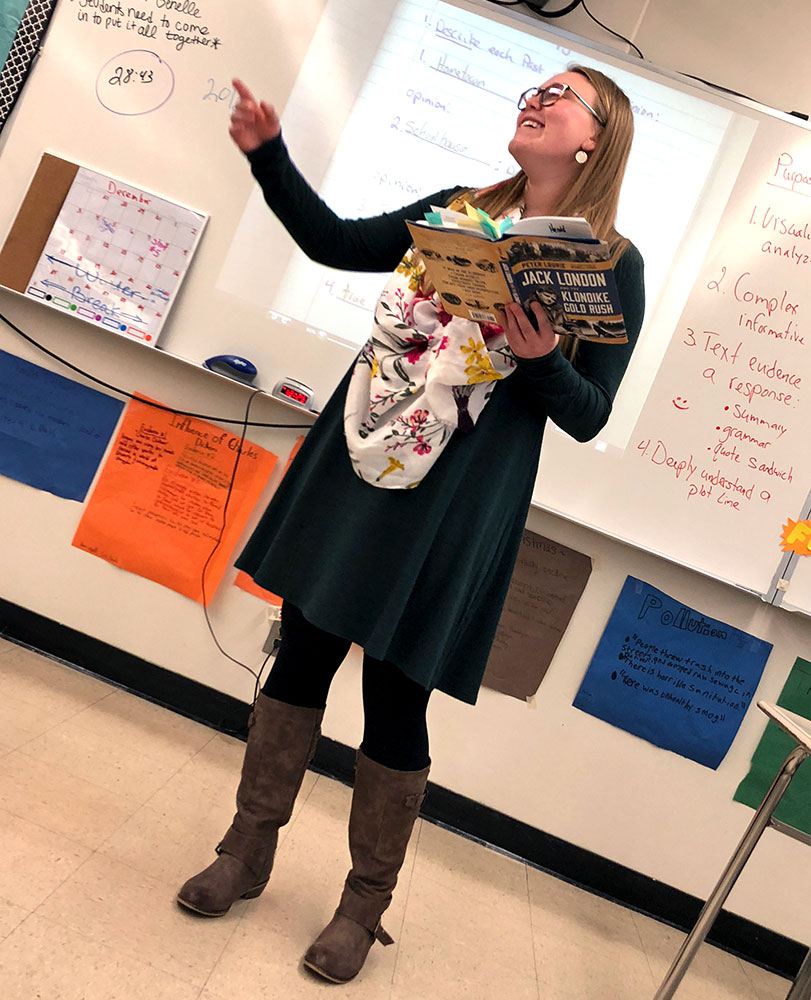 Article by Tess Fox, University Communications & Marketing.