Student Clubs
Pre-Med Club
Thinking about becoming a doctor or physician assistant? Initiative, hard work, patience, communication, and perseverance are some of the required lifelong skills. UI's Pre-Med Club wants to help cultivate these abilities while building a community of students dedicated to excellence. This is accomplished by providing the framework for interaction with local healthcare professionals, study groups and MCAT preparation, volunteer and other community involvement opportunities, and a supportive environment along the difficult road to medical school.
Please visit our VandalSync page and find us on Facebook (Pre-Med Club of UIdaho):
Pre-Physical Therapy/Occupational Therapy Club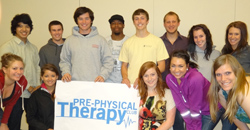 The Pre-PT/OT Club supports and provides opportunities for students to learn more about the professions of physical therapy and occupational therapy. The club meets approximately once a month; its goals are to help students to be competitive applicants for PT or OT school, to meet practicing PT and OT professionals in the area, to understand volunteering and shadowing opportunities in the Moscow/Pullman area, to visit and tour regional PT/OT schools, and to fuel each other's enthusiasm for physical therapy and occupational therapy.
Please visit our VandalSync page and become a member of our Pre-PT/OT Club at:
Pre-Dental Club
The Pre-Dental club supports the personal and professional development of students interested in a career in Dentistry. Please visit our VandalSync page and join the University of Idaho's Pre-Dental Club: