John Nuhn
John was born and raised in Moscow Idaho. His mother, Theresa Nuhn, worked close to the University when John was a freshman in high school, providing a connection to the college music scene. A band named Lystra's Silence resulted from these connections and their first tour was during the summer of 2001. After his 2003 graduation from Moscow High School, John began to tour the country and perform with Lystra's Silence until late 2008.
After 8 years of playing bass and guitar in front of audiences across the United States and Europe, John returned to Idaho in 2008. He completed a CNA (certified nursing assistant) course which sparked an interest in the medical field, taught music for a year at a private arts high school in Boise, and completed his journey back to school by returning to Moscow and the University of Idaho in 2010.
Curiosity about human interaction and the subtleties of communication led John to pursue Psychology as a major. His curiosity extends into microbiology and anatomy, and has fueled his desire to combine these interests into a medical career. He never thought anything would compare to the feeling of performing music in front of an audience, but has found that healthcare outpaces his old performance joy while volunteering in the Emergency Department at Gritman Medical Center.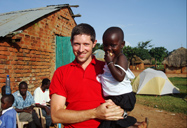 When the opportunity to spend late May and early June of 2012 in Uganda and South Sudan with a Pediatric ER doctor arose, John immediately set out to make it happen. His time in Africa reinforced the desire to devote his life to the care of others. John saw some challenges facing pre-med students at the University of Idaho. To help students better prepare for graduate and medical school entry, he helped organize a pre-med club, a mentoring program with the WWAMI program, and other resources.
John is currently in his second year of school with the WWAMI program. His goal is to live in Idaho as a physician, spend time regularly in East Africa, and serve healthcare, education, and cultural relations to those in most need in both places.