2018 Winners (3MT)
3MT® Winner
Megan Ruffley, Bioinformatics & Computational Biology
"Comparative Phylogeography in the Pacific Northwest Temperate Rainforest"
ABSTRACT:
Phylogeography is the field of study that aims to understand the geographic distribution of genetic variation for a given species or species complex. The genetic variation of a species can be affected by a myriad of evolutionary and ecological factors such as natural selection, genetic drift, and geological and climatic fluctuations. Phylogeography allows researchers to test hypothesis related to these factors and resolve which mechanisms have impacted speciation, or lack-there-of. Phylogeographic concordance between species in the same community is often interpreted as the result of species responding to historical events in concert; events that may be the result of climatic shifts such as glacial cycles and habitat fragmentation. A major goal of my research is to understand whether assemblages of species that coexist in a community respond to geological and climatic changes in concert, or whether species adapt idiosyncratically. I investigate these questions in the context of the Pacific Northwest (PNW) temperate rainforest.
The PNW temperate rainforests form a disjunct ecosystem that consists of a coastal rainforest, from the Cascades Mountain Range to the Pacific coast, and an inland rainforest, which exists along the northern Rocky Mountains in central to northern Idaho and eastern BC. The coastal and inland forests became isolated by ~ 300 km of unsuitable habitat after the uplift of the Cascades (ca. 5 MYA), which generated a rain shadow cast across the Columbia Basin. Due to this disjunct nature of the ecosystem and the taxonomic breadth of disjunct species, the PNW rainforest has been the focus of several phylogeographic studies involving a variety of organisms such as amphibians, mammals, mollusks, and plants. In my work, I aim to understand how the plant community has been impacted by the disjunction, and this involves elucidating the phylogeographic history of plant species that have disjunct populations. For this, we develop several hypotheses that characterize how the disjunct populations have interacted through time using divergence time, population size expansion and contraction, and migration rate parameters. We can then evaluate the likelihood of each hypothesis given the genetic data we have available for the species under investigation. Resolving the phylogeographic history of many plant species in the PNW allows us to ask whether the plant species have responded similarly to the original disjunction of the ecosystem and subsequent glaciation. Furthermore, if we can develop a framework for understanding whether communities respond to environmental and geological fluctuations in concert, we can predict which communities are more vulnerable to climate change.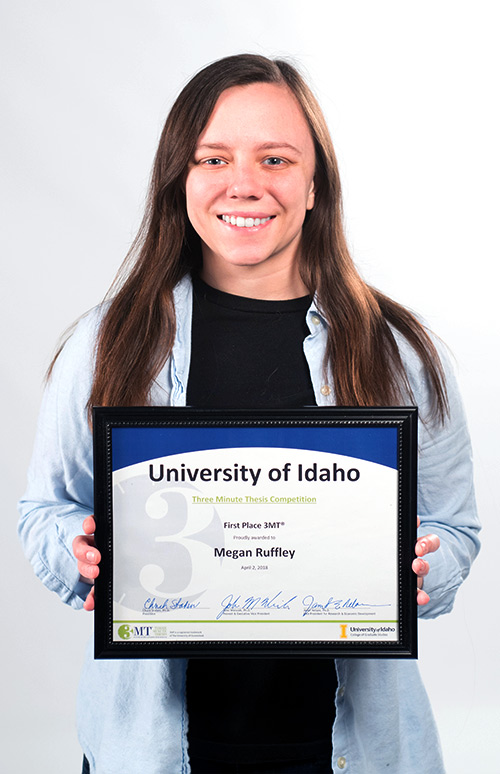 3MT® Runner-Up
Daniel Kral, Psychology
"Using Rhythmic Auditory Cues to help people with Parkinson's disease move"
ABSTRACT:
Parkinson's disease (PD) is the second most common neurodegenerative disorder after Alzheimer's. It affects approximately 0.3 % of population at any given time and is more prevalent in people over 60 years of age and more prevalent in men than women. Common motor symptoms of PD include tremor, slowness of movement, shuffling gait and instability during standing and walking. Medication is helpful in managing motor symptoms, but eventually leads to reduced effectiveness response and development of involuntary movements. Simple attentional interventions focusing on rhythmicity have been used to improve the ability to walk in people with PD. Visual cues, such as flashing lights, as well as auditory ones, such as metronome, have been associated with improved gait. Studies have shown that cueing can increase walking speed and reduce spatial and temporal variability of steps, making gait more regular. Both outcomes are associated with improved independence and quality of life, in addition to reduced risk of falling injuries. However, evidence is so far inconclusive regarding the retention of benefits. It is also yet to be established whether cued practice of a particular movement improves the performance of only that one movement, or whether the training effect can be transferred to different movements too.
In a series of studies, I propose to evaluate whether the use of rhythmic auditory cues can affect rhythmicity of movement in all limbs instead of simply affecting performance during a specific task. To do this, I am first assessing the speed and variability of gait in people with PD, before and immediately after a cued rhythmic intervention that does not include walking. If the intervention is effective, this would support the hypothesis that cueing can lead to changes in the ability to produce rhythm in movement, previously thought to be impaired in people with PD. Further studies will assess the immediate and long-term effects of the type of auditory cues on walking gait. Prolonged use of metronome as an auditory cue has been identified as somewhat uncomfortable by research participants and several 'smart' cueing devices are still at various stages of development and optimization. Music has been tested as a potential alternative to the use of metronome, but conclusive evidence on its effectiveness and optimal use is still sparse. Musical training has been used successfully in motor disorder rehabilitation studies and comparing the effect of pace-matched music with standard metronome on walking could establish its viability as a more pleasant, 'natural' and less intrusive aid applicable in everyday life.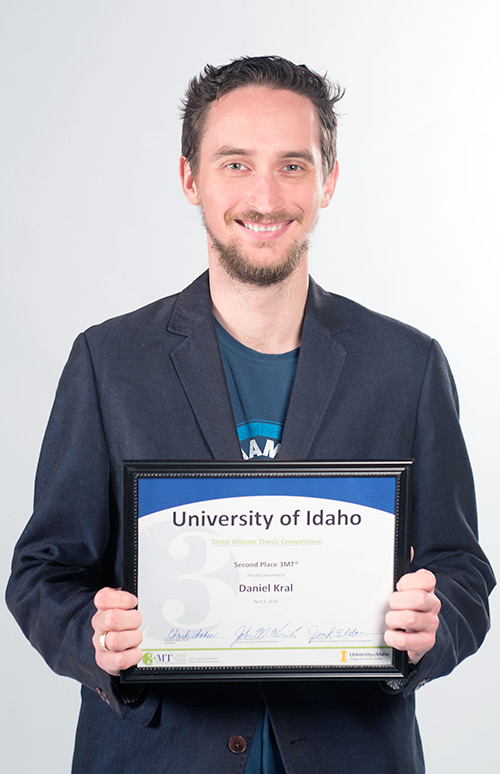 3MT® People's Choice Award
Cary Lindsey, Geosciences
"Constraining Heat Flux in the Yellowstone Caldera"
ABSTRACT:
Surface heat flux, an important tool for characterizing geothermal areas, is often difficult, if not impossible, to measure directly. I offer a progression of tools for measuring and/or calculating surface heat flux in the Yellowstone Caldera. Refined flux measurements allow for better characterization of geothermal systems, sustainable production of suitable systems for electricity, and enhanced modeling of the heat source as in the case of the Yellowstone Caldera.