2018 Winners (3MM)
3MM — 1st Place and People's Choice
Paola Branco, Wildlife Science
"The Elephants of Gorongosa: an Integrated Approach to Conservation and Conflict Mitigation in the Shadow of the War"
ABSTRACT:
The recovery of Gorongosa National Park's elephant population from decimation by war is an unparalleled conservation success story. Yet, a concomitant increase in crop-raiding by elephants along the boundaries of the park now threatens to undo restoration efforts. Our project is the first to analyze the frequency, severity and distribution of raiding events around Gorongosa, and to experimentally evaluate strategies for reducing crop damage. To quantify patterns of crop-raiding, we fitted twelve male elephants with satellite collars that were programmed to send us their location each 30 minutes for two years. The first year of elephant tracking data allowed us to identify 13 main crossing points used by elephants to access crops. We then tested three different strategies for deterring elephants from crossing to the community at those locations: beehive fences, chili fences, and a combination of both ("spicy beehive fence"). We assigned treatments, as well as four control fences, at random to each of the 13 crossing locations. In addition to using GPS collar data to quantify elephant responses to the fences, we trained two teams of local community members to work on the project. One team of ten enumerators collected over 1,500 reports on human-elephant conflict events before and after the mitigation trials, and another team of six monitors collected daily data on elephant movements where the fences were built. We also installed 24 camera traps around the fences to observe elephant behavior in proximity to each fence type. Preliminary analyses suggest that the use of beehives may reduce the incidence of crop-raiding forays outside of park boundaries, whereas chili fences alone were less effective. Results of our study will be used to develop a long-term management plan for mitigating human-elephant conflict at Gorongosa.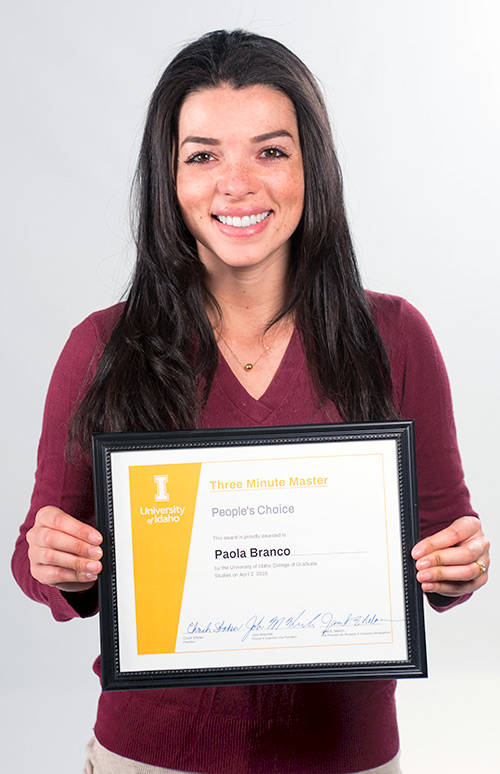 3MM — 2nd Place
Dana McCurdy, Animal &Veterinary Science
"The Effect of Limit-Feeding Forage on Rumen Development in Pre-Weaned Jersey Calves"
ABSTRACT:
During the transition from milk to solid feed, calves are subject to sub-acute ruminal acidosis due to increased concentrate consumption. Long-stem forage increases ruminal pH and increases chewing time which can reduce the severity and duration of sub-acute ruminal acidosis. The objective of this study was to determine the effect of limiting forage intake on the development, and pH of the rumen in pre-weaned calves. Jersey bull calves (n=12) at 0-3 days of age were individually housed and randomly assigned to one of two treatments in a completely randomized design. One group was limit-fed (LF) long stem alfalfa forage at 90g/d (n=5) while the second group was fed forage ad libitum (AL) (n=7). All calves were fed 1300 g/d of milk replacer (26% CP, 18% fat) and a texturized calf-starter ad libitum. Weekly, calves were weighed, and a blood sample was taken for metabolite analysis. After a calf consumed 680g/d of starter for three consecutive days, calves were ruminally dosed with a rumen pH logger and ruminal pH was recorded every 2 minutes for 7 days. Data were analyzed using the Mixed procedure of SAS 9.4. Average daily gain was not significantly different between AL and LF (0.87 ± 0.03 vs. 0.85 ± 0.04 kg/d, respectively; P = 0.55). Mean rumen pH and duration of time rumen pH<5.8 differed between AL and LF treatments (6.38 ± 0.16 vs. 5.98 ± 0.23; P = 0.09) and (261 ± 133 vs. 796 ± 145 min/d; P = 0.03). This study demonstrates that limiting forage intake to 90g/d does not maintain mean rumen pH and pre-weaned calves must consume more forage to decrease incidence of sub-acute ruminal acidosis.