2017 Winners (3MT)
3MT® Winner
Sarah Jacobs, Ph.D. Candidate, Biology

"Investigating the Main Contributors to Plant Speciation in a Rapidly Diverging Lineage in Western North America"
ABSTRACT: Speciation occurs when populations become isolated and subsequently experience the reduction of gene flow. Identifying isolating barriers to gene flow, quantifying their relative contribution to the limitation of gene flow, and determining the order in which they arose are current challenges in the study of speciation. Often, studies of plant speciation intensively study a single species or species pair, and therefore focus on the driver of divergence in that particular situation. By examining intrinsic (morphological, physiological, genomic) and extrinsic (e.g., ecology, climatic niche, geography) properties of species, and comparing them in the context of their evolutionary history, we have the opportunity to investigate these properties at different time scales. In doing so, we can compare patterns of accumulation of species criteria (ecological, geographic, molecular, and/or morphological characteristics) with respect to diversification – in short, we can begin to see the 'big picture' of diversification in a given system. Furthermore, when combined with historical events (e.g., climatic events or novel biotic interactions) this macroevolutionary view will allow us to begin to piece together more complete narratives of the process of speciation at broader scales.
An assumption in any work tackling the process of speciation is our confidence that we can identify and describe species; furthermore, the way that we define a species can have far reaching impacts (i.e., conservation, ecology, legislature). The process of species delimitation – drawing a boundary between one species and another – provides the groundwork necessary to study the macroevolutionary process of speciation. Variation in species criteria often serve as evidence of boundaries between one species and another; these characters, however, are not always capable of differentiating species, especially when used alone. Given that the accumulation of species criteria is a continuous process, multiple lines of evidence are necessary to draw the boundary between one species and another, especially in recently diverged groups where any given species criterion may or may not reflect divergence. With this in mind, my research carefully gathers and closely inspects multiple lines of evidence for a robust estimation of species boundaries in an iconic group of western wildflowers, the genus Castilleja, also known as the 'paintbrushes'. Given carefully defined species, I examine and compare the relative contributions of individual species criteria to divergence, providing insight into the importance of genetic, ecological, morphological, and geographic differentiation to speciation.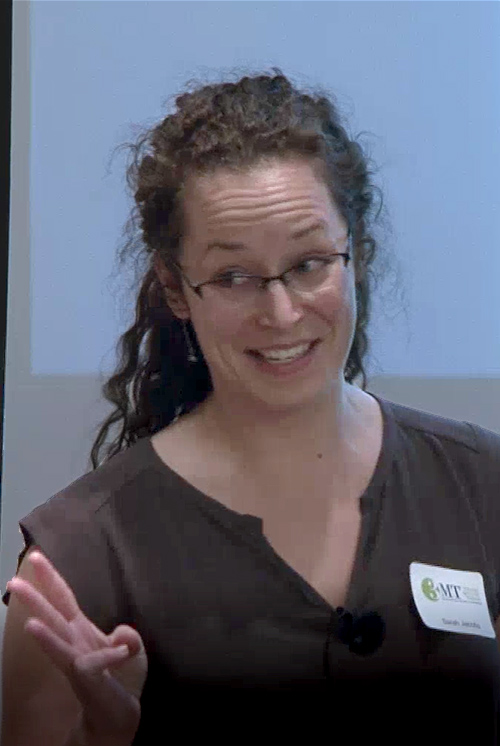 3MT® Runner-Up
Rajani Dhingra, Ph.D. Candidate, Physics

"Understanding the Atmosphere-Surface Interactions on Titan—Earth's Cooler Cousin!"
ABSTRACT: Titan is the only planetary body (apart from Earth) in our solar system with standing bodies of liquids which also actively circulate through the atmosphere (as vapor) and land (as precipitation). The nitrogen-rich atmosphere is similar to our Earth making it a scientifically important target for understanding Earth's evolution through time. The liquids on Titan are however, hydrocarbons instead of water on Earth. Hence, hydrocarbons play the same role on Titan as water plays on the Earth!
My research aims to understand the various interactions as hydrocarbons cycle through the different reservoirs (land, atmosphere, sea). I use spacecraft observations of Titan to study these interactions and have been integrating information from radar and infrared sensors. My recent research has addressed the dichotomy in liquid distribution on Titan by studying the hydrology of the largest south polar lake, Ontario Lacus. Our results have highlighted the large catchment area of this lake which negatively influences the existence of any other lakes in this region. This work provides some insights into the observed high lake density on Titan's north-pole compared to the south-pole. My current research is focused on collecting evidence for precipitation events on Titan in order to understand their pattern and explore linkages with the distribution of lakes on Titan. I am developing an innovative methodology using observations in the near infrared region where the character of scattered light from the surface can help discriminate a wet-land surface from a dry region. Wet regions have diffused mirror-like reflections under certain viewing geometries and could therefore be used as a proxy for rainfall events. The overall understanding of such atmosphere-surface interactions would enable better climate models of Titan and enhance the knowledge of Titan's surface. This information would also be key for future exploration by orbiters and landers.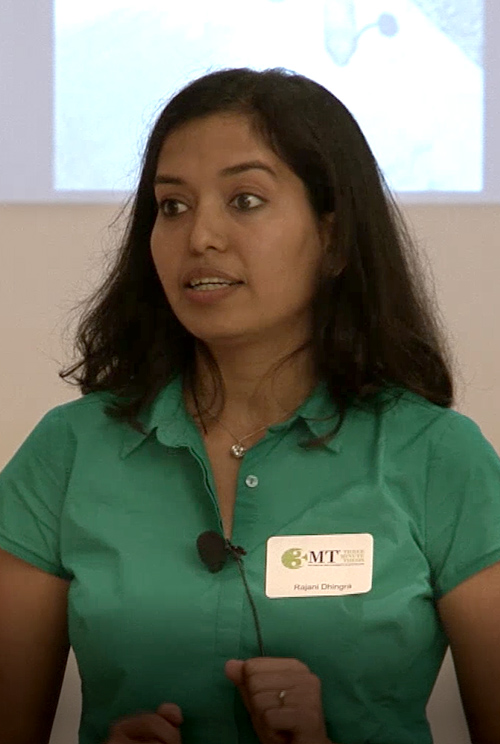 3MT® People's Choice Award
Jennifer Spencer, Ph.D. Candidate, Animal and Veterinary Science

"Aspirin: For aches and pains, and reproduction?"
ABSTRACT: Approximately 40% of dairy cows experience embryonic loss during pregnancy, and this significantly influences dairy farmers' profitability. The majority of embryonic loss occurs early, between 8 and 16 days after fertilization, and many factors can influence this phenomenon. For example, dairy cows experience higher embryonic loss during the summer because of heat stress. In addition, late signaling by the embryo for maternal recognition and hormonal changes such as premature secretion of the hormone prostaglandin F2α causing the regression of the corpus luteum, which is necessary for maintaining pregnancy, can increase the risk of embryonic loss in cattle.
Aspirin is a non-steroidal anti-inflammatory drug that has been shown to influence fertility in women, rodents, and livestock. Previously, we demonstrated that aspirin reduces prostaglandin synthesis and prolongs the estrous cycle in lactating dairy cows. Therefore, the objective of this study was to determine if administration of aspirin could improve pregnancy rates by reducing the occurrence of embryonic loss during the in dairy cattle. Administration of aspirin did not improve pregnancy rates in this study, however based on our results there is potential to examine other prostaglandin inhibitors in order to improve dairy cattle fertility. By enhancing dairy cattle reproductive efficiency, we can accelerate genetic progress, resulting in the progression of food sustainability, and allowing us to better support the nutritional demands of our growing population.