Spring 2017
Starting this year, the Policy Analysis Group at the University of Idaho will begin sharing periodic newsletters that provide information about our research on natural resource policies important to the citizens of Idaho. In this first newsletter, we highlight our recent publications and upcoming projects, and introduce you to our team members. We look forward to your feedback.
We need your help to broaden the impact of the Policy Analysis Group. Please share this newsletter with others who may find our services and products useful.
---

The Policy Analysis Group was established by the Idaho Legislature in 1989 to provide timely, scientific and objective data analysis of the impacts of natural resource proposals. We work on a variety of projects ranging from general policy education and research synthesis, to comprehensive analyses of state and federal natural resource policies.
---

Recent Publications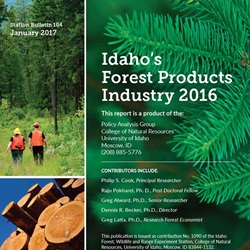 Station Bulletin 104: Idaho's Forest Products Industry 2016
January 2017 — Philip Cook, Raju Pokharel, Greg Alward, Dennis Becker and Greg Latta

Our annual forest products industry report provides up-to-date information about lumber prices and sales, production, direct employment and forest harvest trends.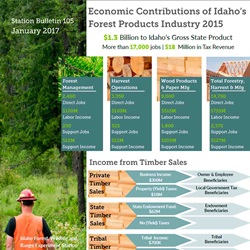 Station Bulletin 105: Economic Contributions of Idaho's Forest Products Industry 2015
January 2017 — Greg Alward, Phil Cook and Dennis Becker
Using the latest information, this report analyzes the economic contribution of the forest products industry in terms of direct and indirect jobs, sales and income at the state and county levels.
Issue Brief No. 19: Recreation Access and Leasing of State Endowment Lands
September 2016 — Philip Cook, Michelle Benedum and Dennis Becker
This report compares the practices of 18 states regarding the exclusive leasing of state endowment lands for recreation, and relevance for the state of Idaho.
---

What are state endowment lands?
Endowment lands, or "trust lands," are lands managed by a state for a designated beneficiary, for example public schools, public universities or prisons. Endowment lands do not include state parks, wildlife management areas, "sovereign lands" or other public lands held under the "public trust doctrine."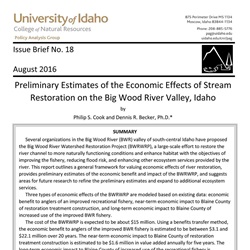 Issue Brief No. 18: Preliminary Estimates of Economic Effects of Stream Restoration on the Big Wood River Valley, ID
August 2016 — Philip S. Cook and Dennis R. Becker
This report analyzes the potential long-term economic benefits to Blaine County from restoring portions of the Big Wood River for fisheries and flood control.
---

Upcoming Projects
Review of Idaho's Forest Legacy Program (coming Spring 2017)
What are conservation easements, and how are they used to keep working forests working? These questions are addressed in an upcoming review of the federal Forest Legacy Program and its implementation in Idaho. The Policy Analysis Group is examining how the program operates, its local financial impacts and emerging issues associated with the state's involvement.
State Funding for Wildfire Suppression (coming Spring 2017)
The Idaho Department of Lands is responsible for wildfire suppression on most state and private forests in Idaho. The costs are ultimately passed on to state taxpayers, who through deficit spending — putting out wildfires one year and asking the legislature for the money the following fiscal year — were responsible for more than $60 million in suppression costs in 2015. The Policy Analysis Group is investigating funding approaches used in western states to increase financial predictability, and anticipate the possibility of escalating costs in future years.
Family Forest Landowner Survey (coming Summer 2017)
Why do people own forests in Idaho? Will they pass them on to family members or sell for development? What actions are they taking to reduce wildfire threats or to improve forest health? These are a few of the questions the Policy Analysis Group asked nearly 3,000 landowners in a survey last November. The findings will be used by Idaho Department of Lands and the University of Idaho Extension Forestry to improve technical assistance programming targeted at landowner needs.
---

Our Team
Our researchers have significant experience in natural resources policy. We are proud to report we have more than doubled our research capacity in the last year to better serve our stakeholders in the state of Idaho.
Learn more about our staff and their professional experience by viewing their biographies.
---

Resources
Looking for an old publication, or curious past natural resources policy issues?
Check out the Policy Analysis Group's website www.uidaho.edu/cnr/pag for full access to current and past publications. Find publications that are grouped by topic.
Follow the College of Natural Resources on Facebook and Twitter to stay up to date on upcoming Policy Analysis Group materials and natural resource issues in Idaho.
Have a question or want to suggest a project for the Policy Analysis Group? Contact Dennis Becker by email.
Not already a regular subscriber? Subscribe to receive future updates from the Policy Analysis Group
Not interested in receiving updates from University of Idaho's Policy Analysis Group? Choose to Unsubscribe.