International Impact: Ryan Long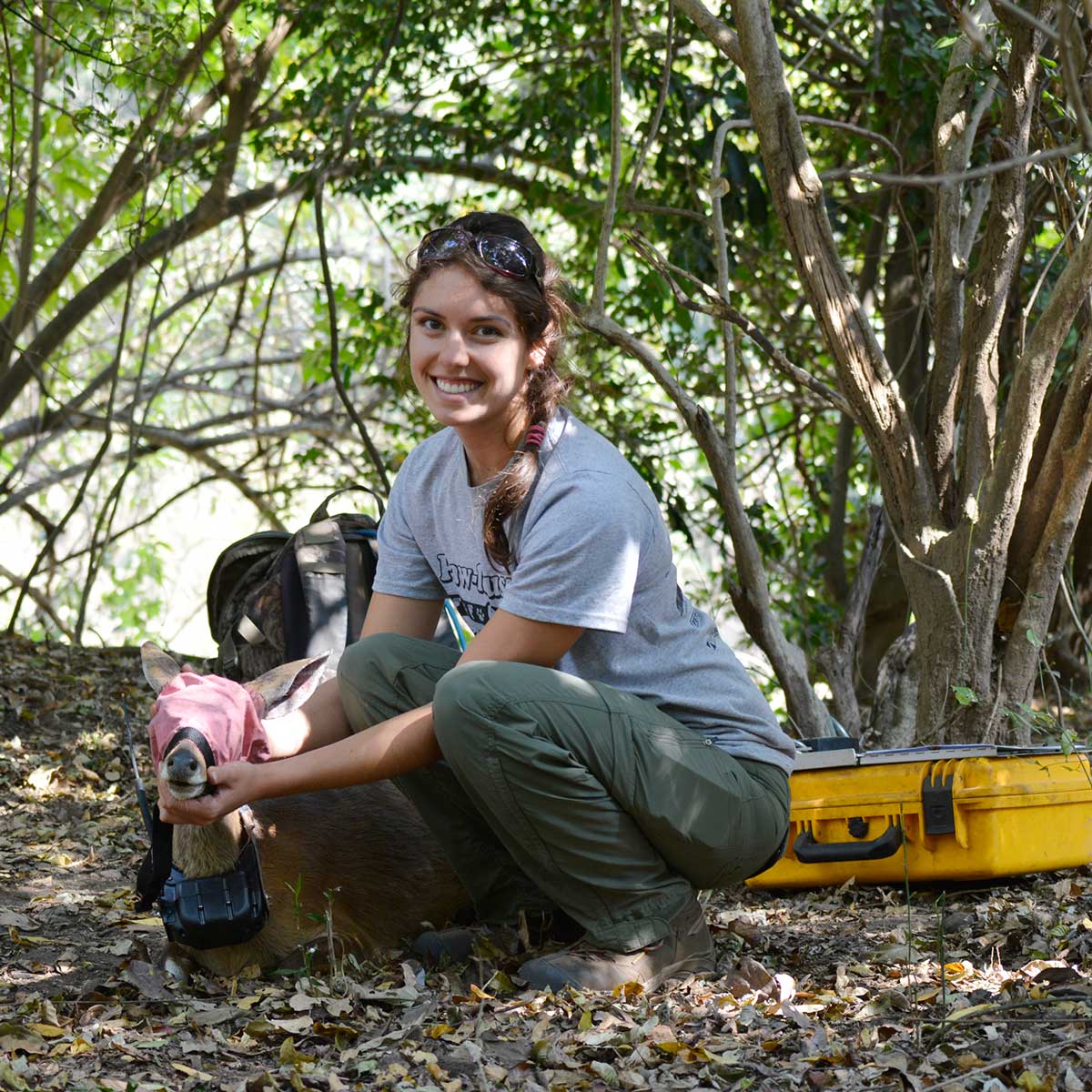 "I was seeing it and breathing it and putting my fingers in it, and I couldn't ask for anything more."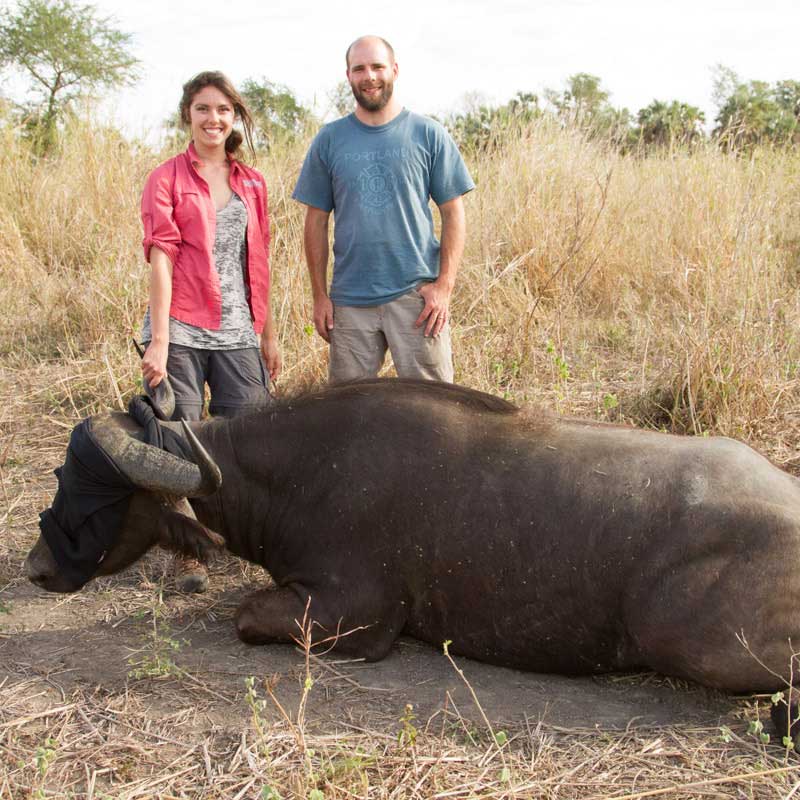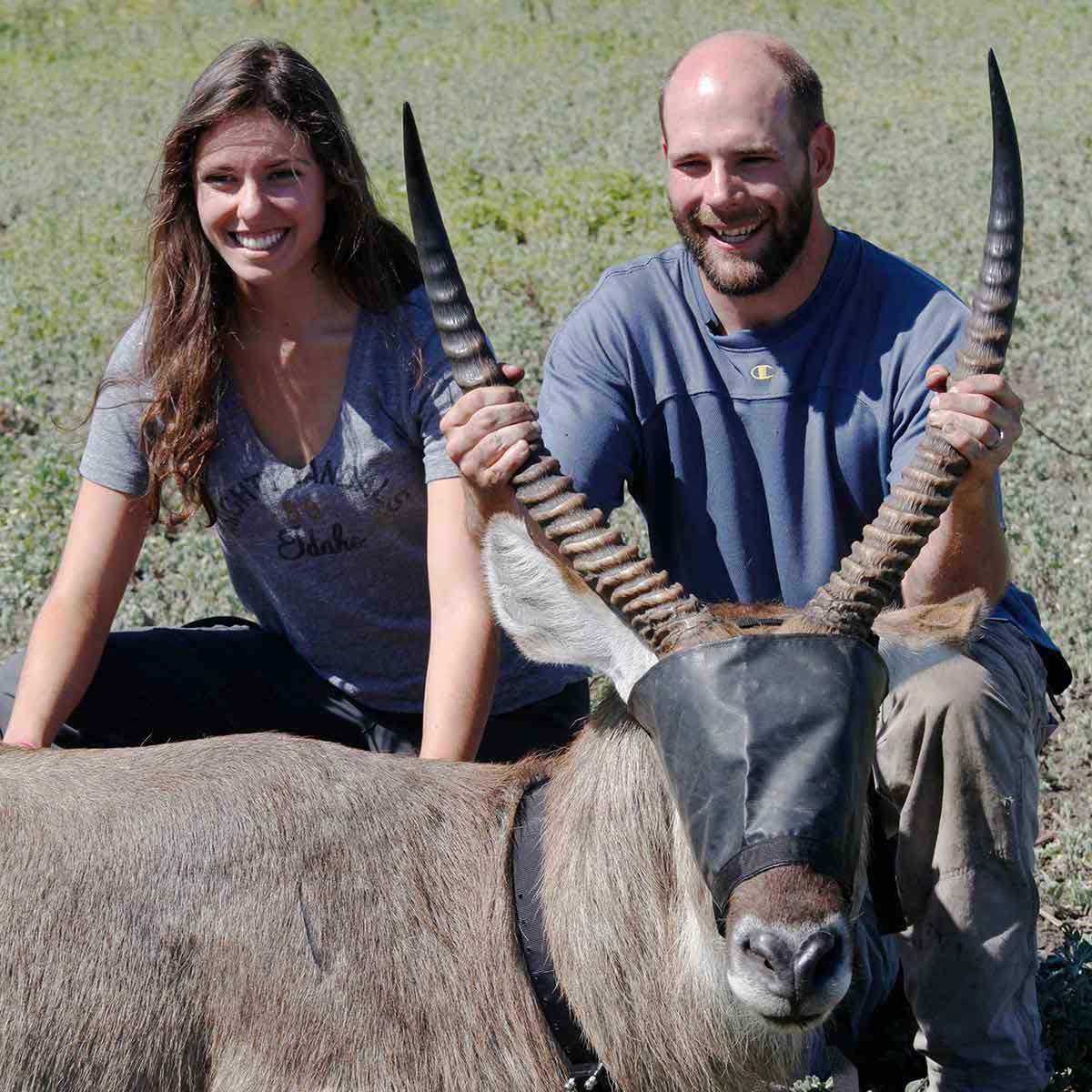 From the journal of a U of I undergraduate
Savannah Kollasch is an undergraduate who is combining her interests in math and science. She is seeking a bachelor's degree in mathematics, with a scientific modeling option, as well as two minors—natural resources and fishery resources. She spent much of her summer in Africa, working as a research assistant in the Gorongosa National Park with Ryan Long, professor of wildlife resources in the College of Natural Resources.
It was the last day of capture and my fingers still felt cramped from gripping the horns of a male waterbuck while our team took measurements and fitted him with his critter cam. He was securely in the hold of the park vet now, so I was free to squat by his shoulder and give him a final pat. My fingers trailed through his thick greasy fur and it was with some reluctance that I finally stood up and moved away so the vet could remove his blindfold and send him off. The waterbuck stood and bolted a few yards, then halted and tilted his head back at us in what I now recognized as the typical waterbuck swagger. "Good luck, bud," I mumbled, as he turned back toward the group of animals in the distance and trotted off.
We cracked jokes about the day's adventures as we packed equipment into the trucks and the helicopter. As I swung into the helicopter beside Dr. Long, I looked out at the horizon wondering where, in the sea of brown bodies, our male was.
The noise of the helicopter built to a dull roar, then suddenly we were rising up and I could see the sun setting through the haze above and the animals scattering below. We swung low over the savanna and whirred our way over the fever tree forest. I was straining my eyes against the wild when I heard over the headset, "oh look, elephants."
And there they were.
Almost invisible among the grays and greens of the bush were several large adults with a few smaller calves. They were obviously spooked by our helicopter noise, but their ambling gate showed they weren't in too much of a hurry to get back under canopy cover. Our pilot circled back around so we could really look at them, and as I was leaning out on the skid in the inside of the turn, gazing at a mother elephant herding her brood under the trees, I started to cry. I was glad for the wind from the chopper that was already making my eyes stream so that no one could tell I was sobbing quietly to myself. I cried because I was in awe and reverence of all this life that existed and of how incredibly up close I had been to it. I cried because I was flying over elephants—these incredible living beings that somehow make more elephants and shelter them from the winds of helicopters. I cried because there is so much beautiful perfect fantastic life here, and I was seeing it and breathing it and putting my fingers in it, and I couldn't ask for anything more. In that moment, above the elephants, I was reminded how much I love life, and everything that lives it.
Idaho Double Teams African Park Rehabilitation
UI Researcher Assesses Animal Health in Idaho Philanthropist's African Investment
Ryan Long leans precariously out the open door of the helicopter, wind beating against his face, as the rotors swirl like a tornado above the African savanna. Below him the kudu strides out, first right, then left, as Long sizes and sexes the animal from above. He pulls the cold stock to his cheek, sights in and squeezes the trigger. The dart pierces the hind quarter of the antelope, and five minutes later it falls to the ground, asleep.
This scene plays out over and over for weeks as Long — an assistant professor of wildlife science at the University of Idaho — works his way through the three types of antelope he's studying at Gorongosa National Park. He's fitting the animals with GPS collars to track their movement as part of a large project to understand the rehabilitation of the park after 16 years of civil war in Mozambique nearly destroyed this incredibly diverse ecosystem.
"Ninety-nine percent of the large animals were killed," said Long, who earned his master's in wildlife resources from UI in 2008. Eleven years after the Carr Foundation, a non-profit established by Idaho businessman Greg Carr specifically for the rehabilitation of Gorongosa, began supporting science and restoration in the park, Gorongosa again has possibly the most diverse animal population in Africa. The collaboration among the Mozambique Department of Conservation, scientists, community members and stakeholders is not only rebuilding the park, but also dramatically influencing the local economy through tourism and education.
Long began his work in Gorongosa as part of his postdoctoral position at Princeton University. He chalks it up to coincidence that a Bend, Oregon, native would go to Princeton to partner with Carr, an Idaho native now living in Sun Valley, and a year later bring that collaboration to Idaho through his faculty position at UI.
At Princeton, Long worked with Robert Pringle, assistant professor in the Department of Ecology and Evolutionary Biology, to design an antelope project to evaluate the health, movement and migration of the animals in relation to termite mounds. The mounds are like green islands, home to dense trees and bushes amid an otherwise dry, desert-like landscape. By studying behavior and condition of the animals, scientists can better understand the relationship between termite mounds and recovering antelope populations in the park. The second season of Long's research in the park expanded the tracking efforts to Cape buffalo and elephants, in collaboration with Princeton and National Geographic.
"It is an amazing ecosystem that has come back differently than anyone would have guessed," Long said.
The spectacular recovery at the park inspired National Geographic to be involved through collaboration with their "Critter Cam" team, which also included on-site video and photo documentation of the work. The National Geographic crews spent last summer in the park, working side by side with Long.
"This is a very high-profile project that will produce some high-end publications," Long said. "And ultimately, the University of Idaho will be known for its part in this amazing story of restoration and international impact."