2017-18 Department of Theatre Arts Season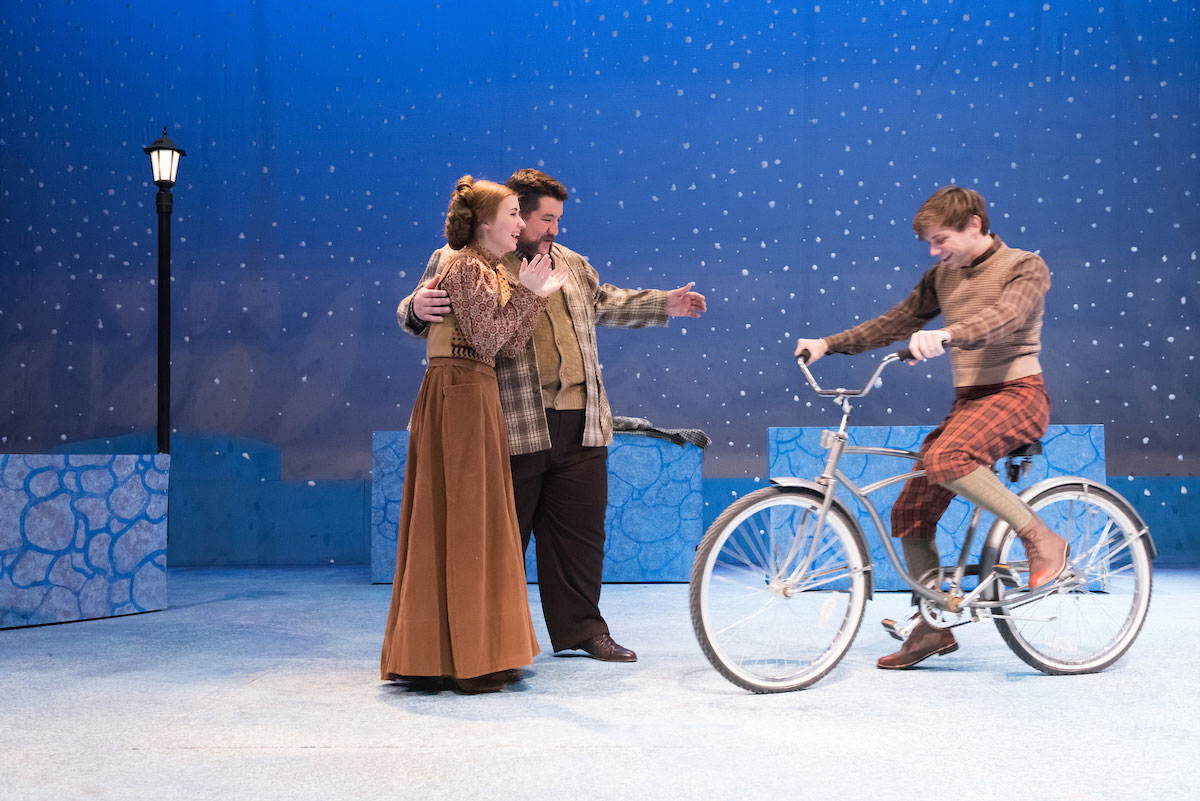 A Child's Christmas in Wales
A musical based on the short story by Dylan Thomas | Directed by Ricky J. Martinez | Musical Director Jesse Hampsch
Portraying a nostalgic and simpler time, "A Child's Christmas in Wales" is one of Thomas's most popular works. Celebrate the holidays with the University of Idaho's debut of the big, beautiful musical, "A Child's Christmas in Wales", Dec. 1-10 at the Hartung Theater. Featuring more than 20 students from Theatre Arts and the Lionel Hampton School of Music, "A Child's Christmas in Wales" is a warm and bittersweet remembrance of the simple things in life, capturing the magic of the holidays through the eyes of a child. FREE for U of I students and only $10 for U of I faculty and staff. And, if you are located on the U of I campus, order your tickets over the phone at 208-885-6465 for special delivery straight to your office.
7:30 p.m. Dec. 1, 2, 7, 9
2:00 p.m. Dec. 2, 3, 10
Hartung Theater | 625 Stadium Drive, Moscow
NOTE: we are offering a free performance to local schools at 10 a.m. Dec. 8. If your school is interested in attending contact us at 208-885-6465.
TICKET INFO
$5 children 12 & under, $10 UI faculty, staff and seniors 55 and over, $15 adults
Tickets available at BookPeople of Moscow, at UI Theatre Arts, Shoup Hall, room 201, by calling 208-885-6465 or at the door an hour before curtain, while supplies last.
The Last Mother in the House of Chavis
By Robert Macke, MFA candidate | Directed by Lindsay Mammone, MFA candidate

A father learns that his estranged son will appear in a reality show... for drag queens.
The Forge | Performance dates: Jan. 31, Feb. 1, 2, 3*, 4 (*two shows on Feb. 3)
True West
by Sam Shepard | Directed by Stephen John, MFA candidate
Sibling rivalry takes center stage in this examination of family conflict that was a finalist for the Pulitzer Prize for Drama in 1983. New York magazine described Sam Shepard as "the greatest American playwright of his generation," and "True West" shows why Shepard's reputation is well-deserved.
The Forge | Performance dates: March 30, 31, April 1, 5, 6, 7*, 8 (*two shows on April 7)
The Children's Hour
By Lillian Hellman | Directed by Shea King, MFA candidate
An American drama set in an all-girls boarding school run by two women. To avoid being sent back to school, a student tells her grandmother that the two headmistresses are having an affair. The accusation proceeds to destroy the women's careers, relationships and lives.
Hartung Theater | Performance dates: April 20, 21*, 26, 27**, 28* (*two shows on Ap. 21 & 28) (**two shows including special school matinee at 10 a.m.)