An Online Path to Success
Eleven students complete their bachelor's degrees with CLASS's online undergraduate program
As her name echoed through the loud speakers of the ASUI-Kibbie Activity Center on Dec. 8, 2017, Heather Felkel walked across the stage to receive her diploma.
The commencement ceremony was not just Felkel's final day at the University of Idaho — it was also the first time she had been on the U of I campus.
Felkel was among the 11 graduates this fall who completed their bachelor's degrees online through the College of Letters, Arts and Social Sciences.
"I traveled up to Moscow to walk for graduation because I felt that I needed to take that day to give the work that I've done some gravity," said Felkel, who lives in Boise. "I needed to take the time out of my work and life to allow myself that sense of pride."
The online graduates were from Washington and five counties in Idaho. It's the first class of students to receive bachelor's through CLASS's newly-established online programs. Approved by the Idaho State Board of Education in 2016, the programs allow students to earn their undergraduate degrees completely online. This year's graduates included transfer students and students returning to finishing previously started U of I degrees.
"When we set about creating these online degree programs, we had just this moment in mind," CLASS Dean Andrew Kersten said. "This commencement represents and celebrates the hard work of faculty, staff and students to achieve something we only dreamed about four years ago. We now are offering flexible, high-quality degree programs that allow students to achieve their degrees in an affordable way – whenever, wherever."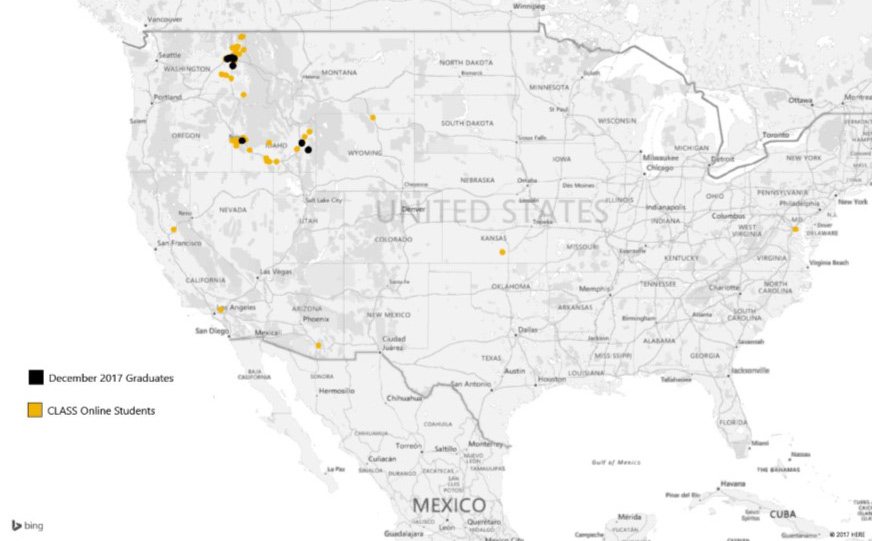 Felkel's new degree is in psychology, knowledge she hopes will help her further her career in the death care industry. She works as a funeral director at a Boise funeral home. Before transferring to U of I's online program, she earned an associate degree in psychology from the College of Western Idaho.
"My ultimate goal is to use all of these academic studies to create an educational program for those professionals in the death care and health care industries to teach them how to better communicate with dying and grieving people," she said. "I see many apprentices in the funeral world and health care world that are sent out to meet with families straight from college and they either sink or swim; and those that sink are doing such a huge disservice to those families."
A Path to Mentorship
For Krysta Madrigal of Idaho Falls pursuing a degree in psychology was a way to be an example to her then-2-year old daughter, Elisabeth. Madrigal worked as a cosmetologist until 2009, when she realized that her true passion was in people.
"As a cosmetologist, a lot of people would confide in me, emote to me. They just needed someone to hear them," she said. "I decided that I really wanted to study psychology because I just loved watching people, seeing their behaviors and emotions, and hearing what they had to say."
In 2014, Madrigal was working as a ticket writer for the Idaho State University parking office, which shares public spaces with U of I's Idaho Falls campus. While issuing a ticket one day, she met Debbie Caudle, an undergraduate academic advisor for U of I.
"Someone tipped her off that I was ticketing her, and she ran out to stop me. From there, she told me what was offered from U of I with psychology and the online program," she said. "I really liked the student focus that U of I had and the online program looked amazing. The reputation of U of I's faculty also was very impressive."
Since that day in the parking lot, Caudle has become a mentor to Madrigal.
"As her advisor, I admire her dedication and the hard work that she has put forth," Caudle said. "When I met Krysta, she was a single mom with a young daughter to support. She worked as a work study student as a parking attendant and worked nights and weekends at a gas station to make ends meet. Krysta has grown as a person and I couldn't be more proud of her successes."
"There were times when I wanted a break, or I was not sure if I would ever graduate. However, Deb was always encouraging and supportive and someone that I have really looked up to," Madrigal said. "She pushed me to challenge myself, to take classes that I was afraid of, and to do things I was unsure of. Because of that, I now love challenges — they are not as scary, and I feel like I can do anything."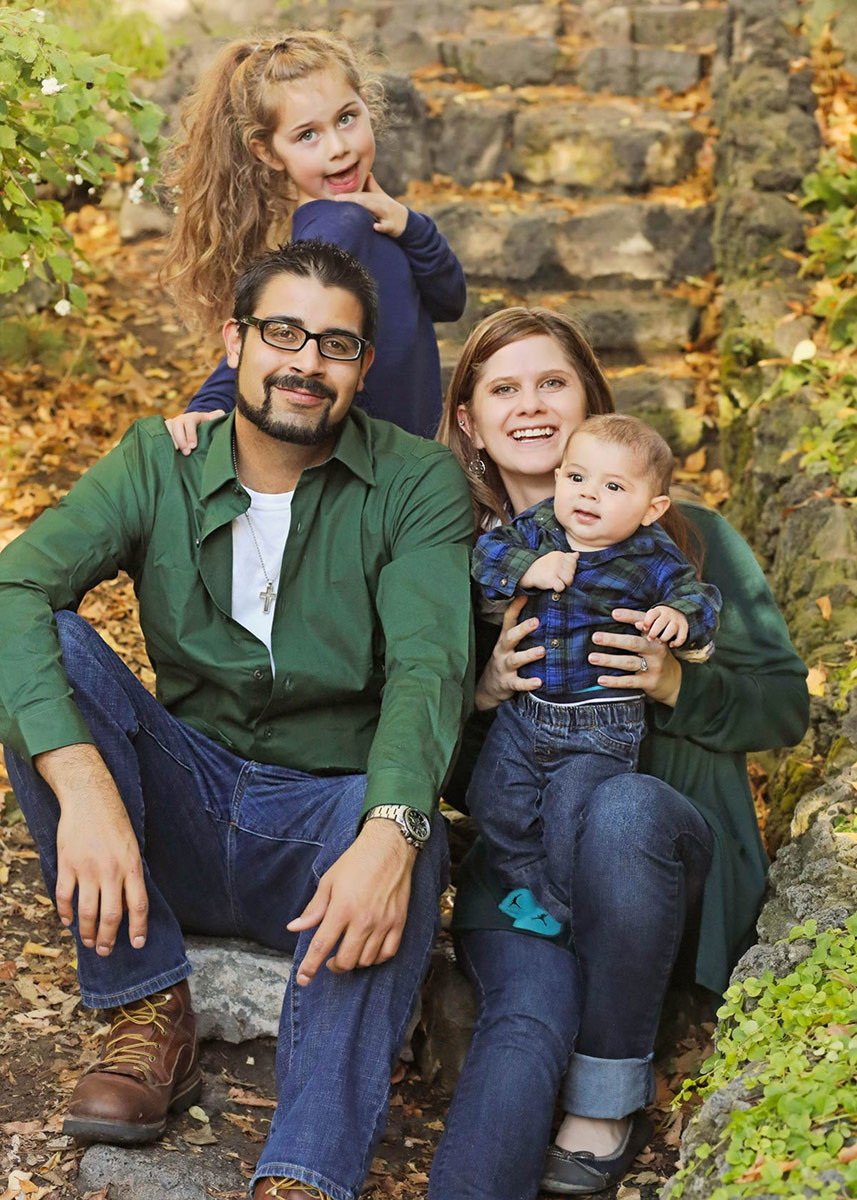 A Path to Completion
U of I's online degree programs also provided an opportunity for LoVina Louie to finish her degree 22 years after starting it.
"In 1995, I started at U of I because my sister, Debbie Louie-McGee, and her husband were going to school there," Louie said. "I went one semester and my grandmother got sick, so I went home to take care of her."
In 2014, Louie-McGee and her husband both finished incomplete degrees online through U of I, while working full time. Louie was inspired to go back and earn the 33 credits she needed for an organizational sciences degree.
"I started with one class, then eight credits, and up to 18 credits," she said.
While taking her undergraduate classes, Louie became the wellness center director of Marimn Health in Plummer, where she is able to apply her coursework to develop innovative ways to infuse the Coeur d'Alene tribal culture into its programming. Louie's "Powwow Sweat" – an exercise routine based on traditional dancing – has been recognized nationally by the National Indian Health Board, winning the NIHB Leadership Award and the NIHB Area Impact Award, and has brought the attention of the White House. She also co-directed a music video, "We Shall Remain," which received awards from the American Indian Film Festival and Red National Film Festival.
Louie's professors helped her tailor her education to fit her interests.
"My professors — Dr. Richard Reardon and Gwen Kelley — were amazing and helped me manage and choose classes that would be relevant to my job," she said.
A Path of Flexibility and Engagement
During the fall 2017 semester, U of I offered more than 179 undergraduate-level online classes. Across colleges, the university offers 31 online degree programs — nine undergraduate and 22 graduate — and six online certificates. There are about 150 students in CLASS's seven online programs. Psychology and organizational sciences are the most popular.
The courses' formatting and flexibility allow each student to customize their learning experience.
"I was able to do most of my course work on my schedule, and I could make the class what I wanted," Madrigal said. "I was really nervous to do online because I heard how challenging they can be; however, I never once felt like I couldn't do something."
The platform's discussion boards allowed Madrigal to interact and engage with other online students.
"I learned a lot from the other students. I gained new insights and was able to see different perspectives about many different topics," she said.
Felkel preferred using online journals provided by the instructors to communicate in classes, which she said allowed her to have a deeper connection with her instructors.
"With the way that online education has evolved over the years, it has become more adapted to the different needs of the online student versus the on-campus student," Felkel said. "U of I was much more involved in activities with their students — I felt that I was part of the college."
Learn more about U of I's online undergraduate programs at uidaho.edu/class/online.
Written by Kathy Foss, College of Letters, Arts and Social Sciences