CLASS Notes, January 9, 2020
Dear alumni, colleagues and friends,
Happy new year! The spring semester is upon us, and I am looking forward to greeting both our new and returning students. There are many exciting events on the immediate horizon, ranging from our next theatre production to the Lionel Hampton Jazz Festival and our first CLASS-specific career networking night. It is a wonderful time to study the liberal arts in our college, and opportunities abound for our students, whether it's in study abroad, internships, undergraduate research or service learning. We've also launched our first student advisory council for our college, and we're eager to explore new ways of engaging our students and continuing to elevate our level of excellence. Please take a few moments to find out more about college news in this month's CLASS Notes, and know how proud we are of the amazing work done by our students, faculty and staff. It's an honor to serve such a large and diverse community!
Most sincerely yours,
Sean M. Quinlan
Dean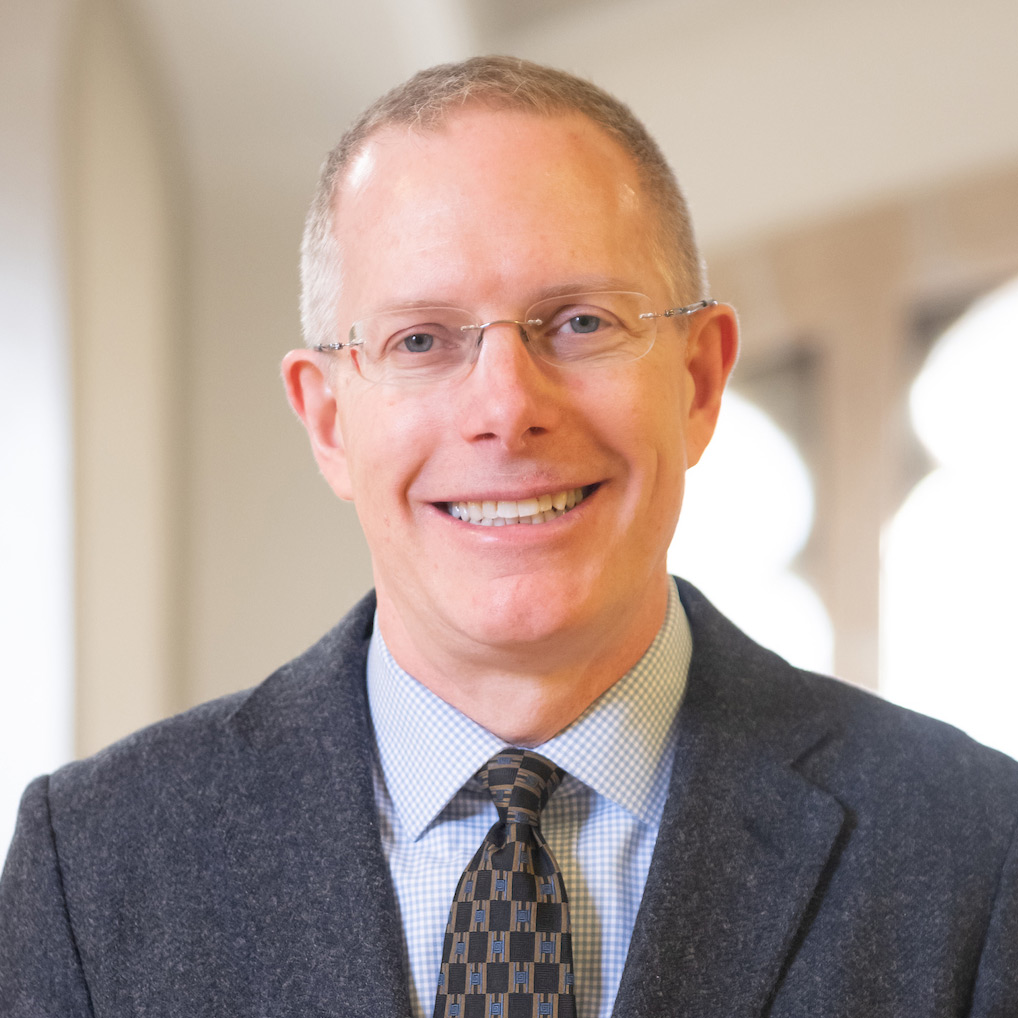 ---
Around the College
"Exposing Slavery: Photography, Human Bondage, and the Birth of Modern Visual Politics in America" by Matthew Fox-Amato, assistant professor of history, was named a "must-read book on race and hate" by "The Advocate," the largest LGBT magazine in the United States. Read the full review.
Graham Hubbs, associate professor and chair of the Department of Politics and Philosophy has been selected as a visiting fellow at Dartmouth University's Institute for Cross-Disciplinary Engagement. During his tenure in June 2020, Hubbs will investigate the forms of explanation that have historically been used to account for the nature of money and the relevance of these explanations to the contemporary politics of money.
This fall, 651 students were named to the CLASS Dean's List, earning a grade point average of 3.5 or better for the fall 2019 semester.
Catch up on all the latest news from our CLASSy faculty, students and staff on the CLASS News page.
---
Experience on the Set
On a late summer evening, a group of community members gathered at a small church in Genesee, Idaho. One hundred people laid quilted blankets on the green grass and sat down against the golden backdrop of wheat fields. But what appeared to be a traditional church picnic was actually the set of the new psychological thriller, "Wake," created by a team of faculty and students in the University of Idaho's College of Letters, Arts and Social Sciences (CLASS).
The horror film explores the intersection of politics and paranoia in the United States through terrifying dreams and visions of its teenage protagonist, whose father is running for Congress.
The set in Genesee included not only the 100 extras who gathered around the church, but also a team of cast and crew, which included working professionals, university alumni, CLASS faculty members and five undergraduate students, including senior Bryan Ramirez.
---
Vandal Theory Podcast Features CLASS Researchers

The Vandal Theory, the University of Idaho's podcast, showcases researchers exploring and solving real-world problems. Season two features two CLASS faculty members – Dilshani Sarathchandra from the Department of Sociology and Anthropology and Matthew Fox-Amato from the Department of History. Sarathchandra's episode (episode five) discusses how human emotions and feelings influence what we consider risky behavior. In episode two, Fox-Amato discusses the relationship between slavery and photography and his book "Exposing Slavery: Photography, Human Bondage, and the Birth of Modern Visual Politics." The Vandal Theory is available on SoundCloud, Google Play, Apple Podcasts, Stitcher and Spotify.
---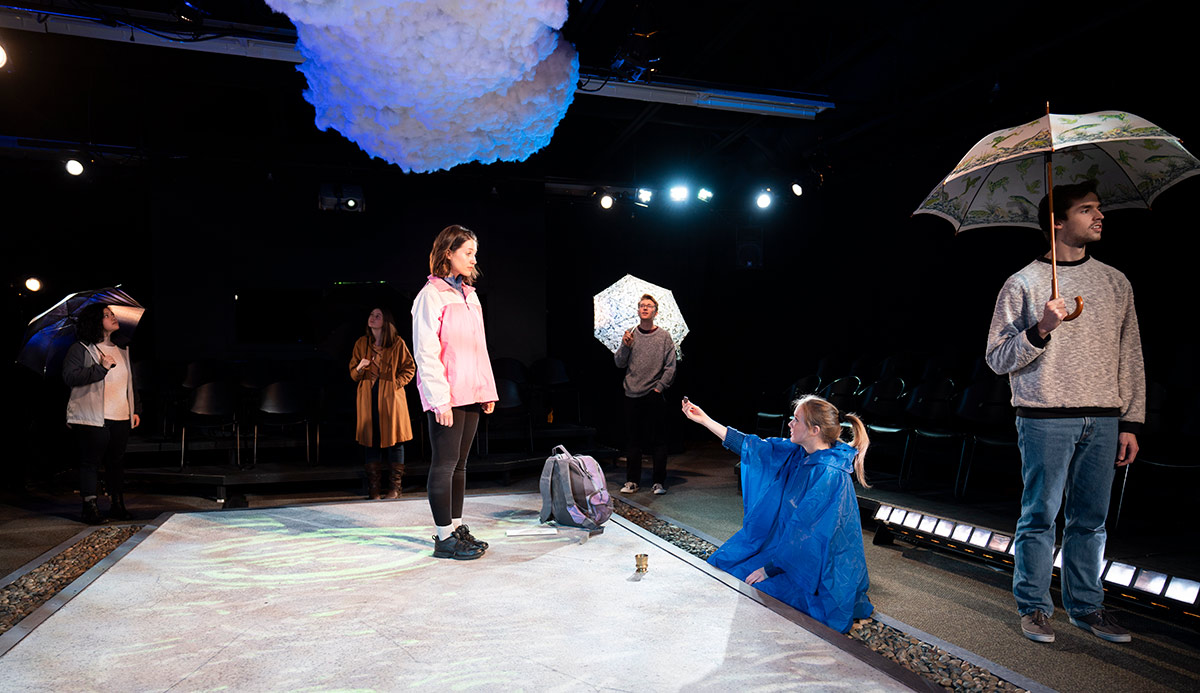 The Department of Theatre Arts' production of "This Random World" is one of three productions invited to the Region 7 Kennedy Center American College Theater Festival (KCACTF). The University of Idaho cast and crew will restage the performance on Wednesday, Feb. 19 in Fort Collins, Colorado. "This Random World" was selected as an example of outstanding college theatre in the region, which includes the states of Idaho, Washington, Oregon, Wyoming, Alaska, Montana, Colorado and northern parts of California and Nevada.
"Being selected to present this show to more than 1,200 people is such a great honor," said Robert Caisley, chair of the Department of Theatre Arts. "It increases the visibility of the University of Idaho to prospective students and colleagues at peer institutions and helps share our outstanding theatre program with the region."
"This Random World" was originally staged at the University of Idaho in October 2019. Directed by U of I Professor David Lee-Painter and alumnus Daniel L. Haley '06, the show mines the comedy of missed connections, coincidence and human foibles. Funny, intimate, and heartbreaking, "This Random World" explores how often we travel parallel paths through the world without noticing.
The play features a cast and crew of more than 30 U of I students and community members, including alumni Haley, Ariana Burns '09, '12 and Nancy Lee-Painter '01. Also joining them on stage is Emeritus Professor Forrest Sears, whose four-minute cameo was the first time the former U of I professor has been on stage in 46 years.
To help cover the costs of taking the production to the regional festival in Colorado, there will be a one-night-only benefit performance of "This Random World" at 7:30 p.m. Jan. 25 at the Hartung Theater in Moscow. Admission is by donation. Tickets can be reserved by calling 208-885-6465 or emailing theatre@uidaho.edu.
---
Top Posts of 2019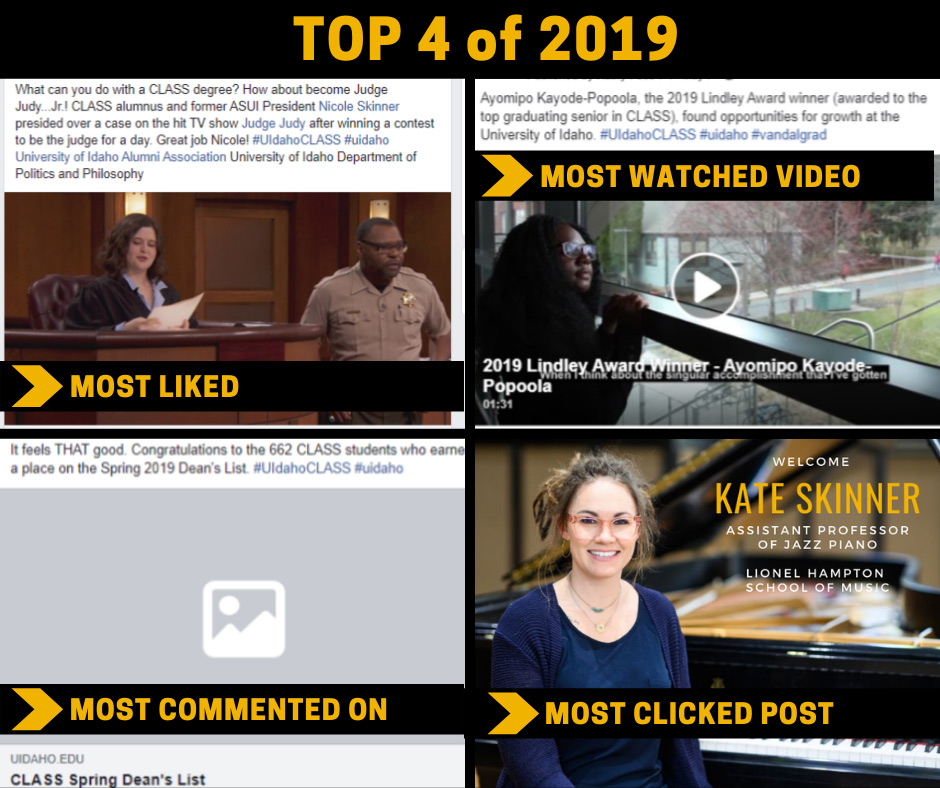 Dates & Deadlines
Jan. 11-12 – Theatre auditions for spring season. Open to the community. Sign up at uidaho.edu/auditions.
Jan. 15 – Spring classes begin
Jan. 18 – Vandal Night with the Spokane Chiefs, 7 p.m., Spokane Arena.
Jan. 20 – University Closed for Martin Luther King, Jr./Idaho Human Rights Day
Jan. 23 – Auditorium Chamber Music Series: Pacifica Quartet, 7:30 p.m., Administration Auditorium
Jan. 25 – Department of Theatre Arts' "This Random World" benefit performance, 7:30 p.m., Hartung Theater
Jan. 28 - Seeking Suffrage Lecture Series: How the West was Won: Women's Suffrage in the West presented by Rebecca Mead, professor of history at Northern Michigan University, 7 – 8:30 p.m., Kenworthy Performing Arts Centre
Jan. 28 – Johnston, Anderson & Vandal Horn Ensemble Recital, 7:30 p.m., Haddock Performance Hall
Feb. 7 – 15 – Department of Theatre Arts "Deep Calls," various times, The Forge Theater, 404 Sweet Avenue, Moscow