The Voice of the Vandals: An Insider's Story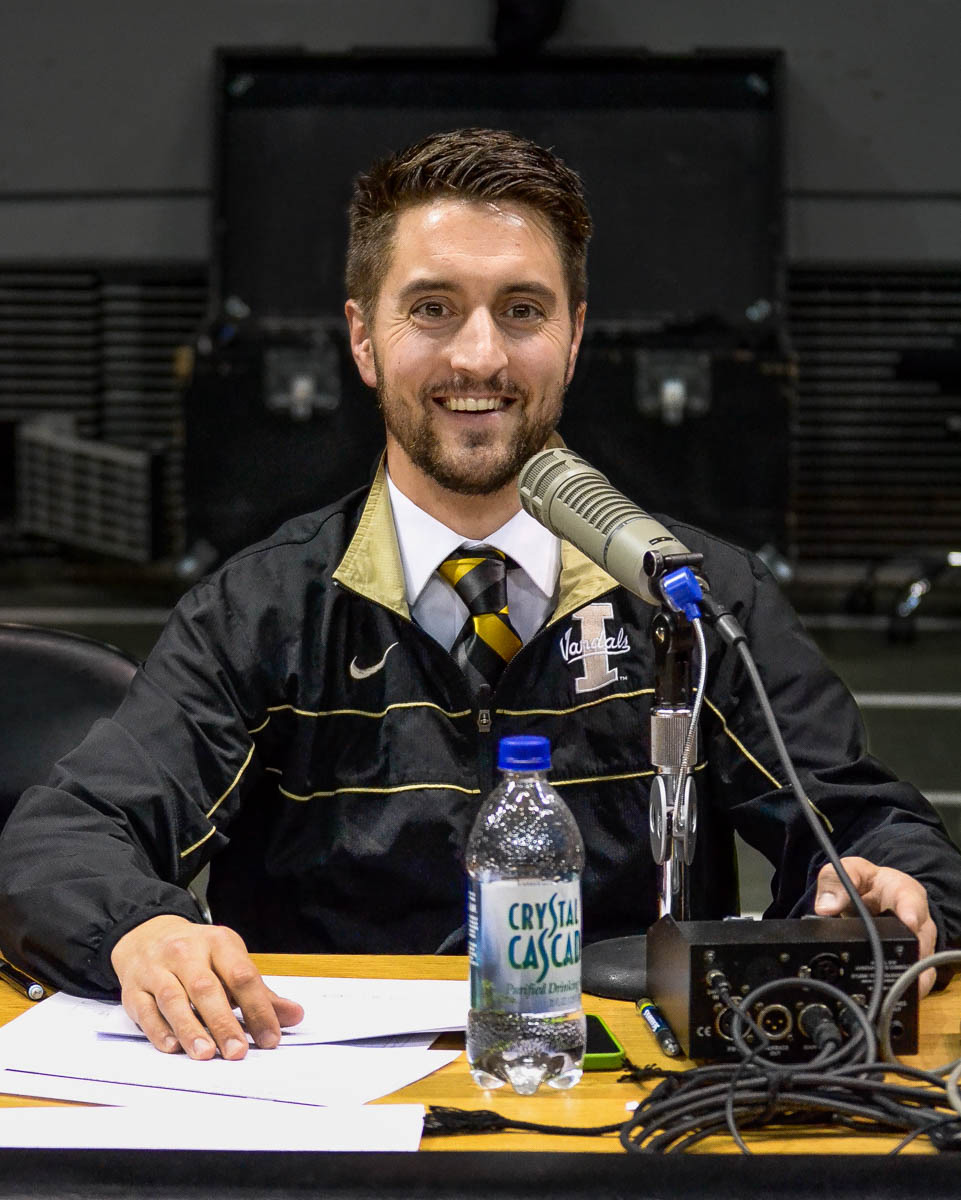 "And that is good enough for another VANDAAALLLL...first down!"
Vandal fans know that there is something very special about home games: the sounds, smells and sights of the Kibbie Dome, the buzz of the crowd and the excitement of being part of a revered and inclusive tradition.
Sean McIlraith loves contributing to that tradition.
"First and foremost, I am a fan," says the financial and administrative assistant in the College of Letters, Arts and Social Sciences (CLASS) Dean's Office, known as the Voice of the Vandals. "I enjoy the action, the plays. But I not only get to watch, I get to be involved in what's happening on the field or the court. I get to contribute to the experience."
As the public address announcer, McIlraith's job is to report what's happening on the field to the fans. He describes referee calls, plays and who scored. He gives context to games and acts as host for all attending fans.
He says, "Some might see a PA announcer as a cheerleader but that's not my role. I essentially act as a liaison for the officials and fans and always strive to be respectful of the opposing team. In college sports you can't directly entice the crowd or order them to get on their feet during a game, but you can interact with the crowd during important moments.
"It's like a symphony performance. The team, the band, the cheerleaders, the fans, events staff and me — we all have a part to play. For example, when our receiver has just made a great one-handed catch, the music starts to build, the fans start to clap and you can feel the energy filling up the Dome. I say, 'And that is good enough for another VANDALLLL...' And the crowd yells, 'First down!' It's always thrilling. Always."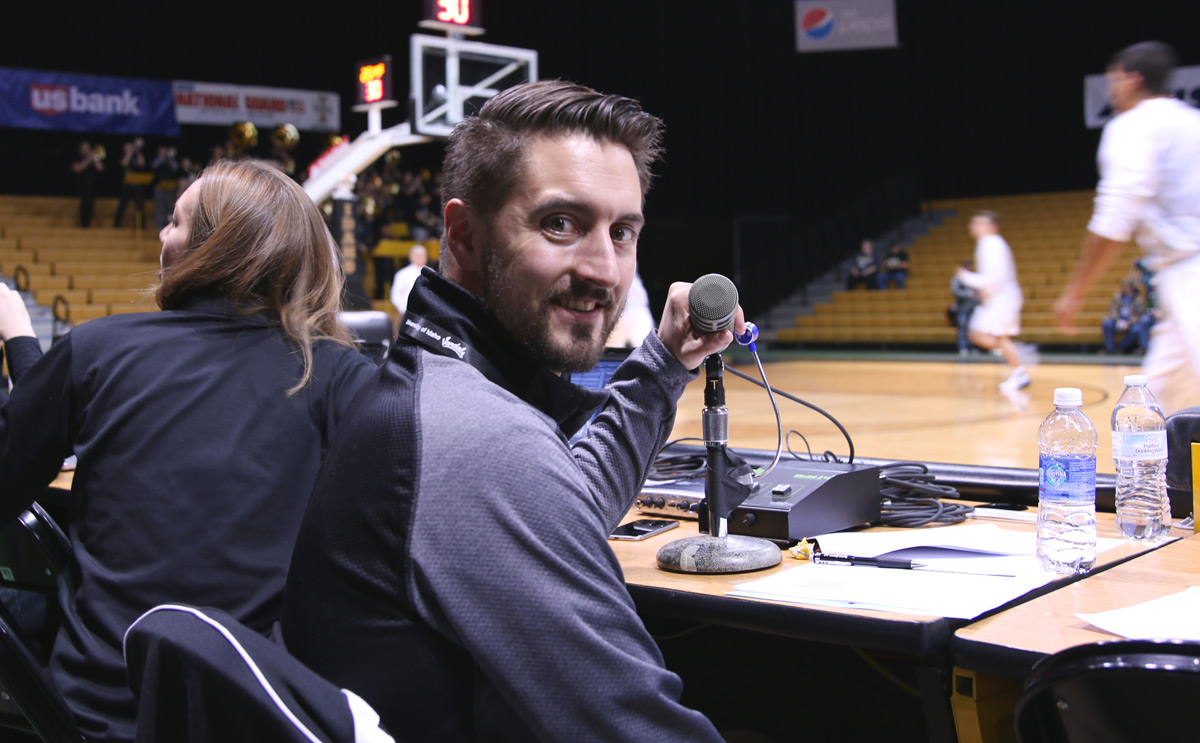 The Road to Moscow
McIlraith became intrigued with sports PA work as a middle school student in Orting, Wash. His principal, Dr. Paul Highsmith, announced state basketball games at the Kingdome in Seattle, and he had the opportunity to shadow him.
"It blew my mind that one person could sit there and follow a game in real time," he says. "I admired that ability."
In high school he participated in track, basketball and football. He began his announcing career as a high school junior, when he was asked to work the PA for junior varsity basketball games.
McIlraith later played defensive back on Pacific Lutheran University's football team while majoring in broadcast journalism.
"As a football player, I knew the sports information director at PLU, so I got in touch with him," he says. "I announced baseball and basketball at PLU for four years."
After spending some time working on his father's fishing boat in Alaska, and with some help from his sister-in-law, he headed to the Palouse for a part-time job at WSU in early 2009. He was hired by UI in 2012 to work as an administrative assistant in the Department of Psychology and Communication Studies before joining the CLASS Dean's Office. McIlraith met and married his wife, Bekah MillerMacPhee, in Moscow.
In 2013, McIlraith was invited to interview for a basketball announcing position by Ryan Gilmore, UI's assistant athletic director of marketing.
"It was out of the blue," he remembers. "For the interview, I brought in my little camera and played videos from high school and college. My first Vandal game job was for women's basketball. They liked my work, so I also got the opportunity to announce men's basketball."
McIlraith soon expanded his work to include football.
"I enjoyed my time at WSU, but I love this university," he says. "There is something about the UI campus, something about the fans, that just feels right. There truly is a Vandal family. People go away for years and years and when they return it's like they never left. I think that's a testament to Moscow and this university."
Magic Moments
McIlraith likes being a vocal rather than a physical presence when he is at the PA.
"I like being a little ant in the background," he says. "It adds to the mystery and suspense of the game and to the Dome atmosphere."
On Game Day, he familiarizes himself with the roster and takes notes.
"I try to check in with players, coaches and sports information folks to make sure I can correctly pronounce all the players' names. That's very important," he says. He credits marketing staff with scripting, promotions and event coordination. "Our marketing crew really runs the show. For instance, there is a lot of communication with the band, video board controller, sponsors and event staff on the field and court leading up to game time. They control all of that. Once the ball is in play, I take over.
"The moment the game begins, I'm on," he says. "Anything can happen and I need to adjust in the moment. It's challenging, but it's incredibly fun. Over the years I've gotten a lot more comfortable and experienced with plays and reactions. It's given me more confidence."
McIlraith enjoys announcing basketball and football equally, although they each have benefits and challenges.
"In football, the refs have their own microphones. I'm way up in the press box," he says. "In basketball, I can listen to the refs and translate for the crowd. I'm a little more in the action."
One of his favorite basketball games was played during the 2014-15 season.
"The Vandal men played Montana at Memorial Gym last year," he says. "It was a special night. Memorial Gym is more retro, compared to the Cowan Spectrum. It has a special feeling. You get a real sense of history there and a sense of intimacy.
"It was sold out, so the gym was packed. When the game went into double overtime, the sense of anticipation from both sides was palpable. You could literally feel people breathing on you. Both sides played with such heart. Best of all, they were so respectful of each other. It was a great sporting event and Vandal victory. I was proud to be a part of it."
Another memorable game was the 2015 Vandal/Cougar basketball face-off.
"This year marked the 110th season of the oldest basketball rivalry west of the Mississippi," he says. "Think about that. It's an ongoing, historical rivalry right here on the Palouse."
"This was a great game. The energy in the Cowan Spectrum was intense. The Cougar fans and the Vandal fans swarmed the place. And the Vandals were on that day. They had an eight-point lead with a couple of minutes to go until the Cougs got some momentum and the energy shifted a bit. Vandal fans stayed on their feet and chanted more than usual. The players fed off the fans. I fed off the fans. When it gets loud, you get washed away a bit.
"The Vandals dug down and held their lead. When WSU missed a three-pointer with a minute to go, I knew we had it. It was a fabulous moment for the Vandal players and fans."
McIlraith is hooked on live action work and hopes to be a part of Vandal sports for a long time.
"The Vandal sporting ideal is one of tradition, passion and respect," he says. "I strive for that ideal during every game."
Article by Mary Hawkins, College of Letters, Arts and Social Sciences