Kim Barnes Receives Governor's Award for Excellence in the Arts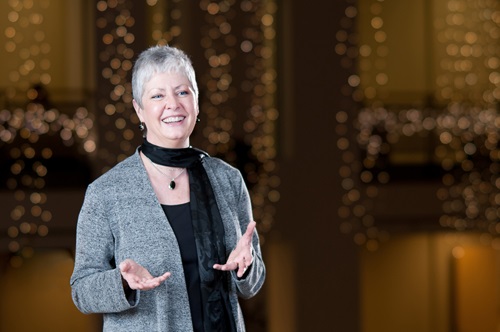 Idaho Governor Butch Otter and the Idaho Commission on the Arts honored author and University of Idaho MFA creative writing professor Kim Barnes with the 2014 Award for Excellence in the Arts. Barnes joins an esteemed list of creative citizens and organizations that have been selected every two years, since 1970, by sitting Idaho governors.
Barnes, who has been on the UI faculty since 2000, is the author of two memoirs and three novels. Her memoir about growing up in the logging camps of north central Idaho, "In the Wilderness: Coming of Age in Unknown Country," was nominated for the 1997 Pulitzer Prize, and her novel, "A Country Called Home," won the 2009 PEN Center USA Literary Award for Fiction and was named a best book of 2008 by The Washington Post, The Kansas City Star and The Oregonian/NW. In addition, she is a recipient of the PEN/Jerard Award for an emerging woman writer of nonfiction and her work has appeared in a number of journals and anthologies, including The New York Times, WSJ online, MORE Magazine, Oprah Magazine, Good Housekeeping, Fourth Genre, The Georgia Review, Shenandoah and the Pushcart Prize anthology.
Her latest novel "In the "Kingdom of Men," about an American couple living in 1960s Saudi Arabia, was listed among the Best Books of 2012 by the San Francisco Chronicle and The Seattle Times.