May 2019 Newsletter
A Letter from the Chair
As the 2018-19 academic year draws to a close, I would like to highlight the impactful work and achievements our faculty are doing in their disciplines, much of it involving our fantastic students. These research, mentorship and experiential learning opportunities clearly distinguish our department and programs as dedicated to the student experience, while conducting leading-edge research in the social sciences.
Our criminology faculty have been very active in the publishing front. Krissi Levan published three articles this year, including an article on prison-themed video games. Matthew Grindal also has published a couple of articles, including a piece in "Deviant Behavior" that looks at substance abuse among Latino college students. Omi Hodwitz continues to confirm her reputation as an international scholar of terrorism and counterterrorism with five articles and book chapters published this past year on the topic. Lastly, I am pleased to announce the publication of my long-awaited book, "Good Trouble," which will be a mainstay in courses on the sociology of crime and deviance.
It has been a banner year for our sociology faculty earning awards and grants. Ryanne Pilgeram received the prestigious U of I Mid-Career Award, and Leontina Hormel was recognized with multiple awards, including the American Sociological Association's Award Environmental Sociology Outreach and Engagement Award, the ASA's Marxist Sociology Praxis Award, the Pacific Sociological Association Distinguished Contribution to Sociological Praxis Award and the U of I's Athena Woman of the Year. In terms of grants, Dilshani Sarathchandra received a RISE Jumpstart Grant to assist her in embarking on a new research project on scoliosis in her home country, Sri Lanka. In addition, Kristin Haltinner is the recipient of this year's CLASS Interdisciplinary Fellowship to continue her research on climate change skepticism. I would also like to congratulate her on her recent promotion to associate professor with tenure.
In terms of student engagement, Joseph DeAngelis took 16 sociology-criminology majors to London during spring break as part of the Idaho Criminology Abroad program. Now in its seventh year, this program has exposed more than 100 students to international justice and provided them hands-on application of their classroom learning. The U of I-MPD Citizens Police Academy conducted its twelfth annual program that exposes students to the realities of police work in a small college town. In addition to these programs, our practicum and internship program placed more than a dozen students in service and experiential learning opportunities.
Besides faculty, our students have received several prestigious awards. Ayo Kayode-Popoola earned the CLASS Lindley Award, given to the top graduating senior in the college, and Denessy Rodriguez received a State Department award for international research and the Betsy Thomas Gender Equity Award. Our anthropology students remain very active in the Northwest Anthropological Conference (NWAC). This year, several students put together an impressive lithics lab and demonstration. This fascinating project engaged a dozen people associated with our program including faculty, current and former students and community members.
As these fantastic faculty and students are a positive reflection of all of those who have come through our programs, I would like to encourage alumni to reach out to us with your achievements since you have been through our program.
Brian Wolf
Associate Professor and Chair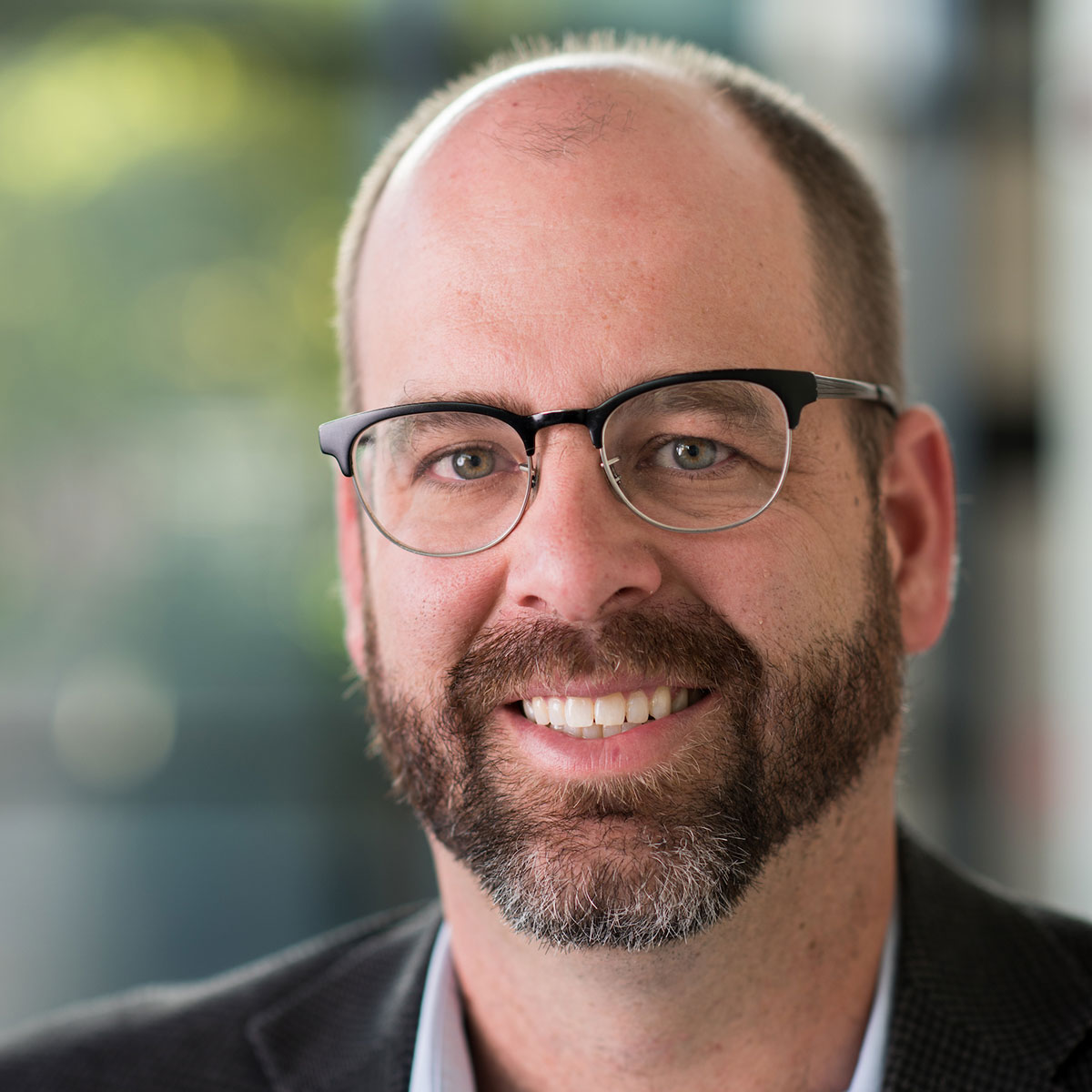 ---
Twelfth U of I-Moscow PD Citizen's Police Academy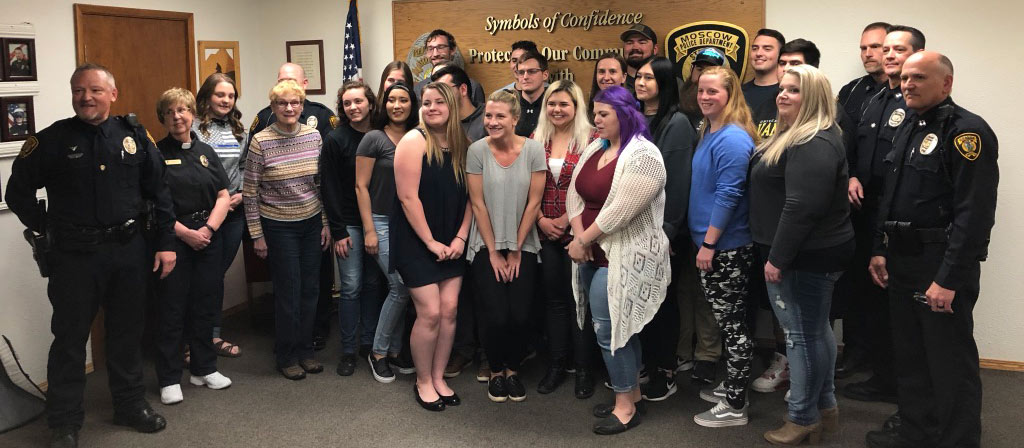 By Brian Wolf, associate professor and chair, Department of Sociology and Anthropology
Eighteen students studying criminology participated in this year's Citizen Police Academy. This unique partnership between the University of Idaho and the Moscow Police Department allow students to get a first-hand experience of what it is like to train as a police officer, while earning U of I credit. Over twelve weeks, the students learned about police procedures, investigations, ethics, computer crime, use of force and patrol techniques. The class also included a police ride-along and field training in special responses. As part of the coursework, students reflected on their experience through critical readings and written assignments designed to go with the material. Citizen's Police Academy has been coordinated for twelve years between the two units and were led by Department Chair Brian Wolf and Officer Rick Whitmore this year.
---
Criminology Abroad Students Travel to London, England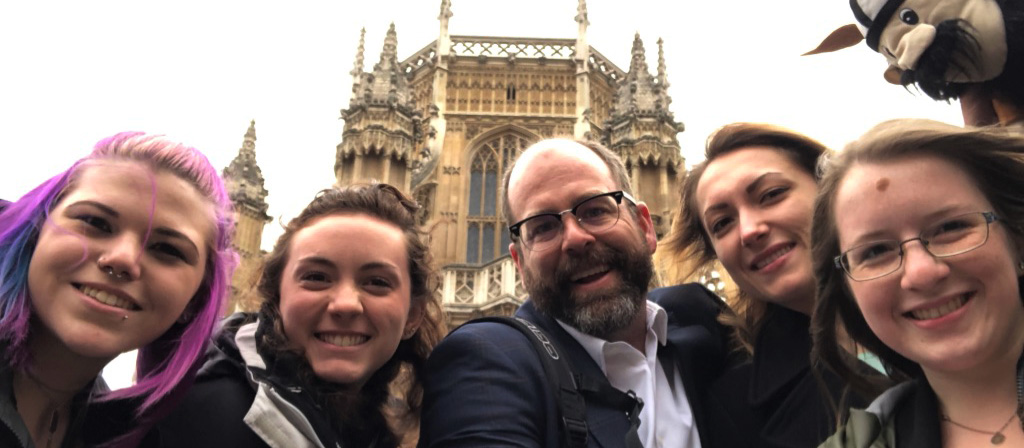 By Joseph De Angelis, associate professor of sociology
Over spring break, 15 Idaho sociology-criminology students accompanied Associate Professors Joseph De Angelis and Brian Wolf on a seven-day trip to London, England. The goal of the visit was to help students examine patterns of crime and systems of criminal justice in an international, comparative setting.
During the first part of the trip, students met with a judge from London's Southwark Coroner's Court and received an extensive briefing on terrorism threats from the Metropolitan Police Department's counter-terrorism unit. Students then met with investigators from a homicide and major investigations team and had a chance to observe the operation of the Westminster Magistrates court. Students received an exclusive tour and met with patients at the Broadmoor Hospital, which is a high-security psychiatric hospital that treats violent criminal offenders struggling with issues of mental health. In another noteworthy experience, students met with at-risk youth participating in a volunteer police cadet training program. Students also toured many of London's historic locations, including the Tower of London, Westminster Abbey and the British Houses of Parliament.
This is the fifth trip of Idaho Criminology Abroad and was conducted jointly with WSU Associate Professor Melanie-Angela Neuilly and 11 of her students (26 total). Overall, the trip \ provided students with a practical, ground-level view of how systems of justice operate in another country. They also had a fabulous time exploring London in their free time.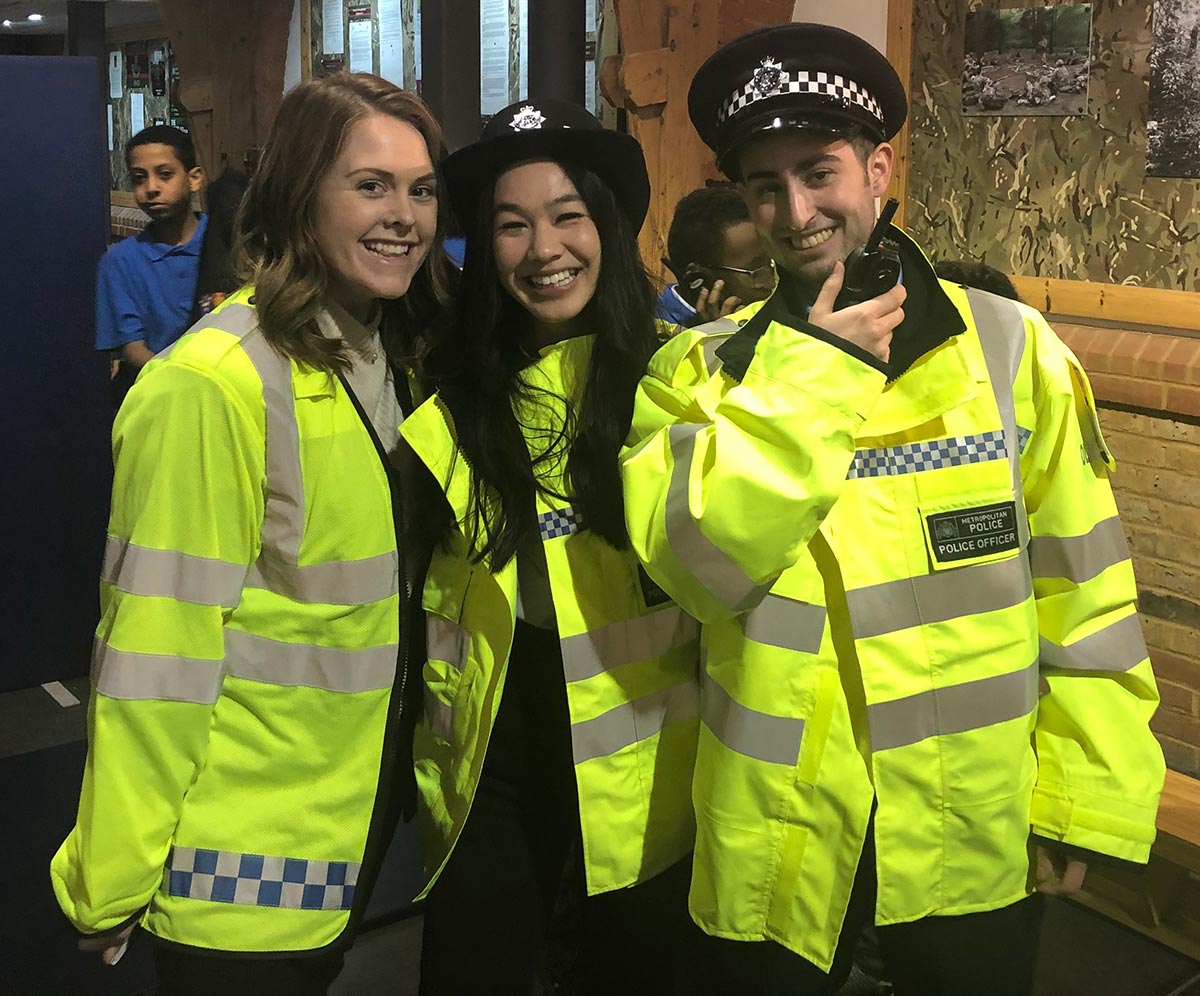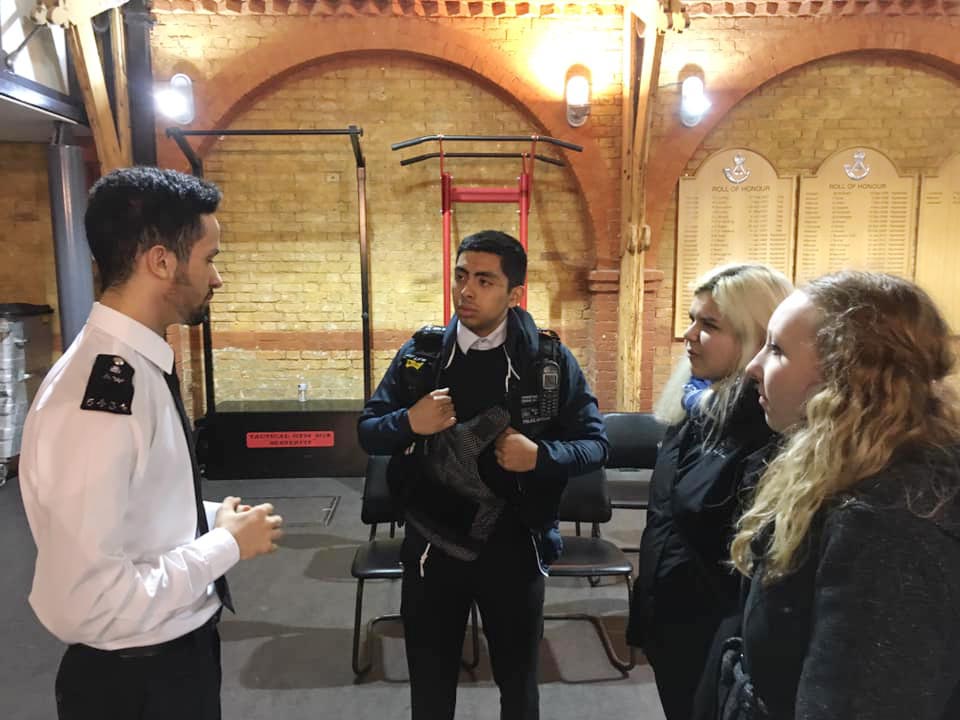 "Good Trouble" Published
By Brian Wolf, associate professor and chair
Department Chair Brian Wolf had his book, "Good Trouble" published in May with Lexington Books. The book engages both sociology and criminology to demonstrate how crime and deviance can affect positive social change.
The book contains biographies of some heroes, well known and not, whose good trouble led to a collective reconsideration of established norms and rules. The book concludes with an examination of the problem of conformity and how deviant heroism in everyday life may be a remedy for injustice in micro-level social contexts.
"While a criminologist might read this as an engagement of some of the more fringe and marginalized parts of the field, a sociologist may read this as more of an homage well-established traditions in the field," Wolf said.
Regardless, the book is likely to provoke discussion and debate of how crime and deviance is considered in the social sciences.
Wolf has been developing these ideas for years in his classrooms. The book will be fully utilized in several of his signature classes including Introduction to Criminology and Deviant Behavior.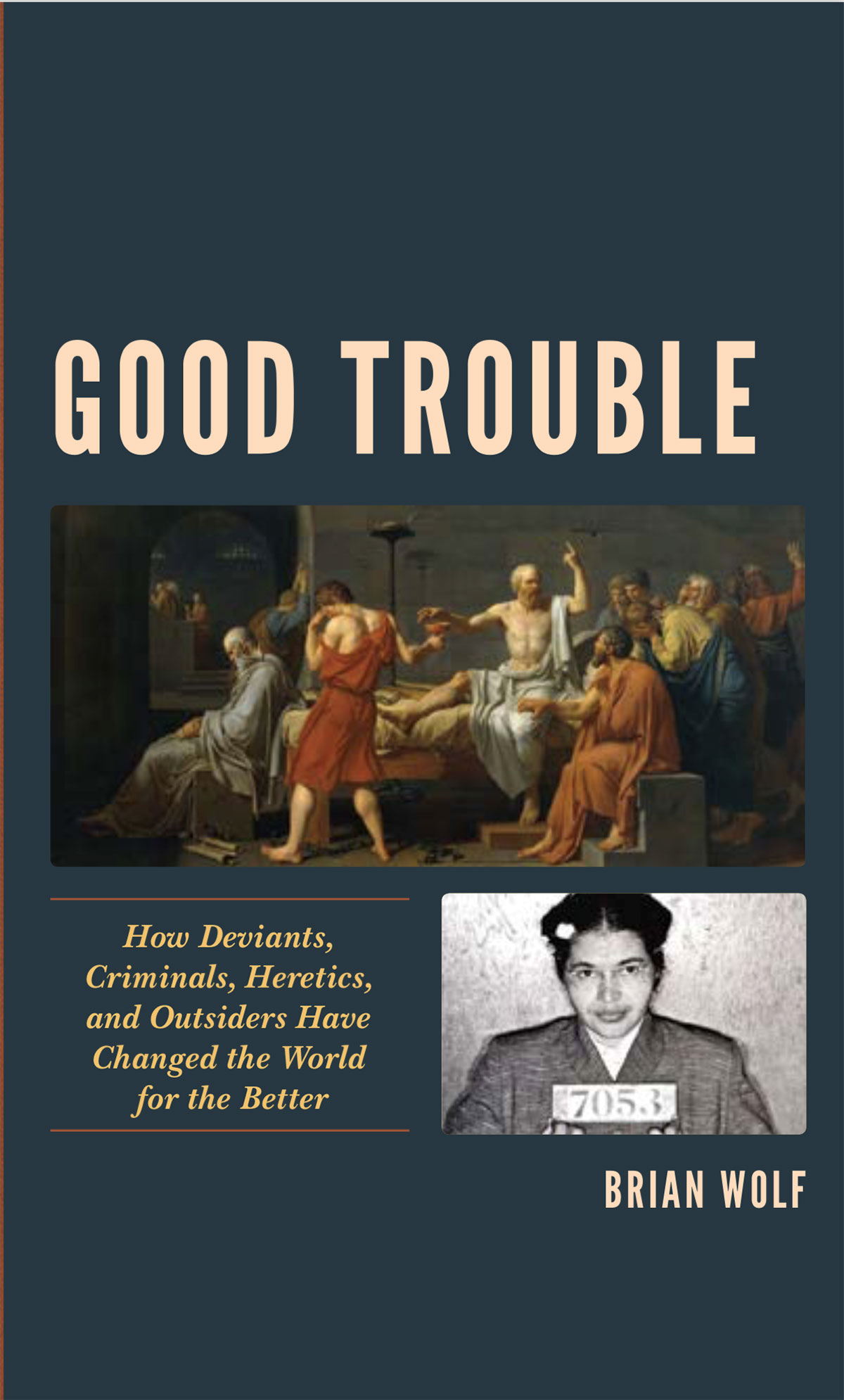 ---
Diversity and Inclusion Certificate
By Kristin Haltinner, associate professor of sociology
For the past decade, faculty in the Department of Sociology and Anthropology have directed a certificate program on diversity and stratification. The interdisciplinary certificate program provides an avenue for students, professionals and community members to obtain comprehensive, university-centered diversity training and learning through classroom, online, workshop, internship and service-learning offerings. It has grown to be the largest certificate program on campus with over 60 students currently enrolled.
Beginning this fall, the program will take on a new name. The program – formerly known as the Diversity and Stratification Certificate – has been rebranded as the Diversity and Inclusion Certificate. This mirrors similar changes across the country and allows U of I to focus on improvements to access and equity.
If you have any questions about the certificate, or seek to enroll, please contact professor Kristin Haltinner at khaltinner@uidaho.edu.
---
2019 Northwest Anthropological Conference
By Cynthia Hannold, M.A. anthropology student
The University of Idaho Lithic Technology Lab made quite an impression at the 2019 Northwest Anthropological Conference, which took place in Kennewick, Washington. David Quinn, who volunteers to teach students methods for lithic reduction, commissioned the construction of two display cases and registered the lithics lab for a tabling event in NWAC's Vendors Room. Daniel and Marilyn Crandall designed the display and assisted in bringing the materials to the conference. Students whose work was featured in the display include Kailey Berube, Tessie Burningham, John Campbell, Yuumi Danner, Kaitlyn Eldredge, Steff King, Cynthia Hannold, Marci Monaco, and Crissy Phillips. Non-student contributors to student projects and the display include Daniel Crandall, John Fagan, Professor Susan Kuzminsky and David Quinn. The exhibit received interested, excited and unanimously positive responses from conference attendees and participants.
---
Student Achievements and Awards
Ayo Kayode-Popoola, a senior who graduated with a double major in sociology – inequalities and globalization and international studies, was named the recipient of the 2019 Lindley Award for the College of Letters, Arts and Social Sciences. The award is given to the top graduating senior in the college in regard to scholarship and character. Kayode-Popoola will be attending Harvard Law School. Read more.
Denessy Rodriguez, a senior majoring in sociology – inequalities and globalization not only earned the U.S. Department of State's Benjamin A. Gilman International Scholarship to study abroad in Thailand during the 2019 spring semester, but she also was awarded the University of Idaho's 2019 Betsy Thomas Gender Equity Award. The latter is awarded to students reflecting the following characteristics: This award is presented in the hope that the recipients' exceptional service may inspire and motivate others to become involved in gender advocacy work.
Assistant Professor of Sociology Matthew Grindal and sociology-criminology student Tyra Peone co-presented a paper at the 2019 annual meetings of the Pacific Sociological Association. Drawing on a sample of Southern California college students, the paper examined how perceptions of discrimination and parental ethnic-racial socialization messages influenced two well-being outcomes: self-efficacy and self-worth. Tyra presented the paper at the University of Idaho's Undergraduate Research Symposium in April. The pair, along with co-author Melanie Kushida, plan to submit the paper for publication this summer.
Rylee Robertson, a senior majoring in anthropology and sociology, was named an Undergraduate Summer Fellow through U of I's Office of Undergraduate Research and the Center for Digital Inquiry and Learning. Robertson is working with 3D imaging to gather morphometric data for anthropology research with advisor Susan Kuzminsky.
---
Faculty 2019 Publications and Awards
Publications
Downing, S., Levan, K., & Polzer, K. (2018). Boys in the Hood and Vampires in the Woods: Racialized Fatalism in the Media. Criminology, Criminal Justice, Law, & Society, 19(3): 74-88.
Grindal, Matthew, Amanda Admire, and Tanya Nieri. 2018. "A Theoretical Examination of Immigrant Status and Substance Use among Latino College Students." Deviant Behavior
Grindal, Matthew and Ryan Trettevik. 2019. "Perceived Similarity in Identity Meanings, Identity Verification, and Positive Emotions." Pp. 35-52 in Identities in Everyday Life edited by Jan E. Stets and Richard T. Serpe. New York: Oxford University Press.
Hodwitz, O. (2019). The Terrorism Recidivism Study (TRS): Examining recidivism rates for post-9/11 offenders. Perspectives on Terrorism, 13(2).
Hodwitz, O. (2019). NGO intervention in jihadist conflicts: A closer look at Afghanistan and Somalia. Behavioral Sciences and Political Aggression, 11(2), 158-177.
Hodwitz, O. (2019). Chapter 44: NGOs and the challenge of global terrorism. In T. Davies (Ed.), "Routledge Handbook of NGOs and International Relations." Abingdon, UK: Routledge.
Hodwitz, O. (2019). Chapter 5: Rule-of-law and respect for human rights considerations. In J. Vacca (Ed.), "Online Terrorist Propaganda, Recruitment, and Radicalization." Boca Raton, FL: CRC Press.
Hodwitz, O. (2019). Chapter 14: Legal restrictions and challenges for police and law enforcement authorities. In J. Vacca (Ed.), "Online Terrorist Propaganda, Recruitment, and Radicalization." Boca Raton, FL: CRC Press.
Levan, K., Cesaroni, C., & Downing, S. (2019). (Mis)Representations of Prison: Gender and Prison Themed Video Games. Games and Culture. Published online ahead of print. DOI: 10.1177/1555412019839545
Mackey, D., & Levan, K. (2018). Moral dilemmas and worst-case scenarios: Using post-apocalyptic fiction to teach criminal justice ethics. Journal of Criminal Justice Education. Published online ahead of print. DOI: 10.1080/10511253.2018.1489974
Wolf, B. (2019). Good Trouble: How deviants, criminals, heretics, and outsiders have changed the world for the better. Lanham MD: Lexington Books. 205 pages.
Awards
Kristin Haltinner: Promotion to associate professor with tenure
Kristin Haltinner: Recipient of the CLASS Interdisciplinary Fellowship
Leontina Hormel: 2019 Environmental Sociology Practice and Outreach Award, American Sociological Association – Environmental Sociology Section
Leontina Hormel: 2019 Pacific Sociological Association Distinguished Contribution to Sociological Praxis Award
Leontina Hormel: 2019 University of Idaho Athena Woman of the Year – Faculty Award
Ryanne Pilgeram: Recipient of 2019-2021 University Mid-Career Award
Dilshani Sarathchandra: Recipient of the Office of Research and Economic Development (ORED) RISE Jumpstart Grant