Updates from the Dean: Spring 2018
Since I started as dean in 2016, we've been so focused on doing that we haven't spent as much time sharing. Without further ado, here's what's new in the College of Business and Economics.
Students in the Barker Capital Management and Trading Program competed well in the TDAmeritrade ThinkorSwim Challenge and the CME Challenge in 2017, and got to meet financial wizard Tom Sosnoff (who invented the software our students still use in the trading room) and learn how to "change the game." A $2 million gift from the Idaho Wheat Commission this spring is enabling us to expand collaboration with the College of Agricultural and Life Sciences to bring in an Endowed Chair of Risk Management focused upon agricultural commodities, so we can continue to provide valuable hands-on integrated learning opportunities in risk management.
Our Idaho Entrepreneurs continue to dominate regional competitions and launch successful businesses. We plan to build on this success and introduce a minor in entrepreneurship next year. Recent successful pitch teams and startups include products such as a videogame that teaches players about evolution, a shower that both preserves and purifies water, and a snowmobile-like track system that converts dirt bikes into snow bikes. Graduates who went through this program are running nonprofits that give girls access to education and for-profit companies that are patenting technologies that save lives of linemen and first responders.
PGA Professional Golf Management is now an option for any business major (not only marketing). To further enhance the experience of students in the program, a brand new simulator in our state-of- the-art hitting room enables students and other golfers to virtually play on famous courses worldwide and track all aspects of their swing to improve their game.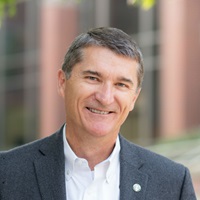 301 Dean's Suite J.A. Albertson Building
208-885-6071
Student leadership is transforming the Albertson building basement into a student-centered community space. Students and faculty from the CBE and Interior Design and Architecture formed a collaborative team, used student input for design, and presented their results at the Interior Design Educators Council (IDEC) conference in Chicago. They led a student crowdfunding campaign to make the redesign a reality, raising far more than anticipated ($10,200 for an $8,000 goal). Thanks to our students and others who contributed to the effort, construction is underway on the $450,000 project, and we look forward to opening the Albertson building Student Learning Center in fall 2018.
We still believe students best learn business by doing business. We're responding to industry changes with opportunities, including offering a marketing analytics degree. We've also focused on expanding networks and supporting students as they transition from college to career. This spring, we sent six students to shadow executives at companies as familiar as Starbucks and as far away as Chicago—all of whom employ Vandals—and we're already planning the next round. If you're interested in hosting a student, please let us know.
We'll be in touch again soon,
Marc