Updates from the Dean: Fall 2018
Season's greetings, CBE alumni and friends! Here's a brief update about some of the things happening in the CBE.
First, congratulations to our fall 2018 graduates! Sixty-one students received their diplomas at commencement on December 8. Learn more about our featured student, Nick Bonds, who led our CBE graduating class across the stage (not on his longboard).
Check out this story and photos of our renovated student space, the Dobler Level (basement), which is now open and already very popular amongst our students. Thanks to a recent generous gift from Dave and Heidi Butler and a donation in kind from Armstrong Industries, we'll be able to install the cloud ceiling soon. Huge thanks to Professor of Marketing Mike McCollough for going above and beyond leading this project, and to Mike and the students of Vandal Solutions for their hard work and generous contribution of $38K to help make it happen.
This summer, CBE's chapter of ALPFA (Association of Latino Professionals for America) became 2018 ALPFA Regional Student Chapter of the Year Award Winners. We won Northwest Region Student Chapter of the Year. There are six regions, and 120 chapters competed. Associate Professor of Finance Magdy Noguera (who advises our chapter) and I attended the ceremony in Las Vegas this July
The PGA came to campus this September to film a marketing video for our PGA Golf Management program that features students, Director Cole Mize, and Internship Coordinator Luke Nickodemus. Watch the video.
The latest issue of the university's alumni magazine, Here We Have Idaho, features an entrepreneurship theme and highlights the CBE and many of our active students, alumni and friends. Check your mailbox for the issue and check out additional features online.
Associate Professor of Marketing Berna Devezer represented the college and university well in a Q&A about her research that ran on the front page of the business section in the Lewiston Tribune.
Who can make an informed retirement investment decision? Research by Associate Professor of Management and Human Resources Yun Chung and Associate Professor of Finance Young Park explores this question. The Journal of Consumer Affairs recently published their study, "What I Know, What I Think I Know, and Whom I Know: Influence on Retirement Investment Decisions."
We hosted the first Barker Risk Management Symposium on November 9 in partnership with the College of Agricultural and Life Sciences. In addition to guest speakers from U of I and Kansas State University, the symposium held a panel discussion on emerging trends in agricultural futures markets featuring Tony Drake, Senior Director of Agricultural Products at the Chicago Mercantile Exchange; Ron Rowan, Director of Risk Management for Beef Northwest; and Bill Flory, President of Flory Farms and Chairman of the Idaho Wheat Commission.
After a successful pilot, we'll run the Executive Shadow Program again this spring. Interested in hosting a student at your business for a couple days during spring break 2019? Please visit our website and let us know.
Happy holidays, and Go Vandals!
Marc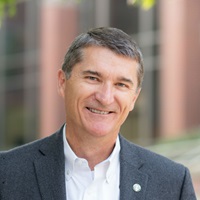 301 Dean's Suite J.A. Albertson Building
208-885-6071