Catching Up with CALS — May 4, 2022
Dean's Message — Enhancing the Student Experience
Maintaining and increasing undergraduate enrollment and retention is a main focus of the U of I campus and CALS has embraced this at all levels within the college. We are proud that CALS is leading the campus in terms of student numbers across several categories. However, CALS is only 10% of the total enrollment on campus. Thankfully, numbers across all colleges at U of I during the current recruitment year are trending positive. Let's hope that continues and applications turn into enrolled students in the fall.
It is worth stepping back to examine the specific reasons why CALS has been successful. The bottom line is that the entire college is committed to increasing enrollment and retention and every student counts. While there are so many different ways we all engage in the recruitment and retention process, there are a few key reasons for our success.
Dedicated staff and faculty take the time and effort to meet with students when they come to campus and share the excitement of their programs and majors. This includes many events in the evening and on weekends that take extra effort.
Matt Doumit, associate dean for Academic Programs, and his staff have dramatically increased their effort this past year with more visits by our CALS Ambassadors to high schools around the state and region and participation at on-and off-campus recruitment events.
CALS has effectively partnered with U of I's Strategic Enrollment Management department to synergize the broader recruiting effort with a renewed focus on out-of-state students.
A greater focus on engaging with K-12 students in FFA, 4-H and FCCLA (Family, Career and Community Leaders of America) has proven fruitful, with many of our departments fully engaged in recruiting students from these national programs.
The active engagement of our UI Extension faculty in the recruiting process has enabled a more comprehensive statewide approach to reaching students in our more rural areas.
Increasing student numbers is critical to the overall health of a university, including its financial status. This past year, U of I created a new metric model of budget allocation that rewarded colleges based on real data on student numbers. But the focus was not just on enrollment. Retention and graduation rates (among other variables) are also part of the model. CALS was the only college with positive numbers involving student retention this past school year.
Student retention numbers are related to effectively advising students when they are on campus. A typical university has one staff advisor for 200-300 students which is the same at U of I. With such a small ratio of advisors to students, it is easy to see how those students in need of more advising may fall through the cracks and retaining those students becomes more of a challenge.
To address this, our faculty and staff have stepped up to help. For instance, in the Department of Animal, Veterinary and Food Sciences, home to our largest major, every faculty member is expected to advise between 20-30 students, providing additional advising to augment staff advisors from the campus. These faculty are committed to recruiting those students, their success while on campus and even their success after graduation. All this translates into a positive student experience on campus.
The student academic experience is critical to their success in life. However, a student will spend, on average, 15-20 hours per week inside the classroom. This allows students to arrange more time to study and work on a variety of college-level projects, conduct research with faculty or to engage with student clubs. CALS offers the opportunity for students to engage in one or more of our 21 student clubs. Typically, these clubs bring like-minded students together and each club has a faculty advisor. This adds a new dimension to the student experience and leads to life-long friendships and more defined career paths.
Just as CALS faculty are committed to the mission of the land grant university, student success is also part of our DNA.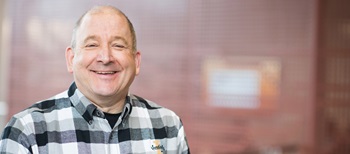 Michael P. Parrella
Dean
College of Agricultural and Life Sciences
---
By the Numbers
A survey of 108 CALS graduates earning a degree between August 2020 and May 2021 shows that 92% had a job or were pursuing advanced degrees within 6 months of graduation. 88% were satisfied with their post-graduation occupation and 96% were working in an occupation related to their field of study. 53% took career positions or advanced education opportunities in Idaho and the average starting salary was $46,022.
---
Our Stories — A Swimming Success
Six University of Idaho students recently found themselves presenting to one of the biggest and most well-known brands in the world.
The apparel, textiles and design students created original swimwear designs as part of a class project for Nike Swim — gaining real-world, industry experience.
"The more students have the opportunity to work with a professional brief and with professional expectations in an industry contextual setting, the better prepared they are going to be for an interview, and ultimately a job," said Lori Wahl, senior instructor in the Margaret Ritchie School of Family and Consumer Sciences.
Working in teams, students conducted extensive research on Nike Swim's strengths, weaknesses, opportunities and threats. They also incorporated the larger Nike brand values into their design research, which includes a focus on sustainability, engaging girls and women in sports globally, and being more inclusive with sizes and abilities.
Olivia Chandler, Rachel Houle and Madison Machen — team Scintillate — identified a need for more style and color options for the plus-size woman swimmer. Daisy Blowers, Maggie Zee and Jaeda Schnuerle — team Sea & Shore — addressed the lack of paddle sport suits for girls ages 7-14.
"The students showed up at the Nike Swim office prepared and ready to show their designs to the Nike Swim team," said Sumiko Kalish, design director for Nike Swim. "Their digital presentations, inspiration boards and their design creations really came to life on our mannequins and really inspired our Nike Swim team."
---
Global Food Security
A passion for food security led Morgan Schulz to explore the role she can play as a future educator. The University of Idaho junior participated in the year-long World Food Prize Global Orientation to Agricultural Learning (GOALS) program to gain insights and tools for her own classroom.
"As an educator, you actually have a really big role in global agriculture and food security because you're educating the next generation," said Schulz, an agricultural education student from Nampa. "It's easy to think that only scientists or government officials can play a role in making the world a more food secure place, but as an educator, you're teaching that next scientist or government official. That's something I've thought a lot about throughout this entire experience."
GOALS is a two-year, $280,000 project funded by the USDA National Institute of Food and Agriculture to increase global citizenship in participants and high school students. The project is a partnership between U of I, Penn State University and the World Food Prize Foundation.
---
Professor Alex Karasev was named a University Distinguished Professor at the University Awards for Excellence, a rank bestowed on faculty who have brought distinction to the university through scholarly activities, teaching and university service.
The CALS Soil Judging Team represented U of I at the 2022 National Collegiate Soil Judging Contest held at Ohio State University. They had the opportunity to work in 18 practice pits, three individual contest pits and two group contest pits analyzing the identifying characteristics and functions of the soils at each site.
A UI Extension 4-H team from Minidoka County placed third in the nation at the National LifeSmarts competition in Washington D.C. LifeSmarts is a consumer literacy program that teaches young people about personal finance, consumer rights and responsibilities, health and safety, technology and the environment.
Tyler Hand and Katy Doumit, undergraduates studying agribusiness, are the inaugural recipients of the U of I Cattle Drive Scholarship for Agricultural Commodity Risk Management and Trading. This $1,000 scholarship supports students enrolled in the U of I agricultural risk management and capital trading programs and two recipients will be selected each spring for the fall semester.
CALS students in AVS/FS 363 (Animal Products for Human Consumption) traveled to Toppenish, Washington to tour the Washington Beef/Agri Beef plant as a field trip for the course. The meat science team has invested in two-way radios with noise cancelling headsets designed for plant tours that allow the headsets to operate under hardhats, allowing for clear communication in the plants to enhance the experience.
Erin Macedo and Nick Mannino, undergraduate students studying food science, were each awarded the Cascadia IFT Scholarship from the Cascadia Section of Institute of Food Technologists. The $14,000 scholarships also include entry to regional IFT events, student membership to National IFT and networking and mentoring opportunities with food professionals.
Associate Professor Erin Chapman received the U of I Athena Woman of the Year, Faculty award for her dedication to women's professional enhancement at U of I.
UI Extension Educator Jerry Neufeld received the Outreach and Engagement Excellence Award at the University Awards for Excellence.
Associate Professor Michael Strickland received a University Mid-Career Award at the University Awards for Excellence.
UI Extension's Palouse Pollinator Summit received the 2022 City of Moscow Mayor's Earth Day Award.
Graduate students Emmanuella Owusu Ansah (plant science) and Zhenliang Yang (applied economics) received the 2021-22 Outstanding Graduate Student Award for academic and professional excellence from the U of I Graduate and Professional Association.
CALS students Katy Doumit, Audrey Hawes, Katie Hettinga, Nathan Kindall, Narcisse Mubibya, Kiera Packer, Savannah Stroebel and instructor Chelsey Lewallen were honored with U of I Student Achievement Awards.