Catching Up with CALS — May 18, 2022
Dean's Message — CAFE to Benefit Students
Sustainability was the theme of the day when the University of Idaho recently gathered with state leaders, stakeholders and supporters to celebrate Chobani's $1 million gift toward the Idaho Center for Agriculture, Food and the Environment. Those in attendance at the May 11 presentation lauded the U of I-led project, which will be the nation's largest research dairy, as a difference maker to ensure the state's dairy industry can one day pass along viable operations to the next generation and to continue to contribute strongly to the state's economy.
Today's dairy producers face growing pressures to produce the same or more milk with fewer inputs. Idaho CAFE will be a fully operational dairy, built to scale, conducting novel research critical to the economic, environmental and social sustainability of the dairy industry and related agriculture. The $22.5 million facility promises to be an economic driver, enabling the continued production of diverse, high-quality crops that is the foundation of Idaho's agriculture.
In 2015, Idaho's six-county region known as the Magic Valley was selected as a top 12 U.S. manufacturing community by the U.S. Commerce Department's Investing in Manufacturing Communities Partnership — and one of four U.S. regions in the food manufacturing category. Idaho CAFE is mindful of this and will provide a consistent pipeline of skilled employees to meet the needs of agriculture and food processing in the Magic Valley for decades.
Access to a diverse workforce is a core component of sustainability. The region is essentially becoming a Silicon Valley of the food processing industry. According to a 2021 U of I study, agriculture is responsible for nearly 60% of sales in the Magic Valley's economy; employment opportunities for U of I graduates are endless within the six-county region.
Though students in the College of Agricultural and Life Sciences will no doubt reap rewards from Idaho CAFE, Chobani Founder and CEO Hamdi Ulakaya indicated that he'll need workers from a wide array of backgrounds: engineers, electricians, political scientists, information technology specialists — the list goes on and on.
We heard a similar message from Agri Beef when the company pledged $2 million to build the Agri Beef Meat Science and Innovation Center Honoring Ron Richard, providing a new home for Vandal Brand Meats on campus. They were adamant that the center's focus be much broader than cattle, emphasizing they'll need students trained by other colleges from outside of our areas of expertise.
Modern dairies also require a diverse workforce and go well beyond simply tending to cows. Robotics, computer science, design, business, human resources, etc., and students graduating from U of I with leadership and communication skills are needed across all of Idaho. Neary 1,200 U of I students graduated on May 14 with about 1,700 degrees for the spring semester. Just about any one of those degrees could be put to good use at Idaho CAFE in the Magic Valley.
Idaho CAFE is scheduled for a June 30 groundbreaking and will span three counties with a 2,000-cow research dairy and 640-acre demonstration farm in Rupert, an outreach and education center in Jerome and collaborative food science efforts developed in partnership with the College of Southern Idaho in Twin Falls. The economic development organization for Jerome County, called Jerome 20/20, Inc., has been among the project's most enthusiastic advocates. They understand that the greater presence of U of I from both a research and a teaching perspective is good for business in the region. Companies will have a strong incentive to locate in Jerome County and the broader Magic Valley region, understanding they can connect to a university that's filling the pipeline with trained graduates who will keep their operations running on all cylinders.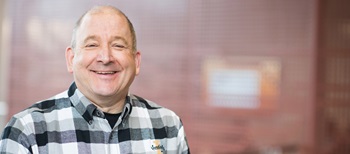 Michael P. Parrella
Dean
College of Agricultural and Life Sciences
---
By the Numbers
139 undergraduate degrees and certificates were awarded to 133 CALS students at spring commencement on May 14, including our first 2 graduates in the water science and management degree. 12 CALS students earned master's degrees and 6 were awarded doctorate degrees.
---
Our Stories — Chobani Commits $1 Million to CAFE
Chobani Founder and CEO Hamdi Ulukaya expects the state's dairy industry will soon have a major edge when it comes to finding top talent and meeting the lofty challenge of improving sustainability.
During a ceremony on May 11 at the company's local food processing plant, Chobani awarded a $1 million gift to the University of Idaho-led Center for Agriculture, Food and the Environment (Idaho CAFE).
As Chobani prepares to significantly ramp up its local production, Ulukaya is certain Idaho CAFE will play a critical role in helping his plant fill a host of jobs, including at the Ph.D. level, while also generating unique research to help the dairy industry achieve greater production with fewer inputs.
Idaho CAFE is scheduled for a June 30 groundbreaking and will span three counties with a 2,000-cow research dairy and 640-acre demonstration farm in Rupert, a public outreach and education center in Jerome and collaborative food science efforts developed in partnership with the College of Southern Idaho in Twin Falls. Idaho CAFE will be the nation's largest research dairy, conducting research and delivering education that will support a sustainable future for Idaho's dairies, livestock operations, crop production and food processing industries.
"The most important help we need is educated young Idahoans, either people from here or people who come to our state and are educated in our state schools and would love to stay here and live and build a life here," Ulukaya said. "We all have to come together to make sure that this talent, this young talent, stays in this beautiful place."
Ulukaya believes Idaho CAFE will be a monument to food production in the Magic Valley, enabling the region's food makers to implement better and more sustainable practices and helping them lead the country through their innovation.
Idaho Gov. Brad Little added, "I believe this is literally going to catapult us to the next area of greatness as far as agriculture in the Magic Valley."
Research at Idaho CAFE will focus on areas such as nutrient management, water management and the intersection between the state's agricultural and urban lands.
Chobani has long been a supporter of U of I's College of Agricultural and Life Sciences, including through scholarships benefitting its dairy science students.
"With nearly 20% of Idaho's total economic output, the agricultural industry clearly influences the health of our state's economy, and I firmly believe that what's good for Idaho agriculture is good for Idaho," CALS Dean Michael Parrella said. "For that reason we are tremendously thankful for Chobani's investment in moving us closer to the finish line for constructing the research dairy and getting to work conducting research that is critically important for Idaho's dairy producers."
The facility will provide the state's dairymen with solutions to help industry meet ever-growing demands to conserve precious resources and minimize their environmental impact.
"It's going to be the difference maker for our dairymen to be able to accomplish these goals and to be able to have something to pass on to the next generation," Idaho Dairymen's Association CEO Rick Naerebout said.
The facility will tackle many research questions that have never previously been explored. It will operate like a commercial farm and is designed to represent the average dairy in southern Idaho. The initial construction phase of the $22.5 million project includes facilities to house milking and nutrient management operations. U of I aims to start milking cows in the Rupert location after the first phase is completed in 2023.
"Building the nation's largest research dairy has been a goal of the university for well over 12 years, and frankly we are the third largest milk-producing state in the country, so it's important that we support sustainable agriculture across all of Idaho," U of I President Scott Green said.
---
Stress Response
While plenty of research has been conducted on how maternal stress during pregnancy can affect offspring, little is known about the impact of stress during lactation. Researchers at the University of Idaho are using epigenetics — the study of how behaviors and environment can cause changes that affect the way genes work — to start the conversation.
Emma Sells, a senior studying animal and veterinary science pre-vet option, is working with Amy Skibiel, assistant professor of lactation physiology, and Chloe Josefson, postdoctoral fellow, to investigate how maternal stress during lactation impacts the ability of offspring to mount a stress response when they are matured, and the long-term impacts on fitness.
"Nobody has really done research on the stress response during lactation," Sells said. "All of the papers we've been able to find have been while the animal was pregnant. So, this is a different viewpoint because it allows that extended time in which the mother can impact her offspring."
The project began in summer 2020 when lactating rats were exposed to unknown male rats. A male was put in a cage with a female and her offspring, or pup, for an hour each day for nearly two weeks to cause stress in the female.
Sells is now analyzing liver samples taken from the pups using bisulfite sequencing to determine patterns of DNA methylation. Methylation is a common mode for epigenetic modification, allowing gene expression to be changed without manipulating the actual genetic sequence.
"We want to see how methylation rates differ in offspring whose mothers were stressed during lactation and offspring whose mothers weren't to see if they express stress-related genes differently," Sells said.
---
Fashion and Function
Rachel Houle has packed a lot of experience into two years. After transferring to the University of Idaho in 2020 to study apparel, textiles and design, she took advantage of every opportunity, completing several internships, conducting an undergraduate research project and creating original designs.
Houle grew up in Horseshoe Bend, where she spent much of her time hiking and enjoying the outdoors. She developed a love for fashion after learning to sew when she was 8. A cousin working in the fashion industry opened her eyes to the types of careers available, and Houle saw an opportunity to combine her interests.
"I've always been into fashion and creating things since I was little," Houle said. "I've also always had a love for the outdoors, growing up in Idaho and always being outdoors. Now I have a big passion for creating women's outdoor apparel."
Houle's favorite part of apparel design is problem-solving — discovering the best way to meet consumer needs with a product. She hopes to address overconsumption in the fashion industry and conducted an undergraduate research project focused on that issue.
Houle surveyed and interviewed women around the United States to discover what they want in an outdoor jacket. She included a question about convertibility, such as zip-off sleeves and hoods, that would allow the garment to be used for multiple purposes.
She found that women wanted a jacket that was warm, durable and lightweight. The top three features they desired were pockets, warmth and a hood.
---
Emma Atchley received an honorary doctorate in agricultural sciences from the University of Idaho at the spring commencement ceremonies. Emma and her husband Clen own Flying A Ranch in Ashton, a diversified operation with cattle, seed potatoes, grain, canola and hay. Emma has served the agriculture industry through many roles and is also an advocate for higher education, serving on the Idaho State Board of Education for 12 years.
Erin Chapman, associate professor in the Margaret Ritchie School of Family and Consumer Sciences, was elected vice chair of Faculty Senate. Other CALS faculty participating in Faculty Senate include Amin Ahmadzadeh, Department of Animal, Veterinary and Food Sciences; Arash Rashed, Department of Entomology, Plant Pathology and Nematology; and Mark Schwarzlaender, Department of Entomology, Plant Pathology and Nematology.
Students in AVS 363 (Animal Products for Human Consumption) wrapped up the semester with Brisket Day, where they were able to sample beef brisket prepared by assistant professor Phil Bass, as well as beef steaks donated by Sysco. Chefs Dane Rice and Douglas Renggli taught the students how to cook the perfect steak and answered questions about food preparation and the chef experience.
UI Extension Director Barbara Petty was awarded the Distinguished Service Award from Northwest University where she has served on the board of directors since 2007. She was also recently re-elected to serve a third four-year term as chair of the board.
Alexis Biasotti and Logan Pomi, students in the Department of Animal, Veterinary and Food Science, recently won California FFA Proficiency Awards. Alexis won in agricultural processing for her product, Heavens Halo Swine Conditioner that is used to increase and strengthen skin and hair qualities for the show ring. Logan won in beef production entrepreneurship.
Paul Lewin, UI Extension specialist and director of the Rural Studies Program, received the 2022 Breaking Barriers in Research Award from Oregon State University. This award honors a member of the OSU community whose innovative research challenges and expands knowledge and/or advances gender equity. Paul has a courtesy appointment with the OSU College of Education.
Nora Olsen, professor and Extension potato specialist with the Department of Plant Sciences, will be giving the presentation, "Storage — A North American Perspective," on June 1 during the World Potato Congress in Dublin, Ireland. Five other CALS researchers, Katie Malek, Phillip Wharton, Erik Wenninger, Alan Malek and Gustavo Teixeira, will be presenting research posters at the event.
Nick Mannino, an undergraduate studying food science, received a $1,500 scholarship from the National Institute for Food Technologists Feeding Tomorrow Fund.
---
Events
June 3 — Nominations due for CALS Alumni Awards
June 4 — Sagebrush Saturday, Rinker Rock Creek Ranch, 9 a.m. to 2 p.m.
June 6-8 — Young Cattle Producer Conference, Pocatello. Applications due May 20.
June 7-10 — Idaho State FFA Career Development Events, Moscow
June 13-14 — Culinary Base Camp, Moscow and Virtual
June 15-17 — Textiles Base Camp, Moscow and Virtual
June 20-23 — Idaho 4-H State Teen Association Convention, Moscow
June 21-22 — U of I Snake River Weed Management Tour and Field Day, Aberdeen and Kimberly
June 22-25 — Summer Design Days, Moscow and Virtual
June 30 — Idaho CAFE Groundbreaking, Rupert (details to come)
Feedback or suggestions? Please pass them along through calsnews@uidaho.edu