Catching Up with CALS — April 6, 2022
Dean's Message — Celebrating New Facility
In CALS we are always celebrating Idaho agriculture and there is much to celebrate: Idaho agriculture is diverse, prolific and rooted (no pun intended) in the history of the state and university.
Our state has nearly 25,000 farms and ranches which produce more than 185 different commodities. Idaho ranks in the top 10 in the nation in 30 of those commodities and Idaho is the third-largest agricultural state in the west and second in net farm income.
The Financial Condition of Idaho Agriculture: 2021, prepared by faculty in the Department of Agricultural Economics and Rural Sociology, reports that agriculture accounted for 17% of the state's total economic output and was responsible for one out of every eight jobs in the state.
Of course, Idaho is most famous for our potato crop. This crop, grown on 314,000 acres, was valued at more than $1 billion in 2021. But the lesser-known story is where Idaho potato producers get their seed to grow this iconic crop.
As it turns out, 90% of the potatoes grown in Idaho and 60% of those grown in the U.S. can trace their origin back to the University of Idaho's Seed Potato Germplasm Program located on the Moscow campus.
The program was originally created in 1983 to provide disease-free, healthy plantlets and mini-tubers for the potato industry within the state and across the country. However, the facility was in suboptimal space where maintaining sanitary conditions was an increasing challenge and the growing demand for product could not be satisfied.
Through a partnership with the Idaho Potato Commission, the Potato Seed Growers Association, Northwest Farm Credit Services, private donors and the State of Idaho, we recently celebrated the grand opening of a brand-new, cutting-edge laboratory on the Moscow campus to house this program.
The new laboratory will allow for triple the amount of plant material supplied to growers (currently 250,000 plantlets annually), certifying both the identity and disease-free nature of the product.
Idaho potatoes are known for their quality, and that quality starts at the University of Idaho. Considered pre-nuclear material, the plantlets and mini-tubers are sent to seed potato growers who then scale up production to satisfy the needs of commercial producers.
The laboratory also plays a very important role in the conservation of potato genetic resources by maintaining more than 300 cultivars that are critical to the Potato Variety Management Institute that serves Idaho, Oregon and Washington. This plant material is an important source of genetic material for plant breeders.
Crops such as cassava, many fruit trees and potatoes must be clonally propagated as their seeds are not true to type. Each of the 300 potato cultivars held at the germplasm facility must be maintained in tissue culture and replated onto new media every four weeks.
Few people realize that only 12 plant and five animal species produce 75% of the world's food.
The precious genetic diversity critical to agriculture is in danger of being lost, but the Seed Potato Germplasm Laboratory is contributing to the efforts ensuring that this does not happen to potatoes.
When you are next on campus, please visit this spectacular new facility located on Perimeter Drive in the agricultural area west of the Kibbie Dome.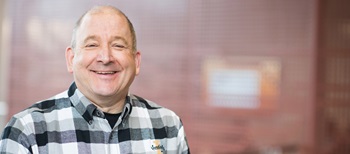 Michael P. Parrella
Dean
College of Agricultural and Life Sciences
---
By the Numbers
90% of Idaho potatoes and 60% of all potatoes grown in the United States can be traced back to the U of I Seed Potato Germplasm Program. The new $5.6 million facility will allow our staff and 12 student employees to triple the current production of 250,000 plantlets provided to seed potato growers annually.
---
Our Stories — Looking for a Challenge
To say that Abram Ramirez likes a challenge is an understatement. A sophomore at the University of Idaho, Ramirez is pursuing a degree in animal and veterinary science: production option while also preparing for a commission in the U.S. Marine Corps.
Ramirez grew up in Moses Lake, Washington and knew from a young age that he wanted to join the military. He enlisted in the Marine Corps' delayed entry program at age 17 and chose the Marine Corps because he felt it was the most challenging.
"I wanted to do something hard. I didn't want an easy, lackluster kind of life," he said. "I knew going into the Marine Corps was going to be a huge challenge and make me into the man I wanted to be. As a young kid, not many people know that they want to be a specific kind of person, so I felt like I was kind of lucky to have that kind of idea."
Once he enlisted, Ramirez learned of the Navy and Marine Corps ROTC program at U of I and the opportunity to commission as an officer — a more challenging opportunity.
"The smaller percentage of the Marine Corps is officers and when you compare it to the rest of our military, the Marine Corps is the smallest branch," Ramirez said. "So being that smaller number inside the smallest branch is the harder way and that's really attractive to me."
If it's harder, I want to do it."
He was 10 days from shipping out for basic training when Ramirez learned that he had received the National Scholarship from the Marine Corps, a four-year scholarship that covers tuition, books, and provides a monthly stipend. Suddenly, the more challenging path was open.
---
Growing Produce on Mars
If humans ever colonize the moon or Mars, one of the most critical challenges will be figuring out how to produce food in entirely new environments.
In 2021, the Idaho Space Grant Consortium offered mini grants to youth groups interested in addressing the challenge of growing produce in space. Marilyn O'Leary, 4-H program coordinator for University of Idaho Extension in Payette County, jumped at the chance to get Payette County youth involved.
"If we do ever colonize the moon and Mars, then we're going to have to provide food for people," O'Leary said. "So, this project was about making people think outside the box. And that's what I tried to push with the kids too."
The grant included samples of Martian soil and a few parameters, such as a requirement that at least 50% of the soil used for an experiment be Martian soil. Youth were also required to wear gloves and respirator masks while handling the soil and were instructed to not eat any of the food produced from the soil.
"They were really surprised by the soil," O'Leary said. "It's a real fine, almost powdery soil. Kind of like an alkaline soil."
The entire project spanned six weeks, with participants planting corn and pumpkin seeds in fiber trays, then recording the pH, soil moisture, amount of light and plant height each day. Each participant selected a different combination of soil for the project and O'Leary was surprised by the results of one 12-year-old participant, Ocie.
"Ocie used the soil that was four parts Martian soil to one part potting soil," O'Leary said. "Ocie's seeds were the first to sprout, which was really surprising to me. Her plants looked the best all the way through."
Most plants sprouted within 10 days and all seeds sprouted by day 12. Ocie's plants had the highest average pH at 8.0 and grew the tallest, with the corn measuring at 23 centimeters and the pumpkins at 37 centimeters.
Rayden, an 11-year-old participant, noted that his 50/50 mixture of soil was easy to work with but harder than normal soil and needed a little more water.
"This was a fun experiment for the kids in growing plants with different mixtures of soil," O'Leary said. "They also learned about some of the issues that arise and the conditions that plants need to survive. They all observed that after about four weeks of watering, the soil started forming a crust that needed to be broken up or the plants died."
Another participant, 8-year-old Liam, met an unexpected obstacle in his experiment.
"Liam went on vacation over a weekend and when he came home the dog had eaten the top of his corn," O'Leary said. "He was so devastated."
---
Faces and Places
The Apparel, Textiles and Design Club is hosting a Sustainable Clothing Swap on Friday, April 8 from 3-5 p.m. in the ASUI Vandal Lounge on the Moscow campus. There is a $5 entrance fee and participants are encouraged to bring and take any amount of clothing. Contact Chelsey Lewallen at cbyrd@uidaho.edu for more information.
Albert Kwarteng, a Ph.D. student in Plant Sciences, recently placed second in the Basic Biology and Ecology Oral Presentation student competition at the Western Society of Weed Science's 75th Annual Meeting in Newport Beach, California. Albert's research is on the transgenerational effect of weed competition on wheat.
The CALS Meat Science Team worked on the National Beef Quality Audit at CS Beef Packers in Kuna over spring break. Cattle were assessed on trucks, in pens and in carcass form over two days. The project is funded by the National Cattlemen's Beef Association and is a collaborative effort with land grant universities. Each university surveys large scale beef processors in their region and the data provides feedback to the beef cattle industry to help with continued improvements for enhancing the beef quality mix in the U.S. beef herd.
Holly Barrus, a senior studying horticulture and urban agriculture, was named one of two 2021 Interns of the Year by the American Floral Endowment. She completed a seven-month internship with Heartland Growers in Westfield, Indiana in 2021. Holly will receive paid travel and hotel to attend Cultivate, an industry professional conference coordinated by AmericanHort, the leading national association for the green industry, this July in Columbus, Ohio.
Nicholas Conner, a freshman studying food science, recently competed in the 2022 Pacific Northwest Institute of Food Technologists Student Association College Bowl competition in Corvallis, Oregon as part of the University of Idaho/Washington State University team. The UI/WSU team competed against four other regional universities, coming in second place.
A new design of scarf for the Know the Land, Save the Land project is now available for purchase at the VandalStore. This project is a collaboration with CALS apparel, textiles and design students and faculty, and University of Idaho Extension, Valley County. The goal of the project is to increase awareness of invasive plant species to help slow their spread.
AVFS professors Phil Bass and Michael Colle; Vandal Brand Meats manager James Nasados; AVFS graduate students Sierra Jepsen and Jessie Van Buren; and AVFS undergraduate Isel Tejada-Urenda recently attended the Northwest Meat Processors Association annual meeting in Hermiston, Oregon where they helped judge the popular cured meats contest.