Catching Up with CALS — March 9, 2022
Dean's Message — Collections on a University Campus
Insects pinned in glass cases, rare and unique specimens of Idaho flora and antique clothing from centuries past. It sounds like the makings of a museum when in fact, these vast collections offer much more for the teaching, research and outreach missions of our university.
While those unfamiliar with the collections might view them as museums that can be locked up and put away when resources are tight, the reality is that these collections are critical to much of what a university does. And though they may not be living, they will die or become useless if they're neglected.
CALS is proud of the collections we hold, but it is a challenge we take seriously to maintain them properly.
U of I's Stillinger Herbarium began with the collections of Louis F. Henderson, who became the university's first botanist and herbarium director in 1883, shortly following the establishment of the university. In 1957, the Charles R. Stillinger Trust was established which provides funding for the growth and development of the herbarium's collections.
The Stillinger Herbarium is the largest herbarium in the state and functions as the official Idaho repository for more than 200,000 plant and fungal specimens. These specimens contribute to a wide variety of research at U of I and beyond, supporting research in classification, ecology, floristics, conservation biology and natural resource management. As such, the herbarium is used for both formal and informal teaching and learning.
While it's had different homes at the university over the years, the herbarium currently resides in the College of Science and CALS, via the Department of Plant Sciences, is exploring ways to partner in efforts to support and maintain the operations of this important collection.
Down the hill from the herbarium, in the E.J. Iddings Agricultural Science Building, is U of I's entomological collection. Initiated in 1947 by Professor William F. Barr, this collection has grown over the years from a mere 10,000, to over one million mounted insect specimens.
The collection regularly hosts school groups for visits and special events as part of the important outreach mission of the collection. In addition, this collection is critically important to the teaching and research conducted by faculty and students in the Department of Entomology, Plant Pathology and Nematology.
Much of the collection is pinned specimens in cabinet drawers that at first glance may not seem to require much maintenance. In reality, insects themselves are some of the worst enemies of insect collections. For example, if Dermestid beetles find their way into these drawers, they can reduce pinned insects to dust in no time. If insects preserved in alcohol vials are allowed to dry out, they too will become useless. Even slide-mounted specimens will crack and dry out over time and need to be regularly remounted which is why a curator is essential to maintaining an insect collection.
In yet another corner of campus sits the college's Leila Old Historic Costume Collection (LOHCC) housed in the Margaret Ritchie School of Family and Consumer Sciences.
There is a growing national interest in the significance of everyday garments to the understanding of our social and cultural history.
The LOHCC, gathered from residents of Idaho, alumni and friends of the university, reflects the clothing across various classes of society in Idaho, in good times and bad, from around 1850 to the present.
Over 10,000 items are represented in the collection, including a 2,000 plus lace collection donated by Kathleen Warnick in 2007. Many of the pieces are related to Idaho or our university. Selected pieces are featured in rotating displays on campus on the first floor of the Niccolls building and the first floor of the Bruce M. Pitman Center and off-campus on the second floor of the college's Sandpoint Organic Agriculture Center in Sandpoint.
The LOHCC is critical to the research and teaching done by FCS students and faculty in the apparel, textiles and design program. This is also one of our fastest growing undergraduate programs in CALS. Unfortunately, this irreplaceable collection is housed in dramatically suboptimal space, where damage from leaking pipes, mold and mildew (and insects) are a constant threat. Locating and renovating new space for the collection is an ongoing challenge for the college.
And lastly, the Maynard A. Fosberg Soil Monolith Collection contains approximately 235 soils from the state of Idaho, the Pacific Northwest and the United States. It represents one of the most unique teaching resources at the University of Idaho, with the entire collection displayed on the walls of the first floor of the E. J. Iddings Agricultural Science building in Moscow. The collection has grown and now ranks as one of the largest in the U.S. Fortunately, this collection (maintained by the Department of Soil and Water Systems) is rock solid (pun intended) and really needs no maintenance.
CALS is one of the most diverse colleges on the campus and this is exemplified by the collections it holds. When you next visit campus, please consider a visit to one or more of these unique collections that helps define us.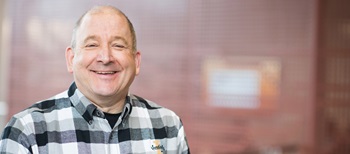 Michael P. Parrella
Dean
College of Agricultural and Life Sciences
---
By the Numbers
9 AmeriCorps members are currently serving at 8 UI Extension 4-H Youth Development sites across Idaho, where they teach a variety of STEAM education activities. During the 1st quarter of FY22, AmeriCorps members have reached over 369 individual youth and engaged 25 volunteers. 4-H is looking to place 30+ quarter time AmeriCorps members this summer.
---
Our Stories — Networking with Industry
There aren't many better places to network with the beef industry than the annual Cattle Industry Convention and National Cattlemen's Beef Association Trade Show. Abbie White, a University of Idaho student studying animal and veterinary science: production, recently joined 17 other college students from across the nation as a convention intern at the 2022 event in Houston, Texas.
"It was a great opportunity to network with companies and it was an awesome opportunity to give back to the industry and meet a bunch of producers from all over the country and get their viewpoint on Ag," she said.
White learned of the internship from College of Agricultural and Life Sciences Assistant Professor Phil Bass and decided to try something outside her comfort zone.
"I think internships are a really great way to expand your horizons," she said. "I definitely grew a lot. I feel more comfortable traveling across the country now because of the internship, whereas before I'd only done regional travel."
In her role as a convention intern, White essentially helped run the event by performing various tasks, including staffing event rooms, scanning badges, and giving directions. In turn, she was given the opportunity to network with industry professionals.
"It was good to meet a bunch of people, network and get your name out there to the industry as a whole and not just Idaho," she said.
White grew up in Coeur d'Alene and came to U of I as a food science major. Her roommates talked her into attending a class taught by Bass and she realized that a degree in animal and veterinary science was the better fit.
"I thought animal and veterinary science meant that you had to go to veterinary school," she said. "Then I went to one of Bass's classes with some of my roommates at the time, just to see because they were like, you've got to meet this professor. And it was so cool, and I thought, I've got to switch to production."
White will graduate in May 2022 and hopes to lean on some of the connections she made as an intern for career prospects.
"I learned about a few internship opportunities," she said. "I think I'm going to talk to Purina and some ranches that tie in with rangeland.
"I hope to use what I've learned from my time at the university and apply it to something in the industry. I'm really excited to see what's out there for me in the future, jobwise and life-wise."
---
Faces and Places
CALS students in the Plant and Soil Science Club recently traveled up the Snake River into Hells Canyon to Garden Creek Preserve where they helped prune apple trees. The club makes the trip each spring to learn about pruning techniques while assisting with conservation efforts of the preserve.
Dean Michael Parrella and Barbara Petty, Director of UI Extension, recently met with 4-H AmeriCorps members currently serving communities across Idaho to learn more about their efforts. The team members work with county offices to engage underserved youth in 4-H out-of-school programs.
A total of 110 UI Extension 4-H participants attended the Know Your Government event in Boise, Feb. 19-21, where they learned about how state government decision-making works and observed the legislative process in action.