Catching Up with CALS — Feb. 9, 2022
Dean's Message — Soil Health
CALS and UI Extension devote substantial attention to Idaho's soil and water resources. Those with research and extension appointments provide educational and demonstration programs to help farmers, ranchers and citizens better steward these essential assets.
The Parma Research and Extension Center will celebrate a significant expansion of its ability to serve agriculture with the addition of the new Idaho Center for Plant and Soil Health. We anticipate construction approval for this facility in early 2022.
The research dairy near Rupert that is the core of CAFE (Center for Agriculture, Food and the Environment) includes a demonstration farm devoted to crop production, but the work there all revolves around soil and water.
The Sandpoint Organic Agriculture Center joined CALS' portfolio of research facilities four years ago largely to provide a base to expand research and education in the organic area; again, understanding that soil health is central to successful organic production.
Most recently, the exciting new NSF sponsored Deep Soil Ecotron project will attract researchers nationally and worldwide to better understand chemical and biological processes at greater soil depths.
In the broader view, all of the additions are logical advances in a key college focus area that has been advancing for decades. Soil science provided a foundation for land-grant university agriculture programs from the beginning.
Perhaps that is why a new focus and enthusiasm for soil health seems so exciting. The USDA Natural Resources Conservation Service (NRCS) and CALS are longtime partners working to survey Idaho's soil types and helping farmers and ranchers use and protect those resources.
The same collaboration is true for the Idaho Soil and Water Conservation Commission, and 50 soil conservation districts statewide that take a community-based approach to implementing projects.
CALS enjoys close ties to the federal, state and local soil conservation efforts because our Department of Soil and Water Systems (SWS) trains students, many of whom take positions with these agencies.
Two years ago, the Natural Resources Conservation Service and UI Extension jointly funded a position based in Twin Falls to coordinate education and demonstrations for farmers and ranchers.
SWS Department Head Jodi Johnson-Maynard and her faculty have multiple projects underway with NRCS collaboration. The projects range from helping ranchers develop strategies to protect burned-over rangelands to online seminars on specific topics. NRCS funded graduate students are examining how designated soil moisture regimes are related to forest structure and soil health and developing research and support tools to help landowners better protect water and soil quality following wildfire.
Perhaps most exciting is renewed enthusiasm for how closely our goals and efforts overlap. Much of the credit for that recognition belongs to NRCS State Conservationist Curtis Elke. Waste and Nutrient Management Extension Specialist Linda Schott works closely with NRCS State Soil Scientist Shawn Nield to provide expertise and interpretation of data collected from southern Idaho production fields for the Magic Valley Soil Health Project.
Soil health seems like such a simple concept. It is not — there is still much to learn. The challenge for all of us interested in promoting this basic tenet of all agricultural production find that defining, measuring and implementing practices that maintain healthy soil require more intense study.
Fortunately, we have an accomplished network dedicated to getting that work done.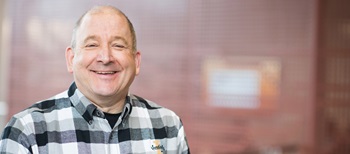 Michael P. Parrella
Dean
College of Agricultural and Life Sciences
---
By the Numbers
Cassia County accounts for 12.5% of total ag cash receipts, 15.5% of the state total for crops and 8% of the state total for livestock. Gooding County is second at 10.9% of total ag cash receipts, 16.8% of the state total for crops and 2.1% for livestock. Leading the way in livestock cash receipts is Bingham County at 11.3% of the state total.
---
Our Stories — Understanding Tarantula Diversity
A University of Idaho scientist will study an often-misunderstood animal and draw on indigenous knowledge in Arizona's sky islands to better understand climate change.
UI Extension Specialist Chris Hamilton will use powerful modern genomic sequencing tools and traditional ecological knowledge from Native American tribes to study tarantulas in the mountains of the Sonoran Desert and how they have adapted and evolved in habitats in mountain ranges surrounded by a sea of inhospitable desert. The work is funded by a prestigious $1 million National Science Foundation CAREER award.
The Madrean Pine-Oak Woodlands in the Santa Rita Mountains south of Tucson and other ranges across the desert southwest provided challenges for tarantulas and other species. Those challenges were similar to those faced by the Galapagos finches studied by Charles Darwin.
Hamilton gained fame in 2016 after earning his doctorate at Auburn University by describing and naming a black tarantula found in northern California near Folsom State Prison for the man in black himself: Aphonopelma johnnycashi.
Southwestern tarantulas do not deserve their fearsome reputation. If threatened, they may use their fangs to bite to defend themselves, but their venom is mild for most people. Their main defense are barbed bristles on their abdomens similar to those on stinging nettle plants that irritate exposed skin.
He is no longer much intimidated by their defensive threat display when they rear up, wave their legs and display their fangs.
"They're really just big teddy bears," Hamilton said.
Tarantulas can live for decades but typically move only short distances when they emerge as spiderlings from their mothers' burrows. The surrounding desert discourages longer migrations by tarantula species over time. They are creatures of habitats that change as climate changes.
His research will also seek the knowledge of the indigenous peoples who know the southwestern mountains in his study area the most intimately, the Tohono O'odham and San Carlos Apache tribal elders.
The five-year project will also offer educational programs for Native American youth to equip them with new tools to support Tribal Ecological Knowledge, Hamilton said. Plans include summer camps and other programs focused on genomics, essentially a species genetic catalog, and other ways to understand animals and their environments.
Hamilton will use a LEGO-based system that uses blocks in four colors to stand in for the basic molecules that compose DNA. Students will change the sequence of colors, then scan the sequence to learn the nature of the animal they create.
As a member of the Chickasaw Nation of Oklahoma, Hamilton wants to give indigenous groups access to tools they want to increase tribal sovereignty and self-determination.
As a UI Extension entomology specialist, Hamilton also began a project in Idaho focused on the Pandora pine moth, a species spreading northward in the Pacific Northwest as the climate changes.
Genetic analyses suggest expanding populations may be more likely to present a greater risk of outbreaks. That work funded by the U.S. Department of Agriculture's National Institute of Food and Agriculture will help develop targeted control strategies to stop outbreaks.
The project titled "Integrating Western Science and Traditional Ecological Knowledge (TEK) to Understand Aphonopelma Diversity Across the Madrean Sky Islands and Educate K-12 Tribal Students" was funded by National Science Foundation award 2144339. The total project funding is $1,016,312, of which 100% is the federal share. The project titled "Investigating the shifting distribution and outbreak potential of a Pacific Northwest coniferous forest pest — the Pandora pine moth," was funded by the U.S. Department of Agriculture National Institute of Food and Agriculture award 2022-67013-36270. The total project funding is $245,330, of which 100% is the federal share.
---
Faces and Places
CALS students Claire Smith, Audrey Hawes, Rachel Houle and Juli Howell and FCS faculty Sonya Meyer and Lori Wahl attended the Outdoor Retailer Snow Show in Denver where they networked with retailers and brands in the outdoor industry and learned more about outdoor products and issues facing the industry.
---
Events
Feedback or suggestions? Please pass them along through calsnews@uidaho.edu