Catching Up with CALS — Feb. 23, 2022
Dean's Message — Healthy Plants Thrive in Healthy Soil
On Feb. 18, the Idaho State Board of Education approved the University of Idaho's request to authorize the construction phase for the Idaho Center for Plant and Soil Health. This exciting development is the next step in accomplishing the effort to build a new research facility at the Parma Research and Extension Center. More than 25 stakeholders, including eight of Idaho's commodity commissions and grower groups, joined together to support this project and provide matching funds for investment from the state of Idaho.
Although this effort has garnered unprecedented support, some have expressed concern about using a human condition (health) and relating that to plants and soil.
As we all struggle through the COVID-19 pandemic, it is clear that taking care of your health is key to fighting this virus, or any other disease. Maintaining your health is important to keep your immune system functioning as effectively at possible. In some cases, this is not enough, and additional medication or medical attention is needed.
This situation is analogous to plants. Plants have evolved an immune system to fend off attack by pests and to survive through difficult environmental conditions like drought. One of the consequences of plant breeding to enhance desirable traits is the reduction of internal defensive mechanisms in plants. Though plants' natural defenses may be reduced in this effort, they still exist. In this case, similar to the human scenario, plants often need an extra boost from "medication" (e.g., fungicides and insecticides).
Growing healthy plants often translates into greater yields and less intervention. And central to plant health is maintaining a strong, vigorous root system — made possible by healthy soil.
There are many challenges that one encounters in defining what constitutes healthy soil, as well as how to maintain soil health or determining interventions that can restore soil health.
North to south, east to west, there are numerous soil types in Idaho. Many know that we have a state bird (Mountain Bluebird), a state flower (Syringa) and a state insect (Monarch Butterfly), but how many know we have a state soil? Idaho's state soil is called Threebear, named after a creek in Latah County. This soil can be found on forested mountain slopes in northern Idaho, and is defined as moderately well-drained soils formed in silty sediments with a thick mantle of volcanic ash.
CALS has a rich history focused on understanding the distribution of soil types across the state and around the country. The Maynard A. Fosberg Monolith Collection in the Department of Soil and Water Systems contains approximately 235 soils from the state of Idaho, the Pacific Northwest, and the United States and represents one of the most unique teaching resources at U of I. The collection is displayed on the walls of the E. J. Iddings Agricultural Sciences Building (first floor) on the Moscow campus, where it has been viewed by thousands of students and interested visitors.
Soil health starts with understanding soil structure. By establishing the Idaho Center for Plant and Soil Health, we will further our efforts in that area for the benefit of all of Idaho agriculture.
If you get a chance, please consider this your invitation to visit the amazing soil monolith collection on campus.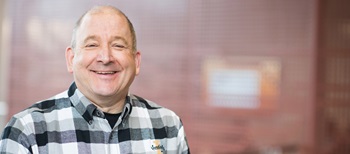 Michael P. Parrella
Dean
College of Agricultural and Life Sciences
---
By the Numbers
CALS faculty secured a record $36 million in research funding in FY21, a 100% increase from FY20 funding. CALS accounts for 20% of all sponsored project activity for U of I.
---
Our Stories — Taking Flight
Nolan Cumming's path to becoming a naval aviator includes a stop at the University of Idaho and a degree in agribusiness from the College of Agricultural and Life Sciences.
⁠Cumming grew up on his family's cattle ranch in Jiggs, Nevada and developed a love for aviation. He started taking flight lessons at age 15 and flew solo before he could drive a car. After graduation, he enlisted in the U.S. Navy in 2016 as an aviation structural mechanic.⁠
⁠"I didn't know what the Navy would be like," he said. "If I want to fly, I'm going to have about a 10-year commitment, and I didn't want to give anyone 10 years if I don't know what they're about. So, I decided to do my four years as enlisted and see if I liked it and found out that I loved it."⁠
⁠Naval aviators are required to have a bachelor's degree, so Cumming applied and was admitted to the STA-21 enlisted-to-officer commissioning program. He applied to three universities with Naval ROTC programs, but U of I was at the top of his list — despite never stepping foot on campus.⁠
⁠"I wanted to come back to the west coast, and I've always loved Idaho," he said. "I needed to submit a degree plan as soon as possible and Ms. Gleason had my degree plan the next day. So, I said, alright, I'm going to Idaho."
Cumming decided to follow in his father's footsteps and pursue a degree in agribusiness to broaden his education outside of aviation.
"My dad had an agricultural business in Elko, so I grew up living on the ranch and being with my dad and being around his business," he said.
After his first class, he knew he'd made the right decision.
"The professors are incredible. My first class was with Norm Ruhoff and being able to be around him made me stoked about my degree after going through those classes," he said.
⁠Nolan will graduate in May 2023 and hopes to one day use his agribusiness degree on his own operation. But for now, he is looking forward to commissioning as an Ensign and starting his career as a naval aviator.⁠
⁠"I just want to get in the seat. But you can't be there just for the flying, you have to be there for the people too," he said. "They need good officers and I want to be that person. I have met some incredible leaders while I've been enlisted so I want to do the best I can when I get there. It's a lot more than flying."⁠
⁠Read more at uidaho.edu/cals-aers-nolan.⁠
---
Faces and Places
Several CALS alumni and friends were honored at the 2022 Larry Branen Idaho Ag Summit with Governor's Excellence in Agriculture Awards: Mark ('88, '97) and Wendy Pratt received the education/advocacy award; Russ Zenner ('68) received the environmental stewardship award; Tom Iverson ('74) received the marketing innovation award; Gary Fornshell (emeritus Extension educator) received the technical innovation award; and Bob Naerebout received the lifetime achievement award.
Clara-Leigh Evans, AELC staff member and Idaho FFA Association Executive Director, was honored with the Advocate for Idaho Agriculture Award from Idaho Ag in the Classroom at the Cenarrusa NWACC/FFA Legislative Luncheon on Jan. 24. Rep. Clark and Debbie Kauffman also received the Advocate for Idaho Agriculture Award. Clark is a member of the UI Extension advisory board.
CALS and CNR students in the U of I Range Club recently attended the annual Society for Range Management meeting in New Mexico where they participated in workshops and networked with professionals in the range industry.
---
Events
Feedback or suggestions? Please pass them along through calsnews@uidaho.edu