Catching Up with CALS — Jan. 12, 2022
Dean's Message — State Support
The Idaho Legislature is doing some of the hardest work of its session in the coming weeks: deciding on budgets.
For CALS, U of I and all state-funded higher education institutions, the budgeting process begins months before the Legislature formally convenes. We follow the guidance of Idaho Gov. Brad Little and the State Board of Education in preparing our budget request.
Within U of I, President Scott Green and university leadership weigh the needs of Idaho residents, our students and employees. The next step is building the budgets needed for colleges and other U of I units across the state to meet those needs.
Needless to say, the process is complicated.
U of I and CALS begin working with legislators on budgets long before January. We answer individual legislators' questions and listen to their recommendations. Early each January a collective effort by our faculty in the Department of Agricultural Economics and Rural Sociology present to the Economic Outlook and Revenue Assessment Committee as legislators work to predict revenue collections through June 2023.
With that total set, the Joint Finance-Appropriations Committee goes to work setting budgets.
This year, CALS is requesting a permanent increase to our base budget for three new positions we need to keep pace with initiatives funded earlier.
Two of those positions will provide research support for the Center for Agriculture, Food and the Environment (CAFE) research dairy near Rupert. One position will focus on the dairy itself. The other will serve the demonstration agriculture farm that, while connected to the dairy industry, will develop best management practices focusing on regenerative agriculture in the Magic Valley.
Research already began more than a year ago to complete a baseline understanding of the farm before the dairy's construction and cattle arrive. Research is core to the dairy and farm's mission, so bringing both positions online will provide much needed support to the scientists engaged with the broad research agenda at CAFE.
Also in CALS' request is an additional position in the area of 4-H Youth Development. This area has been supported by the legislature in the past and the new position will allow more youth to engage in programs focusing on STEM areas related to CAFE.
In addition to CALS' request, U of I is supporting the Deep Soil Ecotron project that won nearly $19 million in National Science Foundation funding through the efforts of faculty in the Department of Soil and Water Systems.
The university will seek $1.5 million to renovate the J. W. Martin Lab on sixth street for the project. This year marks the 40th anniversary of this building (built in 1982), and the work will include urgently needed upgrades to improve heating and ventilation, insulation and information technology network access in addition to major infrastructure modifications to accommodate the Deep Soil Ecotron project.
Our request reflects a conservative budget approach and frankly falls short of addressing all the needs we can document. It does reflect our best efforts to reflect the wishes and counsel of our elected leaders, advisory boards and many others who we work with, and for, to serve the state and its people.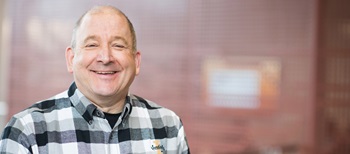 Michael P. Parrella
Dean
College of Agricultural and Life Sciences
---
By the Numbers
18,414,800 pounds of Idaho hops were valued at $104,964,000, according to the USDA National Agricultural Statistics Service. Idaho hop growers harvested 9,694 acres in 2021 with an average yield of 1,900 pounds per acre at an average price of $5.70 a pound. Despite a 10-cent drop per pound from 2020, the higher production added $5,261,000 to hop growers' balance sheets in 2021. Columbus, Tomahawk and Zeus hops led Idaho production with 3,169,000 pounds in 2021.
---
Our Stories — Mothers' Milk Offers Antibodies
Mothers who breastfeed provide antibodies to their infants that can provide natural protection against the coronavirus that causes COVID-19, a team of researchers reported.
The new report expands earlier findings that showed the milk of breastfeeding women infected with SARS-CoV-2 did not contain the virus.
Their results support recommendations encouraging lactating women to continue breastfeeding during and after COVID-19 illness, the researchers said.
The expanded study included more than 60 women who provided samples up to two months after their COVID-19 diagnoses, said Michelle K. "Shelley" McGuire of the University of Idaho. She led the study with University of Rochester Medical Center colleague Antti E. Seppo.
The team included researchers from the U of I; Washington State University; University of Rochester Medical Center; University of California, San Francisco; Brigham and Women's Hospital; University of Arkansas for Medical Sciences; and Tulane University. The journal Frontiers in Immunology published their report Dec. 23.
"What was really important was those antibodies remained elevated in most of those women for up to two months," McGuire said. "It just added confidence that even if you have COVID, breastfeeding is the right thing to do."
The team tested the breastmilk samples for immunoglobulin A antibodies specific to the spike protein in the novel coronavirus responsible for the pandemic.
The tests showed three-quarters of the women continued to produce the antibodies in breastmilk for up to two months with some beginning as early as within a week of their COVID-19 diagnosis.
The researchers said the antibodies in breastmilk likely provided the women's infants with a lasting source of passive immunity.
The women also submitted swabs from breast skin before and after washing. Although no SARS CoV-2 virus was detected in milk, 29% of skin swabs tested positive for SARS CoV-2 genetic material (RNA) before washing. Only two of 29 swabs, 6%, tested positive after washing. The researchers attributed the presence of the viral RNA to coughing by the women or household sources.
The researchers stressed that they found no evidence of live virus or reason to be concerned about this finding. The bottom line stayed the same: Breastfeeding during COVID-19 is not only safe for infants, it is likely protective, McGuire said.
---
Family Foresters Workshop Set Jan. 21, 28
The Family Foresters Workshop planned online Jan. 21 and 28 is designed to strengthen the skills of consulting foresters, state-employed service foresters and other natural resource professionals who work with family forest owners. Organized by U of I and Washington State University, the workshop serves as a forum to provide updates on emerging technology and knowledge applicable to family forestry.
Family-owned forests are vital to the economy and quality of life in the Inland Northwest. These lands are critical for wildlife habitat, timber supply, water quality and many other values.
Unique skills are required of foresters and other natural resource professionals who help family forest owners manage their property.
The workshop serves as a forum to provide updates on emerging technology and knowledge applicable to family forestry.
Due to COVID precautions, the 2022 Family Foresters Workshop will be split into two, three-hour Zoom webinars on Friday, Jan. 21 and 28.
Diverse presentation topics range from "Sustainable Forest Management as a Natural Climate Solution to Help or Achieve Global Net Zero Emissions" to "Smoke Trends."
Free registration is available at www.bit.ly/familyforesters2022. Those interested are asked to register by Friday, Jan. 14. Each of the two sessions for the program is eligible for 2.5 Society of American Foresters continuing forestry education credits, and 2.5 Idaho Pro-Logger continuing education credits.
More information is available from Sean Alexander at sean.alexander@wsu.edu or 509-680-0358; Audra Cochran at audrac@uidaho.edu or 208-885-7718; Andy Perleberg at andyp@wsu.edu or 509-667-6540; or Chris Schnepf at cschnepf@uidaho.edu or 208-292-1288.
---
Faces and Places
Brenda Murdoch, animal, veterinary and food sciences associate professor, is collaborating on a newly funded $1.3 million USDA-NIFA grant to establish a pan-epigenome for cattle and sheep. The project is led by Stephanie McKay of the University of Vermont in collaboration with Murdoch and Darren Hagen of Oklahoma State University. The project will increase understanding of genetic influences on important traits in diverse breeds of cattle and sheep and improve breeding strategies.
---
Events
Feedback or suggestions? Please pass them along through calsnews@uidaho.edu