Catching Up with CALS — July 27, 2022
Dean's Message — Impressive Results
Did you know sugar beet roots can penetrate more than 7 feet deep into the soil? It's one of many incredible facts about Idaho agriculture that I and other leaders with the University of Idaho and the College of Agricultural and Life Sciences learned during a series of recent meetings with various commodity groups in the state. The sugar beet industry representatives, in turn, were intrigued to hear more about our efforts to study soil at depths greater than anywhere else in the world. Our forthcoming Deep Soil Ecotron will allow scientists to analyze soil columns extending 10 feet deep without destroying the normal function of healthy soil at that depth. Due to the COVID-19 pandemic, it's been a couple of years since we've toured the state to visit with some of our commodity group partners and update them on our progress. We had a lot to share with them as there are many exciting things happening in CALS.
In 2018, we acquired a 66-acre organic heirloom apple orchard – the Sandpoint Organic Agriculture Center. The university acquired another major research facility in 2019 – the 10,400-acre Rinker Rock Creek Ranch, located in the Wood River Valley of central Idaho. In the summer of 2021, we hosted the grand opening of a new headquarters and research center at the Nancy M. Cummings Research, Extension and Education Center near Salmon, our main cow-calf operation to serve this critical industry. This spring, we opened our new Seed Potato Germplasm Laboratory at our Moscow campus to address increasing demand for potato plantlets and mini-tubers. On June 30, we broke ground on the nation's largest research dairy in Rupert, the Idaho Center for Agriculture, Food and the Environment. We're planning to build the new Agri Beef Meat Science and Innovation Center Honoring Ron Richard in Moscow to house Vandal Brand Meats. We're also planning a major renovation of the Parma Research and Extension Center with ground breaking scheduled for early August to build the Idaho Center for Plant and Soil Health. We are very proud of these wonderful new facilities – but they are only as good as faculty on site who do the research, extension and teaching – toward that end, we have many excellent established faculty with expanding programs and we have hired many new faculty who are just beginning program development. The future looks bright indeed.
Idaho has 23 commodity boards, commissions and councils supported by grower assessments tied to production of specific crops, plus 68 additional commodity associations. Some of these groups support our scientific research, endow faculty positions to bolster research on their commodities, contribute to student scholarships, support graduate students and help fund our operations. For example, the Idaho-Eastern Oregon Onion Committee and the Idaho Hop Growers Commission both chose to raise their grower assessments to support our plans to upgrade the Parma facility. Our CALS researchers often maximize the growers' return on investment by pursuing additional grant dollars through a variety of federal grants and programs.
I was grateful to be accompanied on this memorable trip by Christopher Nomura, vice president for research and economic development at U of I. Vice President Nomura shares our vision for CALS and understands the intricacies of the relationships we're building with industry, and he's a terrific ambassador for the university. In my view, a critical aspect of my role as dean is to be an external dean – building and reinforcing our relationships with industry that lays the groundwork for additional support. Success builds upon success and I am always asking, "What's next?" There's incredible positive activity within CALS and we are thankful to the many commissions and boards that represent agriculture in the state who choose to invest hard-earned grower dollars in CALS, seeing a good return on their investment. Our stakeholders representing ag in the state know they'll directly benefit from these projects, which promise to advance the sustainability of agriculture and provide answers to the production challenges they face.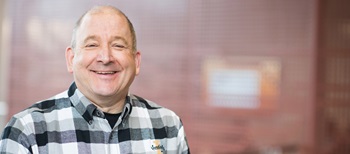 Michael P. Parrella
Dean
College of Agricultural and Life Sciences
---
By the Numbers
Idaho farmers have planted more grain and fewer acres of potatoes this season, according to USDA's National Agricultural Statistics Service. NASS reports Idaho farmers planted 1.256 million acres of wheat this season, up from 1.227 million acres in 2021. They also planted 600,000 acres of barley this season, an increase of 80,000 acres from the prior year. The state's potato farmers planted 290,000 acres of spuds this season, down from 315,000 acres in 2021. This season's fall wheat harvest is running behind last season's pace. NASS reported just 2% of Idaho's fall wheat crop had been harvested as of July 24, compared with 27% of the crop on the same date last season. Nationally, wheat acres are up slightly. U.S. wheat farmers planted 47.1 million acres of wheat this season, which is up 1% from last season but still ranks as the 5th lowest all-wheat planted acreage since records began in 1919.
---
Our Stories — Cows Exposed to Wildfire Smoke Produce Less Milk
Cows exposed to heavy wildfire smoke produce significantly less milk, with reductions in productivity persisting for a full week after the air has cleared, according to recently published University of Idaho research.
Amy Skibiel, Pedram Rezamand and Ashly Anderson, all with U of I's Department of Animal, Veterinary and Food Sciences, published their findings in the Journal of Dairy Science's June 15 edition. Data for their paper, "Effects of Wildfire Smoke Exposure on Innate Immunity, Metabolism and Milk Production of Lactating Dairy Cows," was collected during the summer of 2020 – an especially bad wildfire year throughout Idaho.
That year, 10.3 million acres throughout the U.S. burned, the most since 1960. Their paper also cites research concluding fire seasons in the U.S. are lengthening in general, lasting more than 64% longer than during the 1980s.
"In the summer of 2020, we had seven consecutive days of wildfire smoke where the levels were much higher than EPA standards for human health," Skibiel said. "During that time we found cows produced less milk."
Specifically, milk production dropped by 2.5 pounds per cow for every 100 micrograms per cubic meter increase in airborne particulates due to smoke. On the smokiest days, particulate levels reached about 300 micrograms per cubic meter, resulting in a daily loss of 7.5 pounds of milk production per cow. Dairy cows experienced even steeper reductions in milk production throughout the week after the smoke had dissipated.
"I think it was a cumulative effect of exposure across multiple days and no reprieve," Skibiel said.
Heat stress was not a factor in the milk reduction, as 2020 was a cool summer and the temperature-humidity index during the smoky period wasn't high enough to affect production.
The researchers analyzed immune cells in cows' blood and concluded the smoke caused immune cells associated with infection and allergic reactions to increase. They also found higher carbon dioxide levels in the blood of smoke-exposed cows.
"I have a hypothesis that it could potentially be reduced lung function and impairing gas exchange," Skibiel said. "Carbon dioxide is also a component of smoke, so they're breathing in more of it."
They also found cows' respiration rates rose amid smoke exposure, further increasing the volume of carbon dioxide they breathed in. In the milk of smoke-exposed cows, they confirmed a very slight reduction in protein content; protein is one of the factors used in calculating milk payments to dairy producers.
Skibiel, an environmental physiologist who studies how animals cope with changing environmental conditions, heard about the bad wildfires in the West when she moved to Idaho from Florida nearly four years ago.
She and Rezamand agreed the effects of smoke on dairy cows was an important question that hadn't been explored.
"If this is really bad for people and we're told to stay indoors and cattle don't have that luxury, what's happening to them?" Skibiel asked.
They studied a group of dairy cows at the U of I Dairy Center in Moscow that calved in July, collecting weekly blood and milk samples, tracking weight and recording body condition scores. They had hoped to start the project during the summer of 2019 but the region experienced few wildfires that season.
"Approximately 40% of the milk of the whole nation is produced on the western side of the country," Rezamand said. "This is exactly where we have to deal with these wildfire events."
During the summer of 2021, which was also a bad wildfire season, they focused their smoke-inhalation research on calves. White blood cell numbers of heavy smoke-exposed calves went down across the board – possibly due to immune cells migrating to the lungs, or because calves don't have fully developed immune systems.
This summer, the researchers plan to evaluate the physiological reasons behind the immune cell population changes in smoke-exposed cows and calves. They'll also closely evaluate what's occurring in the animals' lungs. They plan to create particulate matter in a controlled way this season to monitor how rising levels impact animal health.
Researchers from Oregon State University, Washington State University and University of California-Davis recently joined the project, conducting their own trials.
A few weeks ago, U of I submitted a proposal for grant funding toward continuing the project to Western Sustainable Agriculture, Research and Education. As a condition of the application, they created a team of Extension researchers and dairy producers. Rezamand learned through the producers on the team that smoke is a major concern among milk producers, who are convinced it also adversely affects their forage production.
"I think the economic impacts are not small and I think research will help us define those thresholds," Rezamand said.
The researchers advise dairy producers to limit the exertion of their cows when the air is smoky. If enclosed barns are available, they recommend keeping doors closed on smoky days, and they believe air filters could be a good option for animals in confined systems.
---
CALS Research Shows Promise in Deficit Irrigating Latter Alfalfa Cuttings
Hay farmers looking to stretch a limited water supply should consider irrigating their second two cuttings at a significant deficit, research by University of Idaho suggests.
Xi Liang, an associate professor of cropping systems agronomy at the U of I Aberdeen Research and Extension Center, has completed two years of a multi-state study evaluating the effects of planting configuration and irrigation management on hay yield.
The project was funded with a two-year USDA National Institute of Food and Agriculture Alfalfa Seed and Alfalfa Forage System Program grant. Researchers at Oregon State University, Colorado State University and University of Wyoming are also conducting forage trials as part of the project. Liang is pursuing funding to continue the project.
In 2021, Liang applied just 12.6 inches of water to deficit-irrigated second and third cuttings, irrigating at an 8.4-inch deficit, or 40% less water compared with the full irrigation treatment. Yield, however, was reduced by just 14% on second and third cuttings irrigated at a deficit compared with second and third cuttings that received the full water supply, suggesting an improved water use efficiency (yield per unit of water input).
In 2020, Liang applied 7.4 inches of water to the deficit-irrigated second and third cuttings, irrigating at a 5-inch deficit, which was also 40% less water compared with the full irrigation treatment. Yield, however, was reduced by just 17% on second and third cuttings irrigated at a deficit compared with second and third cuttings that received the full water supply.
Water supplies are tight throughout much of Idaho this season following a mild winter. Furthermore, farmers who draw groundwater from the Eastern Snake Plain Aquifer have been required to make cutbacks on irrigation under the terms of a water call settlement with surface irrigators who have senior water rights. Alfalfa is a good candidate for irrigation reductions by farmers with more valuable and water-sensitive crops, such as potatoes.
"For sure deficit irrigation could help," Liang said. "You can lose a little bit of yield but compared with how much water and other associated costs you save it's probably worth a try."
Liang's project also entailed interplanting grasses – including meadow bromegrass, tall fescue, and orchardgrass – with alfalfa to evaluate the potential yield boost resulting from species diversity at various seeding ratios.
Alfalfa fixes nitrogen for the grasses to use. Farmers who graze cattle directly on alfalfa fields also like having grasses mixed in with alfalfa to limit bloating of their livestock.
In 2020, the grass and alfalfa mixtures outperformed plots with 100% alfalfa. Liang didn't see advantages to mixtures during the dry 2021 season, however. Alfalfa is more drought tolerant than the grasses and likely outcompeted them in 2021 as a result. Furthermore, alfalfa is fully established in its second year, which also may have given it a competitive advantage over grasses. If she gets the grant to continue the project, Liang is eager to see how well blends perform when grasses are mixed with third-year alfalfa.
---
U of I Researcher's Model Finding Warmer Temps Favoring More Volunteer Spuds
A University of Idaho researcher's predictive model shows soil temperatures last winter didn't get cold enough throughout most of the state to kill volunteer potatoes in fields and spuds in cull piles.
In addition to posing a weedy nuisance, volunteer potatoes and tubers that sprout in cull piles can provide a reservoir for pests such as nematodes and crop diseases such as viruses and late blight.
Phillip Wharton, an associate professor in U of I's Department of Entomology, Plant Pathology and Nematology, developed the model in 2007 while at Michigan State University, working with researchers at MSU and Western Michigan University. Wharton has also concluded through an analysis of the federal Bureau of Reclamation's AgriMet weather station data dating back to 1990 that Idaho winter soil temperatures have been trending warmer.
"The volunteers can basically act as a starting point for an epidemic if the other conditions are favorable. The main one in terms of diseases would be late blate," Wharton said. "The take home to growers is when you have a lot of volunteers you have to be scouting in the spring to kill those volunteers."
Wharton developed a model for Idaho in 2015 upon arriving at U of I, using AgriMet data. In 2020, he started a new crop-alert website where growers can see the risk level of volunteer spuds sprouting throughout the state. That year, Wharton also added new U of I-run weather stations to fill in gaps in the AgriMet network, using funding from the Idaho Wheat Commission, Idaho Specialty Crop Block Grant Program funds and industry financial gifts. His U of I weather stations have also supplied data toward ongoing university research to predict late blight and to monitor the arrival of disease-causing spores in various parts of the state.
Tubers can survive below freezing under certain conditions, but research from Washington State University shows they tend to decompose after exposure to soil temperatures of at least 27 degrees for more than 120 hours.
Wharton's model assigns a low risk of tuber survival when the data shows less than 120 hours of tuber exposure to temperatures below 27 degrees at soil depths of both 2 inches and 4 inches. The risk is classified as moderate when tubers are exposed to temperatures of 27 degrees or lower for less than 120 hours at 4 inches deep but more than 120 hours at 2 inches deep. The risk is high when the temperature fails to drop to at least 27 degrees for at least 120 hours at either depth.
Modeling for this season assigned a high risk of tubers overwintering in Tetonia, Ririe, Osgood, Shelley, American Falls, Aberdeen, Golden Valley, Picabo, Twin Falls and Fairfield. Only in Parma was the risk deemed to be low. Average winter soil temperatures at the high-risk sites ranged from 30 to 34 degrees. Most sites recorded fewer than 10 hours of 27-degree temperatures combined from Nov. 1 through March 31.
"There were very few instances where the soil temperature got below 27 degrees – maybe it did for one hour here and one hour there," Wharton said.
Despite the presence of volunteers, the risk of late blight remains low in Idaho this season.
Typically Idaho's hot and dry summers prevent late blight from spreading. The lack of late blight in the state last season also means there should be no inoculum to trigger infections. The last epidemic year for late blight in the state was 2015, when the weather remained cool and damp throughout the season.
Jeff Miller, a potato scientist with Rupert-based Miller Research, has seen volunteer potatoes throughout wheat and sugar beet fields planted this season in fields that were in spuds last year, but he acknowledged, "We didn't have any late blight in 2021, and it's very, very likely that culls and volunteers will not be carrying the pathogen."
However, Miller had to mix in an extra product with his herbicide while spraying his grain fields this season to control volunteer potatoes that could have acted as weeds, hurting grain yields.
"If we had late blight show up one year I would want to use Wharton's tool to show what's the likelihood of volunteers showing up," Miller said. "It does show our climate is changing because we never used to have volunteers, and yet it's been more common in the last couple of years."
---
Mike Thornton, a professor with University of Idaho's Department of Plant Sciences, was named a lifetime member of the Potato Association of America (PAA) on July 20 during the organization's banquet in Missoula, Montana. Thornton, who is the chair of the UI Parma Research and Extension Center, was one of four people who received the recognition, which is the highest award bestowed upon an individual by PAA.
Andrea Garza, a senior from Meridian studying child development, was featured in the spring 2022 edition of The Candle, the official journal of Phi Upsilon Omicron, a collegiate-focused FCS honor society. Andrea is secretary of the Phi U Omicron Zeta chapter at U of I.
Tiana Clevenger, a senior from Park City, Utah studying horticulture and urban agriculture, received the James K. Rathmell, Jr. Memorial Scholarship from the American Floral Endowment. This scholarship will assist her in her study abroad experience this fall in Uruguay. ⁠
Pat Hatzenbuehler and Liang "Jimmy" Lu, assistant professors in the Department of Agricultural Economics and Rural Sociology, recently spoke with the Eye on Potatoes podcast about the economic environment, supply chain issues and geopolitical challenges increasing production costs in the potato supply chain.
Nathan Gelles, a master's student in plant sciences who is working as a research assistant at the U of I Kimberly Research and Extension Center, took third place in the Frank L. Haynes Graduate Student Competition. He received the award on July 20 during the Potato Association of America's 106th Annual Awards Banquet in Missoula, Montana, based on his research in potato virus Y management and breaking dormancy of potatoes.
Scott Jensen, UI Extension educator in Owyhee County, was recently elected vice president of the National Association of County Agricultural Agents (NACAA).
Carmen Willmore, UI Extension educator in Lincoln County, received a 2022 NACAA Achievement Award. This award is for excellence in the field of professional Extension for members with less than 10 years of service.
Mario de Haro-Martí, UI Extension educator in Gooding County, received a 2022 NACAA Distinguished Service Award. This award recognizes excellence in the field of professional Extension for members with more than 10 years of service.
UI Extension educators Carmen Willmore, Danielle Gunn, Cindy Kinder and Iris Mayes were recognized with communications awards and committee service efforts at the NACAA annual meeting.